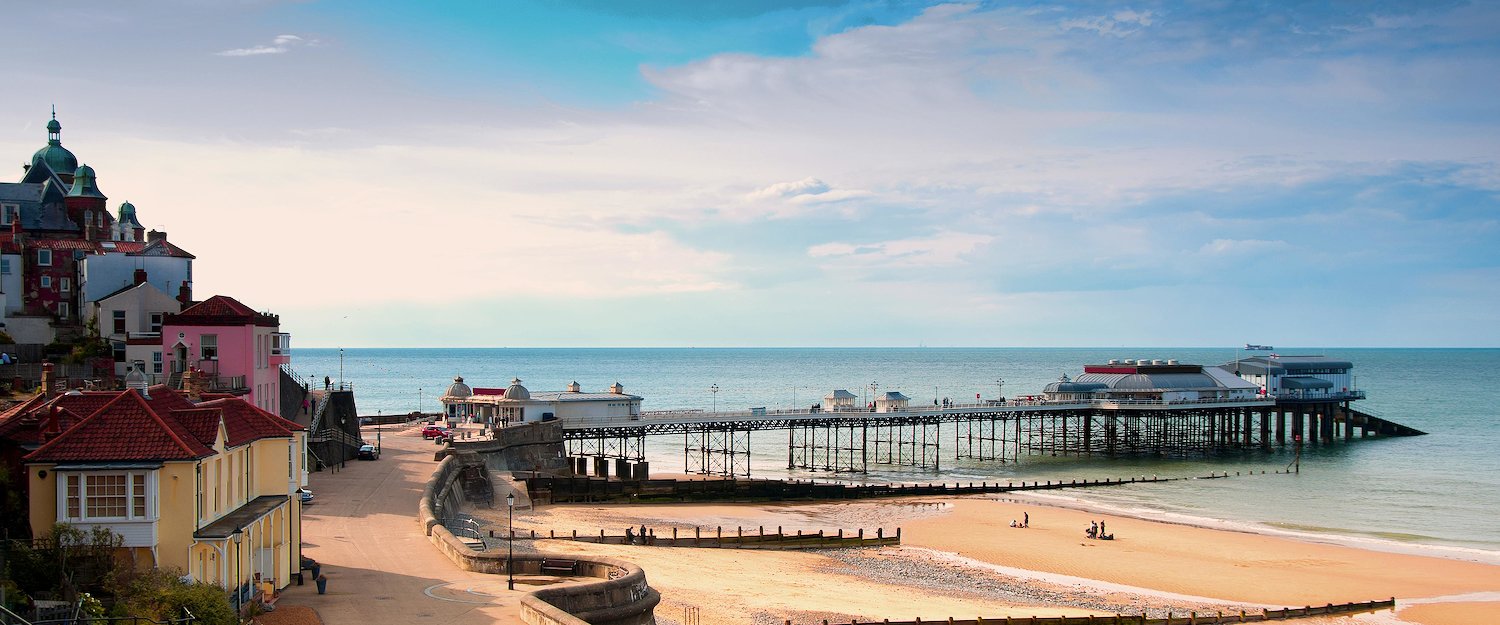 Chalets in Norfolk
2395 properties for Chalets. Compare and book at the best price!
Popular Chalets in Norfolk
Highlights in Norfolk
Magnificent county in the East of England
Breathtaking natural scenery
Outstanding landmarks at every corner
Interesting and diverse attractions
Exciting and fun activities
Exquisite dishes and plates
Most popular amenities for Chalets in Norfolk
Other property types in Norfolk that might be interesting:
Chalets in Norfolk: Most popular destinations
Chalets in Norfolk
Phenomenal properties all over the county
Located in the heart of the county right in East Dereham, beside a beautiful lake in the village of Runcton Holme or within walking distance of the beaches of Great Yarmouth, Norfolk's chalets are the ideal settlements for a unique and dynamic holiday in the East of England. Versatile and adaptable for all types of stay, it doesn't matter whether you want to spend a quiet break abroad surrounded by nature or a seaside holiday lulled by the peaceful waves of the sea, these houses will guarantee a comfortable stay for everyone. Trust your stay in the hands of Norfolk chalets and experience the holiday of your dreams in East Anglia this season.
Marvellous chalets for all kinds of tourists
Featuring fabulous equipment and amenities, the Norfolk chalets offer the best experiences in the county, promising fabulous stays with warming hot tubs in the winter, refreshing swimming pools in the summer, beautiful flowering gardens in the spring and fabulous colourful greenery in the autumn. Additionally, offering spacious and adaptable flats, these properties will be able to accommodate loners, couples, families and even large groups of friends, assuring spectacular experiences for you and your holiday companions. Choose Norfolk's chalets this season and enjoy the East Anglia region beyond measure.
Travellers and activities
Norfolk for beach lovers
Presenting a total of 173 miles of coastline across the county, a visit to Norfolk's beaches is one of the things that should be at the top of your to-do list. Magnificent and unique, these shores will offer you unforgettable experiences that will suit your tastes and needs to a tee. Topping the rankings of locals, Sheringham Beach and Great Yarmouth Central Beach are the ideal choices for a lively day of action-packed recreational fun, whereas Holkham Bay and Horsey Beach are the perfect alternatives for a more relaxed and secluded experience with your loved ones. Thus, If you're planning to visit Norfolk this holiday season, don't forget to explore the county's coastline and experience fabulous days of sun, sand and sea in the East of England.
Norfolk for families
Besides the beautiful beaches and coastline all around the county, Norfolk has fantastic tourist attractions where families from all over the world can experience special moments that bring them closer together. Known as a historic landmark of Great Yarmouth, Joyland is an attraction not to be missed during your stay. Featuring classic fairground rides, roller coasters and other attractions, this fabulous amusement park promises fun-filled moments for parents and children under the age of 10. Now, if your children are more observant and are much more attracted to the animal kingdom, the Amazona Zoo is the attraction for them. Caring for and preserving diverse species of mammals, birds and reptiles commonly found in the South American territories, families can enjoy an exotic adventure full of learning, fun and interaction. Plan a family holiday in East Anglia this season and create wonderful memories in the beautiful county of Norfolk.
"Besides tourism, Norfolk maintains its economy afloat with agriculture, being one of the counties that grows the most crops of vegetables, sugar beets, wheat, barley and oats of all England."
Top 7 travel tips in Norfolk
1.Get to know Norfolk with the county's monuments
Located throughout the county, Norfolk's memorials and monuments are iconic sites that visitors can explore to get to know the region a little better and perhaps take some great tourist photos. Standing in honour of great events, influential people or brave fallen soldiers, Nelson's Monument, Desert Rat Memorial and King Lynn Roll of Honour are some of the most iconic structures in the area that we recommend you visit. Take a stroll around Norfolk's monuments and immerse yourself in the county's history and past.
2.Enjoy a quick trip back in time visiting the county's historic sites
Containing important ruins and vestiges that present visual evidence of mankind's evolution, Norfolk's historic sites are highly interesting attractions in the county where tourists and holidaymakers can enjoy immersive time travel. Created to protect its settlements from unwanted people, Warham Camp is a circular hill fort with a diameter of 232 yards that dates back to the Iron Age. Being located in an Area of Outstanding Natural Beauty and being a site of great scientific interest, this camp is considered to be the best-preserved hill fort in Norfolk, promising a fabulous experience for all who visit. Similarly, people can also explore the Gariannonum Roman Fort, ruins of a Roman settlement dating back to around 200 AD and presenting a clear insight into England's past and history.
3.Explore the county's castles
Presenting majestic exemplaries in almost every village, town and city in the county, Norfolk's castles are fabulous attractions that ensure visits full of history and beautiful sights. Topping every local's list, some fortresses you must visit are Norwich Castle, thanks to its unique medieval architecture that delights and amazes everyone, Rising Castle, due to its history and great influence, and Castle Acre Castle, thanks to its ruins and medieval defences that are considered to be one of the most magnificent man-made mounds in England. Take a stroll around the Norfolk fortresses and feel like royalty on your holiday in the East of England.
4.Surround yourself with the county's nature visiting Norfolk's green spaces
Offering the perfect places to relax and unwind, Norfolk's gardens are fabulous county attractions that every holidaymaker should visit. Known as the most popular green spaces in Norfolk, Gooderstone Water Gardens features a wealth of flora specimens available in England and other parts of the world, whereas the Plantation Garden presents a beautiful space where art and nature collide thanks to the numerous species of flowers, trees and shrubs that are mixed with statues and fountains. Delight in the beautiful colours of nature and enjoy a peaceful moment visiting the gardens and green spaces of Norfolk County.
5.Hop on a train and delight in the county's views
Featuring breathtaking and awe-inspiring views of the area, the Norfolk Railway journeys promise fabulous memories and unforgettable experiences to tourists from all over the world. Regarded as the best options, the North Norfolk Railway takes you aboard historic trains to enjoy special events and scenic dinners offering beautiful scenery in the towns of Sheringham and Holt, whereas the Barton House Railway presents miniature railway journeys where special events and beautiful views can be enjoyed in the village of Wroxham. Ideal for young and old, Norfolk's scenic railroads are attractions that no one should miss this holiday.
6.Workout on the routes and trails of Norfolk
Presenting easy, moderate and advanced options for hikers of all levels, Norfolk's trails and paths are spectacular walks that tourists from all over the world can hike to learn more about the county and enjoy a fabulous workout. Featuring a 3-mile circular walk, the Bacton Woods Trail is the perfect choice for first-timers who want to enjoy a hike full of natural beauty during their stay. In contrast, offering a length of 24.6 miles in length, Marriott's Way presents a more suitable option for walkers, cyclists or moderate riders, offering a linking path between the city of Norwich and the town of Aylsham that dazzles and delights all alike. Finally, for advanced and extreme walkers, the Norfolk Coastal Path is the best option, featuring a path around the county's 173 miles of coastline that takes in the county's many towns and villages and allows you to explore its most iconic attractions. Depending on your level, embark on an adventure on the Norfolk trails and get a spectacular workout in the south of England.
7.Delight in the county's flavours sampling Norfolk's typical dishes
While staying in Norfolk, it's imperative that you visit the area's restaurants and eateries to sample the delicious and popular dishes of the county. Presenting something exquisite to suit all tastes, the best savoury options are Dressed Cromer crabs, Brancaster mussels and Stiffkey cockles, whereas sweet favourites are Norfolk Gingers and Fair Buttons, ideal to accompany a delicious cup of coffee or tea on a lovely afternoon. Indulge in the dishes that the county of Norfolk has to offer and enjoy a flavoursome holiday in the East Anglia region.
Destinations in Norfolk for Chalets
Holidu compares hundreds of websites to find your perfect holiday rental for the best price.