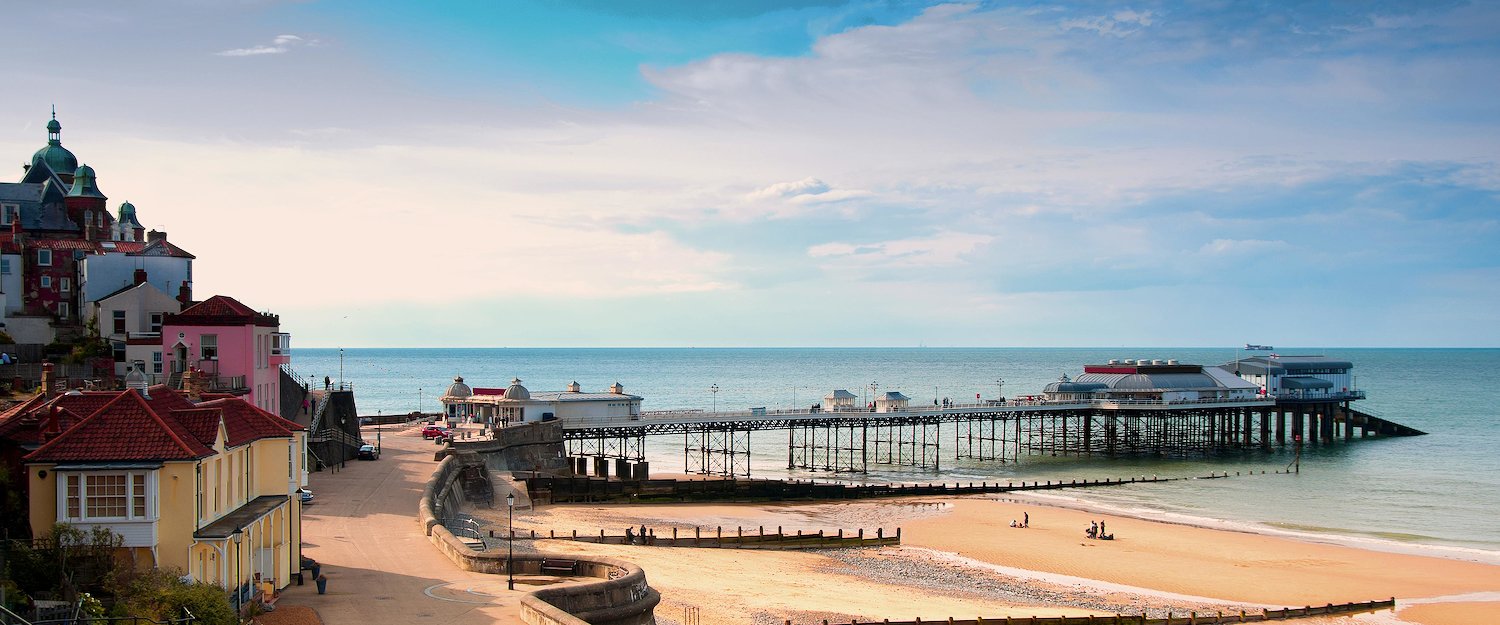 Log Cabins & Lodges in Great Yarmouth
76 properties for Log Cabins & Lodges. Compare and book at the best price!
Popular Log Cabins & Lodges in Great Yarmouth
Find Log Cabins & Lodges in Great Yarmouth
Highlights in Great Yarmouth
Gold-sand beaches
A city full of life
Fun and interesting parks
Cultural and historical places
Most popular amenities for Log Cabins & Lodges in Great Yarmouth
Other property types in Great Yarmouth that might be interesting:
Log Cabins & Lodges in Great Yarmouth
Explore the gorgeous county of Norfolk
If you've decided to spend your holiday in the sunny seaside town of Great Yarmouth, you won't have a problem deciding where to stay, as Holidu has the best options for you. This beautiful city is located in the county of Norfolk, and is one of the most visited tourist destinations in the country, due to its beautiful beaches and varied recreational facilities. From its beautiful golden sandy beaches, to its amusement park, aquariums, museum and theatres, Great Yarmouth is a cultural hotspot not to be missed. And you can enjoy all this while staying in the beautiful and modern cabins available near the sea, which have brick or wooden facades and have everything you need for an unforgettable holiday. Book your cottage now and enjoy sunny Great Yarmouth!
Log cabins & lodges with everything you need for a holiday with that special person
Although there are many log cabins that have space for up to 10 people, if you are travelling only with your partner, you can also find the perfect option for you. There are options with bedrooms, living room, kitchen area, and bathroom that are slightly smaller but are still spacious and have much more privacy. They also have all the amenities you will need to make your stay an amazing experience, with internet access, appliances, parking, garden, and its proximity to bars, restaurants and supermarkets.
Travellers and activities
Great Yarmouth for beach lovers
It's pretty obvious that Great Yarmouth's beaches are the central attraction of this town, so if you're looking for some fun in the sea you won't have to go far. Great Yarmouth Central Beach is one of the most visited by tourists and there is plenty to do here. As well as enjoying the calm waters, you can also enjoy the cafés, restaurants, and vendors that line the beach. And as a tip to end the day on a high note, on Wednesdays during the summer months there is a firework display just after the sun goes down. Now, if you are looking for a beach that is quieter and less crowded, you can visit Great Yarmouth's North Beach. This beach is perfect for a relaxing stroll or walking your pet, with its large expanse of sand and dunes, and its colonies of terns that occasionally fly around, without a doubt, a landscape that recharges your energy.
Great Yarmouth for culture lovers
In Great Yarmouth there are many cultural attractions to see and enjoy, so it's hard to decide what to visit first, but don't worry, here are some amazing options. This cultural destination is both adorable and very interesting. It is the Merrivale model village, a miniature model village of just over an acre in size. On display, you will find that this model has its own centre, inn, zoo, sports club, castle and farm. In addition to the miniature village exhibition, you can also enjoy its beautiful gardens full of colourful flowers, a miniature golf course, a bakery and a gift shop. Now if you want to attend entertaining shows, The Gorleston Pavilion has many options throughout the year. This cabaret-like theatre with its candlelit tables instead of row seating offers a host of shows ranging from musicals, comedy shows, pantomimes and plays.
Great Yarmouth's beaches combined stretch over 15 miles from the town of Winterton to the parish of Hopton.
Top 7 travel tips in Great Yarmouth
1. Have an exciting day at Blackpool Pleasure Beach
This amusement park is one of the most visited places in the city, with the focus being on the rather intrepid roller coasters for a good dose of adrenaline. You'll also find a rather unique attraction within the park known as ''Nickelodeon Land'', which is a themed area with rides of your favourite Nickelodeon characters, as well as these characters walking around for you to take pictures with.
2. Visit the Time & Tide Museum
This place is ideal if you want to learn about the history of Great Yarmouth. This building is set as one of the city's herring curing factories in the Victorian era, which was the commercial activity that brought economic prosperity to the town. Here you'll hear all about it, as well as being able to see an imitation of a 1950s wharf.
3. Watch incredible marine wildlife at the Sea Life Centre
This amazing aquarium and conservation centre guarantees a day of fun and discovery. More than 1500 species of marine life are exhibited here in a very peculiar way, as it resembles an underwater submarine. From sharks, sea turtles, fish from all over the world to cute penguins and small crocodiles you can interact with.
4. Make a bet in the greyhound races at the Yarmouth Stadium
Greyhound racing in this city has been gaining popularity over the years, so if it's something you'd like to see for yourself, this is the place for you. You can place a bet on your winning greyhound, while enjoying the facilities of the venue which seats up to 240 people. There are bars, gourmet restaurants as well as snack bars, all with a great view of the wonderful racecourse.
5. Enjoy an amazing view at Great Yarmouth Wheel
Enjoy the beauty of this city in a different way with this incredible attraction inspired by the famous London Eye. It's located on the seafront of the Sea-life Centre gardens, and you can get your tickets in advance online and save money with their great deals.
6. Shop interesting things at Wroxham Barn
This particular farm specializes in handmade objects. Here you can find handicrafts of all kinds, from clothes, toys, household items to traditional food and drinks. Meet the talented artisans and spend a relaxing day on the premises with cafés and restaurants.
7. Take a ride in Bure Valley Railway
This beautiful railway is the longest narrow gauge railway in the county of Norfolk, which will take you between the town of Aylsham and the town of Wroxham. The views of the peaceful meadows and meanders of the River Bure on this route are well worth seeing, certainly a different way to see nature.
Holiday destinations nearby for Log Cabins & Lodges
Holidu compares hundreds of websites to find your perfect holiday rental for the best price.
Log Cabins & Lodges Great Yarmouth