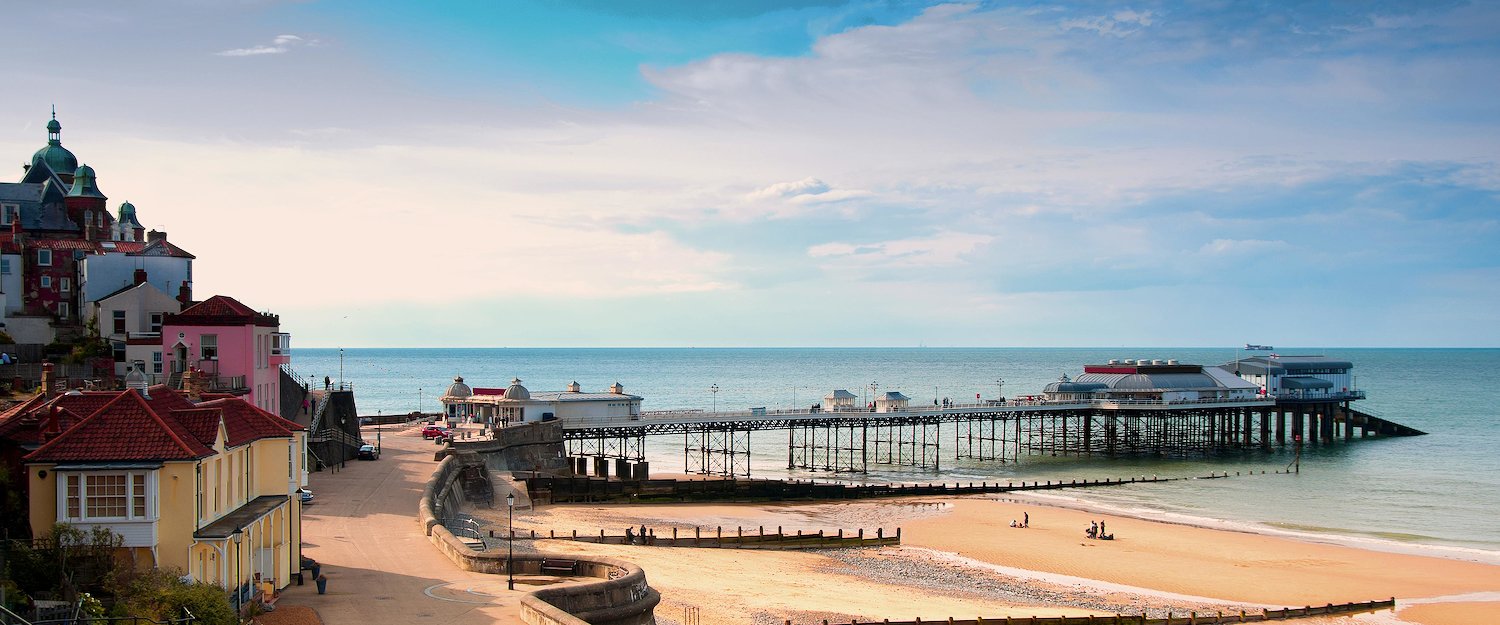 Cottages in Great Yarmouth
141 properties for Cottages. Compare and book at the best price!
Popular Cottages in Great Yarmouth
Find Cottages in Great Yarmouth
Highlights in Great Yarmouth
Fantastic fun rides, Excellent animal attractions
Fantastic beaches
Lovely walking areas
A small scale village
Most popular amenities for Cottages in Great Yarmouth
Other property types in Great Yarmouth that might be interesting:
Cottages in Great Yarmouth: Most popular destinations
Cottages in Great Yarmouth
An ideal holiday destination on the east coast
When it comes to accommodation in Great Yarmouth you are spoilt of choice. Whether you are looking for a small or big cottage close to the sea, and close to nature, look no further. You will find your cottage in Great Yarmouth, home to fantastic seaside holidays, fine cuisine and the gorgeous countryside of Norfolk further inland. Stay in the centre of town or look for cottages in Caister-on-Sea or Hemsby.
See what might tempt you to the seaside
Amongst the extensive range of cottages, you can find and select the ones that suit your taste and budget. Coastal or inland, every cottage will welcome you having all the amenities necessary to make your stay an unforgettable one. Decide the size of the cottage and the length of your stay and choose the perfect place in this bustling seaside village where time goes by at your own pace and the beach becomes part of your daily routine. Enjoy it with friends, family or your other half and discover the charm that draws in so many holidaymakers to this side of the country.
Travellers and activities
Great Yarmouth for theme park enthusiasts
If adrenaline, action and fun are the ingredients you are looking for, head to Pleasure Beach, a historic free entry amusement park with plenty of fun for the whole family. Pay as you ride with tokens of pay for a whole day wristband. Get on the most white-knuckle rides and let the children enjoy the ones adapted for their age. Be sure they are the right height before riding! Swing, spin and loop on the best ride and enjoy a top 10 amusement park where there is fun for everyone.
Great Yarmouth for beach lovers
A day at the beach is one of the main activities in the area during the summer months. Enjoy 15 miles of the 11 golden sandy beaches in Great Yarmouth with sand dunes and seaside amusements. Spend a lazy day basking in the sun while the kids make sandcastles by the shore, take a refreshing dip or a pleasant walk at any time of the year. Discover the Central Beach, and the North and South Beaches as well
One of the three circuses in the world to have a sunken ring is the Hippodrome, allowing water shows in it.
Top 7 travel tips in Great Yarmouth
1. Enjoy the Golden Mile
After a long day at the beach, you can enjoy a lovely evening at the amusement arcades or the bowling alley of Wellington Pier or maybe go for a donkey ride in Britannia Pier. The stretch between both piers is known as the Golden Mile. You will never be short of fun!
2. Norfolk Broads, a stunning site
Great Yarmouth is home to a beautiful national park, Norfolk Broads. A breathtaking landscape of lakes and rivers and lush green vegetation. Rent a boat and cruise along the river while you enjoy the fantastic waterside views lined with windmills and pubs where you can stop for a bite. If you drive your own car, go to Martham Broad, with a fantastic lake where people practice canoeing, SUP or take long walks around it.
3. What a tiny world!
Visit Merrivale Model Village and discover a wonderful theme park with a model village, a penny arcade with vintage slot machines, a railway and a mini-golf course. All the figures of the model village tell a story on their own. Come and enjoy a day out and take a break at the lovely tea room.
4. An exciting family day out
Just ten minutes away from town, we find Hirsty's Family Fun Park, a fantastic family space within a working farm, where you can have an amazing day of fun activities. The curious thing is that this park changes with the seasons. So if you come in spring first you will be doing different things when you come back in autumn, for example. Summer star activity is the Mega Maze in a maize field and the quiz. In Autumn, pick a pumpkin and design your carving artwork on it. An interactive farm where children and parents can enjoy an awesome time learning how farms work and interacting with the animals.
5. Visit Thrigby Hall Wildlife Gardens
An excellent day out surrounded by incredible wildlife in 250-year-old grounds. Walk along the elevated pathways to have a better view of Sumatran tigers, Amur leopards or red pandas. Cross the wobbly bridge going over the crocodile pool. Will you? For a closer look, the indoor space of the Swamp House and the Forest House are home to several Asian reptiles and three different crocodile species. Enjoy a wild day!
6. Explore Sea Life
A fantastic collection of 2,000 marine species including penguins, dolphins, sea turtles, sharks or jellyfish, Walk down the Ocean Tunnel and admire the fish and other ocean dwellers swimming over your head. The rockpools are where children will have the time of their lives interacting with crabs, sea anemones or starfish.
7. Discover Joyland
A really old amusement park beside Britannia Pier with some of the first original rides. Joyland, is home to the only remaining Virginia Reel roller coaster in the whole world and another quaint one called "Snails", from the 70s. Modern rides have been added during the years. The most recent ones include a pirate ship, Spook Express and space-themed rides. Have a wonderful time!
FAQs: Cottages in Great Yarmouth
Which types of facilities are offered by the cottages in Great Yarmouth?
In regard to the services offered by Holidu, it appears that the cottages in Great Yarmouth have everything that holiday-makers dream of! Here, the cottages generally have a variety of amenities, the most popular being: Wi-Fi (81%), garden (60%), and barbecue (30%)...Not bad, right?
How do travellers usually rate cottages in Great Yarmouth?
On average, the cottages here are quite highly rated. According to the Holidu data, 43% of cottages have a rating equivalent to or higher than 4.5 stars. A ratio relatively high which allows us to confirm that you will easily find the ideal cottage for a wonderful holiday!
Are the cottages in Great Yarmouth suitable for holidays with children?
Judging by the Holidu database, 23% of cottages in Great Yarmouth are child-friendly, so you won't have any difficulty finding the ideal cottage for you and your children.
Are the cottages in Great Yarmouth suitable for travellers and their pets?
Certainly! In Great Yarmouth, 50% of the cottages accept pets, 60% also have a garden!
Do the cottages in Great Yarmouth mostly have Wi-Fi?
Certainly! According to Holidu's database, 81% of cottages in Great Yarmouth include Wi-Fi. You will be able to access your emails and favourite social media sites throughout your stay!
How much does it usually cost for cottages in Great Yarmouth?
A big percentage of cottages in Great Yarmouth (66%) cost less than £100 a night. This is the ideal destination for reserving a cheap cottage!
Do the cottages in Great Yarmouth often have a fireplace or a pool?
Certainly! According to last year's data, the cottages in Great Yarmouth have everything you need for all seasons. Here, 30% have a fireplace and 10% a pool.
Are the cottages in Great Yarmouth suitable for trips in big groups or rather for an escape as a small family?
According to Holidu's data, 95% of cottages welcome small groups of up to four people. Approximately 96% of the cottages here have at least two separate bedrooms. Great Yarmouth is the ideal destination for going in a small group on holiday!
Holiday destinations nearby for Cottages
Holidu compares hundreds of websites to find your perfect holiday rental for the best price.