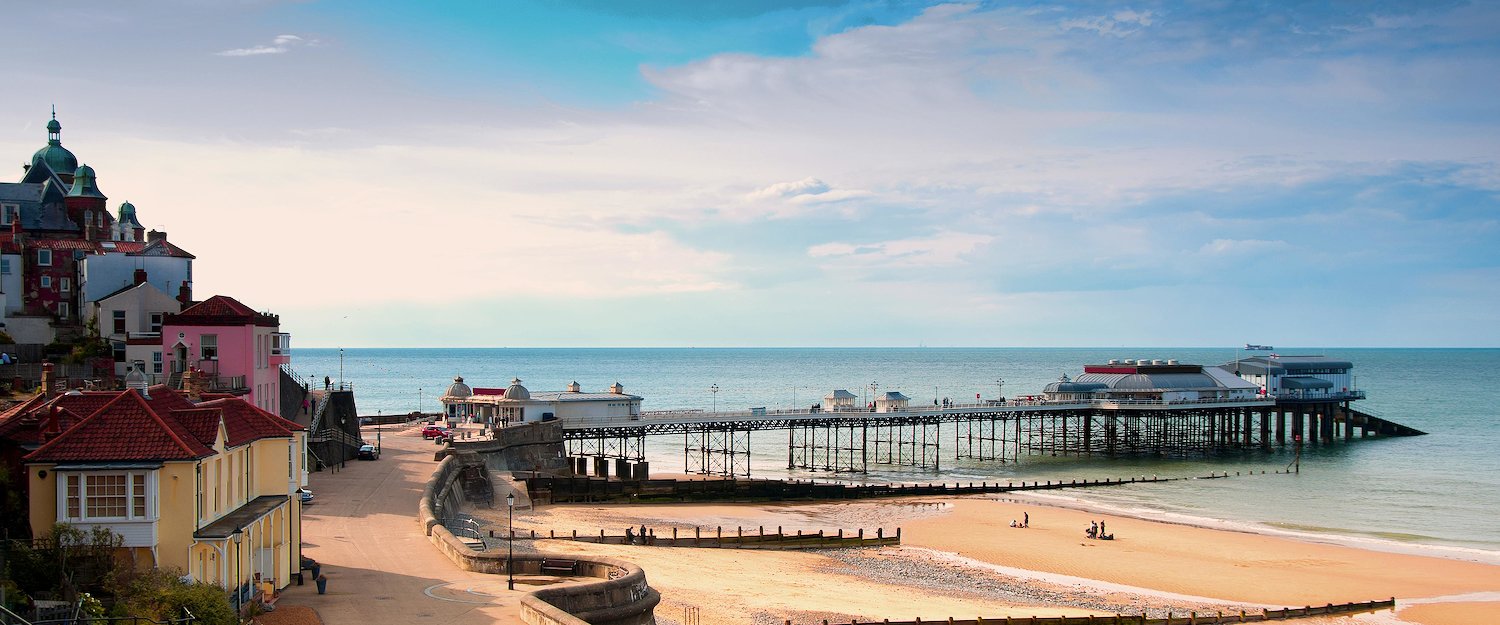 Holiday rentals and lettings in Sheringham
Start comparing over 118 rentals in Sheringham and book at the best price!
Best holiday rental deals in Sheringham
Holiday Rentals with Free Cancellation
Holiday Rentals & Lettings in Sheringham
Pet-friendly Holiday Rentals & Lettings
Holiday Rentals & Lettings with Pool
Holiday Rentals & Lettings with Internet
Find Holiday Rentals & Lettings in Sheringham
Highlights in Sheringham
Steamy heritage
Outstanding outdoors for fabulous walks
Fishing and maritime tradition
Delicious crustacean tradition
Fantastic festivals all year round
Most popular in Sheringham
Other property types in Sheringham that might be interesting:
Prices and availability
Prices
November
December
January
February
March
April
23 Oct - 30 Oct
£139 per night
30 Oct - 06 Nov
£138 per night
06 Nov - 13 Nov
£136 per night
13 Nov - 20 Nov
£133 per night
20 Nov - 27 Nov
£138 per night
27 Nov - 04 Dec
£142 per night
04 Dec - 11 Dec
£153 per night
11 Dec - 18 Dec
£156 per night
18 Dec - 25 Dec
£151 per night
25 Dec - 01 Jan
£164 per night
01 Jan - 08 Jan
£175 per night
08 Jan - 15 Jan
£159 per night
15 Jan - 22 Jan
£152 per night
22 Jan - 29 Jan
£159 per night
29 Jan - 05 Feb
£152 per night
05 Feb - 12 Feb
£147 per night
12 Feb - 19 Feb
£149 per night
19 Feb - 26 Feb
£153 per night
26 Feb - 05 Mar
£150 per night
05 Mar - 12 Mar
£139 per night
12 Mar - 19 Mar
£138 per night
19 Mar - 26 Mar
£142 per night
26 Mar - 02 Apr
£145 per night
02 Apr - 09 Apr
£143 per night
Average price per week
Availabilities
November
December
January
February
March
April
Percentage of available lettings
Holiday rentals and lettings in Sheringham
A comfortable coastal retreat
Find the holiday rental you need for your stay in Sheringham. Unique self catering accommodation for family, friends or a romantic getaway with your other half. You can find many of the rentals around and close to Sheringham Park, ideal for families with children. You can opt to stay near the beach or you can nip away in the countryside for a peaceful and quiet stay. Whatever the budget and size of your group, you will find a rental adapted to your needs. Feel welcome in North Norfolk!
Fantastic stays in a unique setting
Find the best holiday rental for your stay in Sheringham and choose from converted barns, refurbished properties, traditional homes and cosy lettings that will make your stay an unforgettable one. All the amenities are included and for the extras, each property has its own so you can select the one according to your needs. Wood burners and chimneys are ideal for winter stays and those with a swimming pool can be enjoyed during the summer holidays. Balconies, terraces, gardens, BBQ areas and views to the lake, the sea or the mountains are available in the list of rentals. Many accommodations also allow you to bring your furry friends. The more the merrier they say!
Holidays in Sheringham
The area and getting around
Fantastic holidays in North Norfolk
Sheringham is one of Norfolk's quintessential seaside towns. Here you will find a great selection of cafes, unique shops selling local produce, restaurants, a family friendly beach and amazing coastal walks. The steam train is a great attraction in town too! Every day life is very quiet but there is always something going on. On Wednesdays and Saturdays, stroll around the market stalls to find the best products or gifts.
Discover Norfolk
The heritage of past years is still evident today. Take a long walk along the promenade, admire the original beach huts and enjoy the many festivals held throughout the year. Explore North Norfolk and the pretty villages. Spend a day in Essex, Bridge Farm Barns and Lavenham. Have a nice day out enjoying the cultural offer, the beauty of the countryside and the charm of the English villages.
Travellers and activities
Sheringham for hiking lovers
The location of Sheringham makes it ideal to enjoy coastal and countryside walks. Climbing up the East side you arrive at Beeston Bump and you will get excellent views of the fantastic surroundings. From Sheringham you can walk to Cromer along the Norfolk Coast Path. Using their own words, you will walk a "long-distance footpath through Areas of Outstanding Natural Beauty". Look for planned routes and enjoy nature at its best.
Sheringham for festival lovers
Traditions and stories are alive because we like to commemorate them celebrating events and festivals. Because of the first Vikings settled in town, in the winter, history about it is celebrated with the annual Viking Festival. But it is not the only festival here! Sheringham has more events and carnivals. In Autumn you can enjoy the Steam Gala, related to the North Norfolk Railway. Do you like carnivals? Sheringham Carnival is a very popular one as well as the Crab & Lobster Festival. Choose a time to come to Sheringham and check out what festival you are going to enjoy!
"Once a small fishing town, Sheringham became a prime holiday destination in the late 1800s when the steam train arrived in town!"
Top 5 travel tips in Sheringham
1. Learn about the fishing heritage
The sea was the main activity in Sheringham, especially in the 19th century. The town was the main fish provider for London. Many Londoners also used to get on the train and come to town to eat delicious crabs, whelks and lobsters. Back in the day there were 200 boats in town, now there are only 8! But the fishing tradition is deep rooted and fish can still be enjoyed at the lovely restaurants. The Fishermen's Heritage Centre shows the history of "Upcher" lifeboats and the annual crab and lobster festival in spring. These crustaceans can be enjoyed and eaten. Enjoy!
2. Spend a lazy day at the beach
Sheringham beach is plenty of pebbles when the tide is in but when it's out, a lovely sandy beach opens up in front of you and leaves a fantastic space for children and families to spend a lovely day enjoying themselves. Build some sandcastles, swim, play volleyball, try your balance with SUP or just lay down on your towel and watch the day go by. The colourful beach huts give the beach a splash of colour to the promenade just behind them.
3. Visit Sheringham Museum
Sheringham has had a long relationship with the sea. This former fishing town never had a harbour but it had a historic fleet, fishing boats and lifeboats. The museum is called The Mo, named after a little girl in town. The museum tells about her and many others. The boats on display can be admired inside and out. The fantastic glass viewing gallery on top of the building is an amazing way to get stunning views of town, the sea and the outstanding landscape.
4. Get on a steamy journey to Holt
But if Sheringham is popular is without a doubt, because of its most popular highlight, the North Norfolk Railway and both Sheringham Stations. The Poppy Line runs steam and diesel trains to Holt every day. The cute cafe inside the station is a great place to have a nice cuppa while waiting for the train to arrive. There is also a little shop and the coloured ticket hall. Enjoy the ride and get stunning views along the way.
5. An arty experience in Sheringham
Are you into art? If you take a walk along the seafront you will go past the Sheringham Art and Sculpture Trail. Local artists showcase their work, making it part of the regeneration project of the sea defence, decorating the austere parts. Local artist Brian Lewis depicts traditional elements of town separately in a very unique way. For theatre performances, check the Little Theatre programme and enjoy a play on the smallest theatre stage in the UK!
FAQs: Holiday Rentals & Lettings in Sheringham
How much do you pay on average for holiday rentals in Sheringham?
With an average price of £127.15 per night, Sheringham lies at the lower end of the price range for holiday rentals in the United Kingdom.
When can you get the best deals on holiday rentals in Sheringham?
According to our most recent historical data, the months with the cheapest prices in Sheringham are March, January, and February, with average prices of £107.82, £108.82 and £113.81, respectively.
When are holiday rentals more expensive in Sheringham?
When it comes to looking for a holiday rental in Sheringham, the most expensive months are, in descending order, October, September and July with average prices per night of £147.35, £142.94, and £133.85, respectively.
Is it necessary to plan a trip to Sheringham well in advance?
It's worthwhile to be proactive in Sheringham as only 28% of the properties are free, following the data observed in 2020.
What time of the year can I find more available holiday rentals?
The months that have the highest availability, on average, are January (with an availability of 58%), May (49.6%), and April (47.5%), according to the trends observed in 2020.
Which months is it more difficult to find available rentals?
The months with the lowest properties available in Sheringham are, in order, August, September and July, with respective average availability figures of 0%, 1%, and 5.25%, based on data collected in 2020.
How many rentals are available in Sheringham?
In Sheringham we offer you an extensive catalogue of around 150 properties, with options of all kinds, thanks to our 10 local and international partners.
Holiday destinations nearby
Holidu compares hundreds of websites to find your perfect holiday rental for the best price.