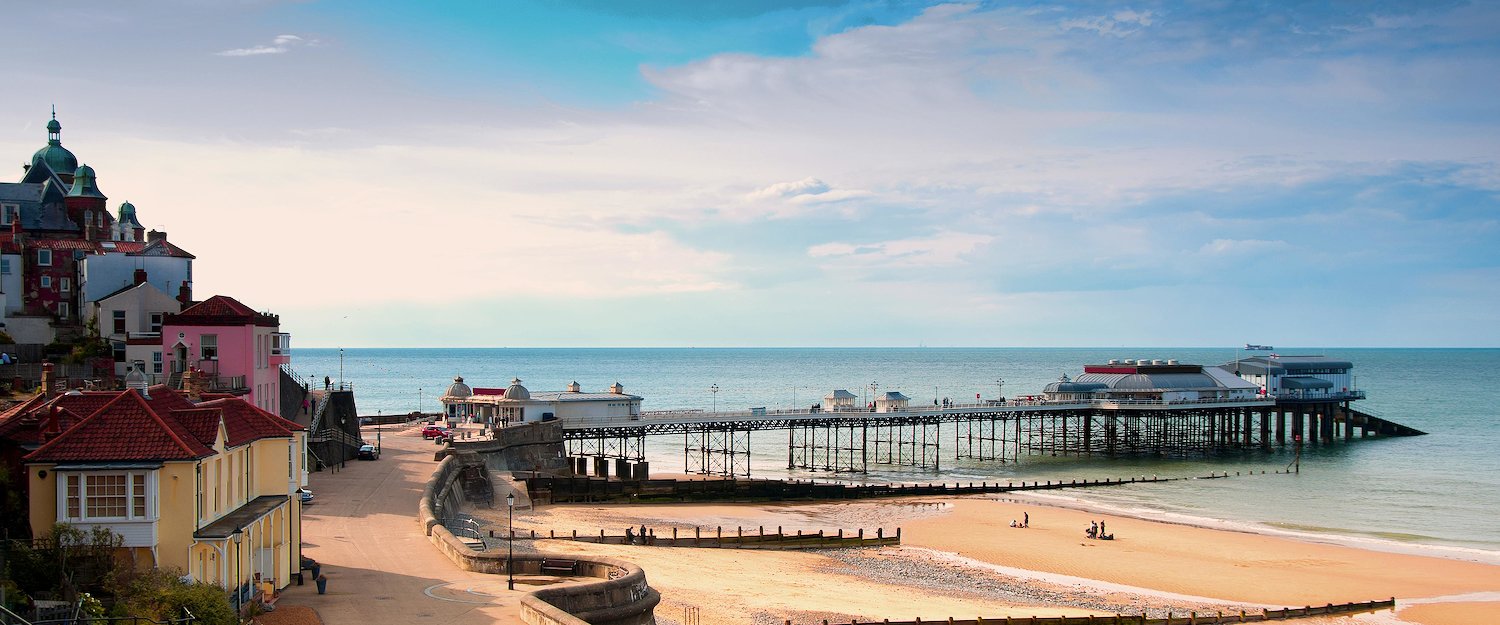 Cottages in Sheringham
75 properties for Cottages. Compare and book at the best price!
Popular Cottages in Sheringham
Find Cottages in Sheringham
Highlights in Sheringham
Picturesque seaside town
High-quality restaurants
Safe beaches
Colourful forests and gardens
Most popular amenities for Cottages in Sheringham
Other property types in Sheringham that might be interesting:
Cottages in Sheringham
Magnificent cottages near the beach
Looking for a quiet holiday location close to the beach? The seaside town of Sheringham offers splendid cottages just steps away from the golden sands! Your stay will be a complete experience that includes a blue flag beach, over 90 fine dining venues, outdoor activities for all ages and a peaceful setting with cliff top scenery. It is the best holiday destination if you are looking for a sunny place to spend unforgettable days with your partner, your family or your pets!
Comfortable cottages with terraces
Sheringham has a variety of properties to suit both couples and larger groups of up to 6 people. You can stay in cosy cottages that have a stone-fronted fishing style but have a completely different modern design inside with luxurious fully equipped kitchens, light-filled bedrooms, renovated bathrooms and living rooms that lead out onto the terrace so you can enjoy the views of the beach.
Travellers and activities
Sheringham for families
Hilltop Outdoor Centre is one of the best places in town where the whole family can have fun. Children can enjoy a host of activities including a Climbing Wall, High Ropes, Archery, Zip Line and Air Jump. Spend a fantastic afternoon with professional instructors, have fun with exciting adventure activities and enjoy 26 acres of woodland overlooking the beautiful coastline. Or if the little ones are animal lovers, head to Amazona Zoo located just minutes away in the town of Cromer. Experience over 200 South American animals including jaguars, snakes, flamingos, monkeys, crocodiles, capybaras and more! On the way back to Sheringham stop by Ellie's Ice Cream and enjoy the many flavours in the shop.
Sheringham for outdoor enthusiasts
There's no doubt that if you're a lover of the great outdoors, the first place you'll want to visit in the city is Sheringham Park. The area has almost 1,000 acres of parkland and woodland to explore where you'll see trees that are hundreds of years old. Fill your lungs with fresh air, feel the sun on your face, explore the environment by cycling or hiking, climb to the top of Temple Hill or walk down to the beach to lie on the sand. The park also has a garden with a pond and plants such as lavender and rosemary. During your stay you should not miss the trail along Beeston Hill either. It's an easy walk with a lot of nature and ocean views which will lead you to a badge of one of the Y-stations used by the intelligence service.
"The name "Sheringham" is of Scandinavian origin and means "Ham of the people of Scira"."
Top 7 travel tips in Sheringham
1. Experience the tranquillity of the Priory Gardens
Priory Maze and Gardens is one of Norfolk's most enchanting gardens and a must for all tourists. The gardens are spread over 10 acres and are filled with natural beauty such as birds, dragonflies, ponds and themed gardens. Relax to the sound of the stream running through the garden, enjoy the orchids in the summer and have lunch in the cafe. The location is great for a romantic getaway or to take the children to have fun in the hedge mazes.
2. Take a rail tour along the coast
Sheringham Railway Station is a popular tourist attraction for families and offers a scenic journey from Sheringham to Weybourne where you can observe the different landscapes along the Norfolk coastline. It's a great experience for both adults who have experienced the age of steam engineering and children who want to venture out on a train for the first time. Sit back, relax and enjoy a cup of tea/coffee while you admire the scenery.
3. Explore the woods of Pretty Corner
Surrounded by woodland and heathland, Pretty Corner consists of 165 acres and has been awarded Green Flag status. It's the perfect place for a great adventure where you'll discover a range of natural habitats that are home to a variety of animals including owls, deer, woodpeckers and insects such as butterflies. Hike to the highest point at Pretty Corner and take in the sea views - not to be missed, this is one of the highest points in Norfolk and rises 96 metres above the sea.
4. Spend a day at Sheringham Beach
A visit to the pleasant beach at Sheringham is all you need to wind down and relax. The beach has been awarded a Blue Flag and is a mix of pebbles and golden sand where you can soak up the sun. When you visit the beach, swim in the rock pools, explore the marine life, watch the sunset, walk along the promenade to Whelk Coppers and try artisan coffee.
5. Book a table at Marmalade's Bistro
Perfect for special occasions and family gatherings. Marmalade's is a charming restaurant that provides a warm atmosphere and a blend of classic British food prepared with fresh local ingredients of the highest quality. Sit back and enjoy a creatively prepared menu ranging from roast fig to fillet of sea bass. The food is homemade, but with an elegant touch that won't disappoint.
6. Discover Hillside Shire Horse Sanctuary
Located in the nearby town of West Runton, the Hillside Shire Horse Sanctuary has provided a home to many animals from the agricultural industry and is well worth a visit this holiday season. The sanctuary has over 1,000 horses and a host of other animals including donkeys, adorable ponies, cows, sheep, goats and pigs. Spend a lovely day surrounded by these beautiful creatures and discover the story behind each of them.
7. Taste the best street food in town
On your way back to Sheringham, stop off at Fat Teds Streat Food! It's a unique and innovative take on street food that shouldn't be missing from your list of places to visit in the city. This gastronomic hotspot prides itself on serving a fresh menu prepared with aromatic and quirky ingredients that will give you an explosion of flavours. Try their mouth-watering burgers, fries and nachos accompanied with cheese and meat.
FAQs: Cottages in Sheringham
Which types of facilities are offered by the cottages in Sheringham?
In terms of the facilities you can find on Holidu, it appears that the cottages in Sheringham benefit from everything that holiday-makers desire! Here, the cottages generally offer a variety of amenities, the most popular being: Wi-Fi (77%), garden (35%), and fireplace (23%)...Pretty cool!
How are the cottages usually rated in Sheringham?
On average, the cottages here have rather positive comments. Last year's data reveals that 37% of cottages have a rating of 4.5 stars. A percentage high enough to confirm that there are quite a few which are very comfortable and will be the perfect choice for your next holiday.
Are the cottages in Sheringham child-friendly?
Judging by the Holidu data, 14% of cottages in Sheringham are suitable for families with children, it will therefore not be difficult to find the ideal cottage for you and your children.
Are the cottages in Sheringham suitable for holiday-makers who wish to travel with their pets?
Yes! In Sheringham, 39% of the cottages are pet-friendly, 35% even have a garden!
Do the cottages in Sheringham often have Wi-Fi?
Of course! According to the data collected last year, 77% of cottages in Sheringham offer an internet connection. You will be able to stay connected during your stay!
How much does it cost on average for cottages in Sheringham?
Most of the cottages in Sheringham (76%) are less than £100 a night. This is the dream destination for finding a cheap cottage!
Do the cottages in Sheringham typically have a fireplace?
Of course! According to last year's data, a lot of cottages in Sheringham . Fancy a weekend by the fire? Don't delay in booking a cottage in Sheringham!
Are the cottages in Sheringham suitable for trips with several people or rather for a holiday as a small group?
According to Holidu's database, 83% of cottages welcome small groups of up to four guests. Approximately 86% of the cottages here have at least two separate bedrooms. This is the perfect destination for families of four!
Holiday destinations nearby for Cottages
Holidu compares hundreds of websites to find your perfect holiday rental for the best price.