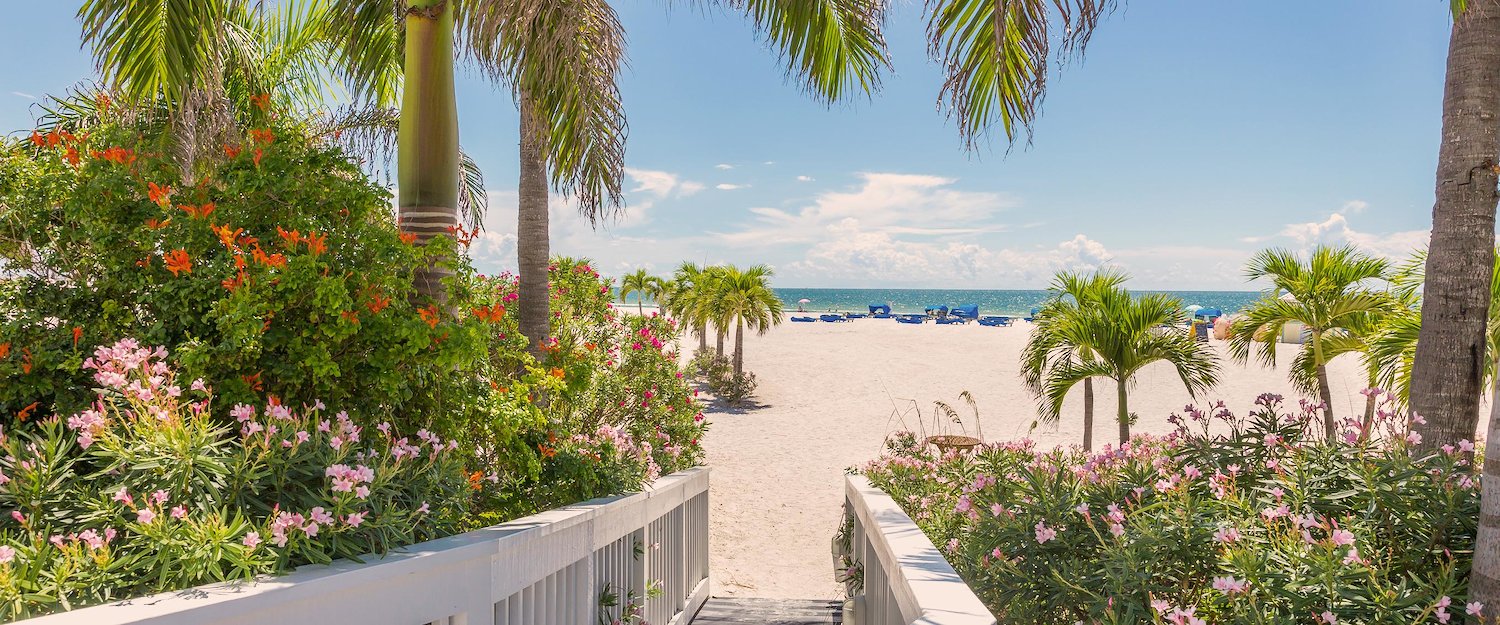 Cottages in Florida
506 properties for Cottages. Compare and book at the best price!
Popular Cottages in Florida
Highlights in Florida
Everglades tour
Disney World
Couple's activities
Botanical gardens
National Park
Islands
Snorkelling
Beaches
Wildlife
Water sports
Most popular amenities for Cottages in Florida
Other property types in Florida that might be interesting:
Cottages in Florida
A relaxing holiday in The Sunshine State
Known as The Sunshine State, Florida is a true paradise on the southeastern coast of the USA. It's the only state in the country which borders both the Gulf of Mexico and the Atlantic Ocean, offering endless opportunities to relax on sandy beaches and swim in crystal clear waters all over the state. Regardless of where you are in Florida, you'll never be more than 60 miles from the closest body of salt water. The sunny state is known for its year-round mild-climate, abundance of amusement parks, and countless beaches. Families, couples, beach lovers, and nature enthusiasts will all find something to love during a holiday in Florida.
A cosy cottage in Florida
Indulge in the ultimate relaxing getaway with a cottage stay in Florida. The sunny, laid-back state offers an endless array of varying cottage options in a spectrum of sizes, styles, and designs, with a little something for every type of traveller. Opt to stay in a cottage just steps away from a sandy beach, where you can go for a refreshing dip in the ocean whenever you like. Or, stay in a cottage near a lake in central Florida, surrounded by trees and marshlands. Several cottages come with a large garden where you can enjoy plenty of privacy close to nature. Couples can opt for a romantic holiday in a cottage with a sauna and a hot tub. There are oversized cottages for families and large groups, with options equipped to accommodate up to 6 people. Cottages in Florida come with all the modern comforts you'll need such as Wi-Fi, air-conditioning, and fully functioning kitchens. With so many excellent cottage options, you'll be sure to find the perfect one for your holiday in Florida.
Travellers and activities
Florida for families
Families of all ages will find plenty to do and see in Florida. Go for a thrilling airboat tour to explore the Florida Everglades. As you glide along the swamplands, you're bound to see plenty of alligators lurking in the waters (from a safe distance, of course!) and the professional guide will share fascinating facts about the environment and wildlife. For families with kids, Florida is the home of the iconic magical kingdom of Walt Disney World. The world-famous amusement park is home to all your favourite Disney characters, as well as rides, entertainment, stunning gardens, and delicious food. It's a bucket list destination for any family travelling to Florida!
Florida for couples
Florida offers the ultimate holiday getaway for couples seeking to spend some romantic quality time together. Go for a peaceful walk in the stunning Naples Botanical Garden. The 170-acre gardens are filled with tropical plants, colourful gardens, wildlife, and well-maintained walking trails. Spend some hours walking around and exploring the beauty of the place, and be sure to pop by the café for a lovely lunch before you go. Couples won't want to miss out on a visit to Florida's most romantic beach: Sanibel Island Beach. The beach is a popular honeymoon destination known for its pearly-white sands and calm turquoise waters. It's the perfect place to spend some uninterrupted quality time with your lover, paired with the most golden sunsets you've ever seen!
Out of any US state, Florida has the longest coastline at 1,197 collective miles and over 825 miles of sandy beaches.
Top 7 travel tips in Florida
1. Visit the turquoise waters and sea turtles at Dry Tortugas National Park
Accessible only by seaplane or boat, this stunning National Park is one of Florida's spectacular gems. This unspoilt island park is home to sea turtles, tropical bird species, and a historic fort. Explore the historic Fort Jefferson, go swimming in the crystalline waters, and spot loggerhead turtles in the sea. The island is a popular snorkelling destination, particularly at Garden Key.
2. Relax on the white-sand beaches of Bradenton
Bradenton Beach is a city on Anna Maria Island, on the East Coast of Florida. While you're here, go for a stroll on the endless stretch of white, powdery sands on Coquina Beach. Swim in the emerald waters and have a picnic on the shore. The city is home to some top-rated restaurants serving fresh seafood, with Beach House Restaurant being one of the most popular options. Spend some time shopping and exploring the colourful buildings on Bridge Street.
3. Visit the historic city of St. Augustine
St. Augustine is a historic city in northeastern Florida. It is the oldest permanently occupied European settlement in the USA, dating back to the 1500s. Explore the city's cobbled streets on foot to discover the many historic landmarks and stunning coastal attractions. Visit the lighthouse, learn about the city's history at a variety of museums, and go for swims at the breathtaking Ponte Vedra Beach.
4. Snorkel and scuba dive in Key Largo
Set in the upper Florida Keys, Key Largo is an idyllic island known for its beautiful beaches and wild dolphin population. Visit John Pennekamp Coral Reef State Park to do a glass-bottom boat tour where you can see the colourful fish and reefs through the crystal clear water. Go to Dolphins Plus Bayside to swim with dolphins in an emerald lagoon. Hire kayaks or stand-up-paddleboards to explore the waters just off the shoreline. The clear water off the shoreline of Key Largo is popular for snorkelling and scuba diving as well.
5. Enjoy outdoor activities at Lake Panasoffkee
Head to the lesser-visited yet equally alluring nature of Central Florida. Lake Panasoffkee is popular for the vast number of outdoor activities it offers, including birdwatching, horseback riding, fishing, and hiking. Do an airboat tour around the lake, visit the farmer's market, and snorkel with manatees! You can hire bicycles to explore around the area, or opt to do a guided horseback tour to discover the lakeside landscapes.
6. See wildlife and enjoy water activities in Sugarloaf Key
Sugarloaf Key is situated in the southern keys and is known for its relaxing atmosphere and stunning coastal areas. It is popular among fishermen and is regarded as one of the best fishing destinations in Florida. Visit the Great White Heron National Wildlife Refuge to explore some of the endangered species of Florida. Swim and sunbathe on the golden shores of Sugarloaf beach. Hire kayaks to paddle around the calm waters, or hire boats to go further offshore.
7. Swim and sunbathe on Fort Meyers Beach
The long stretch of clean, sandy shoreline at Fort Meyers Beach attracts visitors from far and wide. It's an excellent place to enjoy swimming, water sports, and relaxing under the sun. Fishing is a popular sport here, and the beach is well-known for its stunning sunsets. Shop and dine in the town centre, which is home to high-end boutiques and top-rated outdoor restaurants.
FAQs: Cottages in Florida
Which types of services are offered at the cottages in Florida?
Out of the facilities you can find on Holidu, it seems that the cottages in Florida have everything that holiday-makers desire! Here, the cottages generally include a variety of amenities, the most popular being: air conditioning (94%), Wi-Fi (85%), and barbecue (60%)...Are you convinced yet?
How are the cottages usually rated in Florida?
On average, the cottages have rather positive reviews. Last year's information reveals that 44% of cottages have a rating average of 4.5 stars. This is a relatively high percentage which allows us to confirm that there are quite a few which are very comfortable and will be the perfect choice for your next holiday.
Are the cottages in Florida suitable for holidays with children?
Holidu's insights reveal that 56% of cottages in Florida are suitable for holidays with children, it will therefore not be difficult to find the perfect cottage for you and your family.
Are the cottages in Florida suitable for holiday-makers who wish to travel with their pets?
For sure! In Florida, 40% of the cottages offer the possibility for travellers to take their pets with them, and 42% also have a garden!
Do the cottages in Florida generally come with Wi-Fi?
Of course! According to last year's data, 85% of cottages in Florida have Wi-Fi. So no need to panic, you will be able to access your emails and favourite social media sites at any time!
How much does it cost on average for cottages in Florida?
According to last year's information, there are fewer than 40% of the cottages in Florida that are less than £100 a night.
Do the cottages in Florida generally come equipped with a fireplace or a swimming pool?
Definitely! Judging by information from Holidu, the cottages in Florida have everything you need in summer and winter. Here, 14% are equipped with a fireplace and 27% a swimming pool.
Are the cottages in Florida suitable for trips with friends or rather for a holiday as a small group?
According to the information collected last year, 76% of cottages are perfect for families with up to four people. Approximately 56% of the cottages here have at least two separate bedrooms. This is the ideal destination for families of four!
Are cottages in Florida the best option for a luxurious trip?
Some cottages are, but others aren't as luxurious. So if you are looking for that special accommodation, don't delay in making a reservation because only 27% have a pool, 94% have AC, and only 2% have a sauna. However, if it's space you're looking for, 76% of the cottages can accommodate four or more adults, and 42% have a garden.
Do the cottages in Florida have a beautiful view?
19% of cottages have a balcony or terrace, and 28% have a view, but it is not very common, so availability can be limited. If this is a priority for you, you should start your research early, and use the filters that suit you the best to be sure to find what you are looking for. However, 42% of cottages in Florida have gardens, where you can bask in the sun. If you like to have lunch or dinner outside, and especially if you like barbecues, 60% of the cottages have them.
Holiday destinations nearby for Cottages
Holidu compares hundreds of websites to find your perfect holiday rental for the best price.