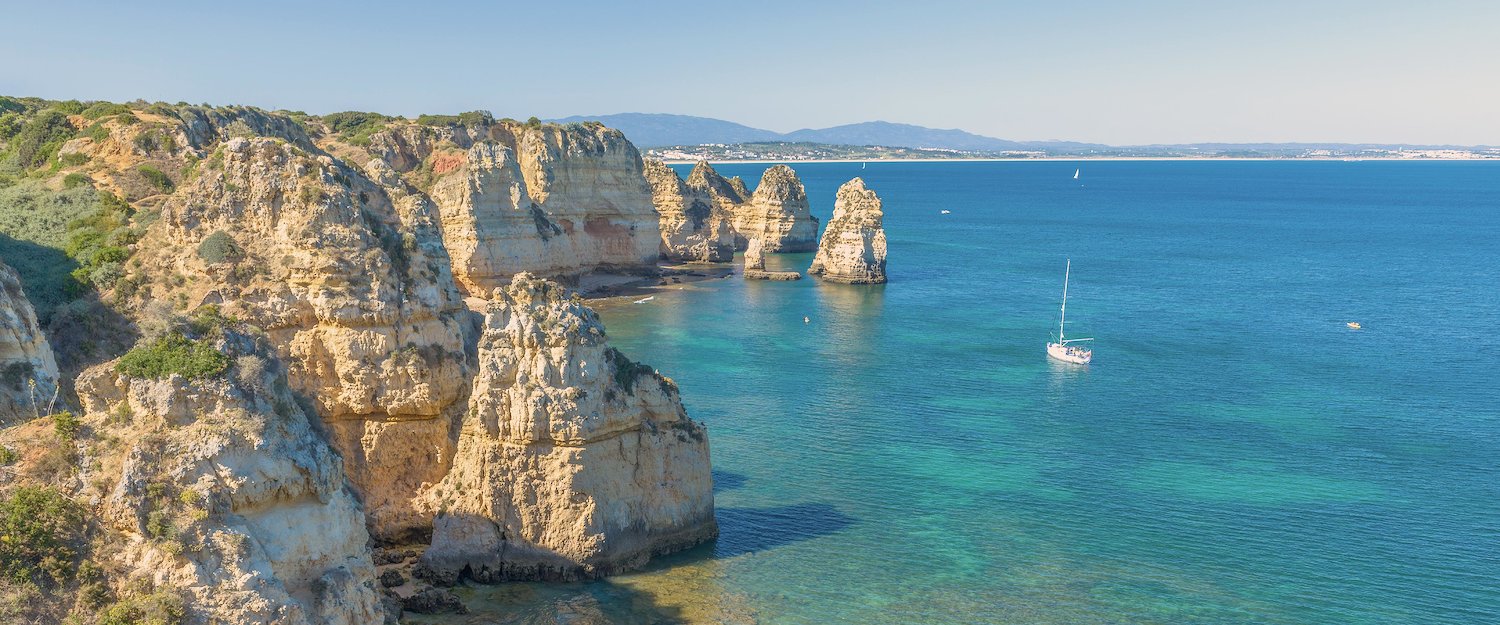 Villas in the Algarve
3268 properties for Villas. Compare and book at the best price!
Popular Villas in Algarve
Highlights in Algarve
Paradise beaches
Exciting dolphin sightings
Delicious seafood cuisine
Unique sea caves
Most popular amenities for Villas in Algarve
Other property types in Algarve that might be interesting:
Villas in Algarve: Most popular destinations
Villas in the Algarve
Extraordinary villas just steps away from soft sand and crystal clear waters
The Algarve is one of Europe's most popular holiday destinations and offers magnificent coastal villas near some of the country's most beautiful beaches. The region is blessed with a warm climate and clear seas that you can enjoy just minutes from your accommodation. In addition to a welcoming atmosphere, the many places to eat and exciting things to do will provide you with the best holiday ever!
High-quality villas with refreshing pools and unforgettable sea views
The range of luxury villas in the Algarve offers all the comforts to ensure you and your family have a wonderful time. The fantastic properties have stunning ocean views, terraces with dining areas for you to enjoy a traditional seafood dinner, sun loungers for sunbathing in the summer and pleasant swimming pools for cooling off after sunbathing. Indoors you can enjoy air-conditioned rooms with balconies overlooking the gardens with tall palm trees and the swimming pool to keep an eye on the children.
Travellers and activities
Algarve for beach lovers
The Algarve region has been voted one of the best beach destinations in Europe and Its diversity of beaches make it a special place for holidays for those who love the sand and sun. You can find coves that are only accessible by sea, white sandy beaches with crystal clear blue waters such as Praia do Camilo and Marinha (one of the 10 most beautiful beaches in Europe), beaches located next to rivers that mix fresh and saltwater such as Praia de Odeceixe (one of the 7 most beautiful beaches in Portugal) and the beach of Ilha de Cabanas, idyllic islands such as Armona and naturist beaches such as the island of Tavira. In addition to this, the vast majority of the Algarve's beaches are home to bars and restaurants, so you'll have somewhere to cool off and eat after a hot day.
Algarve for families
Besides the beautiful beaches, the Algarve offers plenty of activities for the whole family! Among the attractions, you will find Zoomarine, the region's main family attraction. The place offers a mix of water park attractions, marine mammal shows and theme park. Here children can swim with dolphins and cool off in the large pools in the summer. However, the Algarve also has other great options to keep the little ones entertained such as the Lagos Zoo which offers a relaxing family day out where you can meet the Iberian lynx, exotic birds and discover the Monkey Island, an area where primates run free. The Krazy World Zoo is also another popular place for families, which has pools, slides, a petting zoo and other animals such as crocodiles, snakes and more. With green spaces and picnic areas, the Algarve's parks have everything you need for a great day out with the kids.
The Algarve is a food lover's paradise with six of Portugal's fourteen Michelin-starred restaurants
Top 7 travel tips in Algarve
1. Discover the big sand sculptures of the FIESA festival
The FIESA festival is one of the largest sand sculpture festivals in the world, and hosts over 50 talented artists who have used 40,000 tonnes of the unique sand found in the Lagoa area to create huge sculptures that will leave you wondering how this is possible! During the day watch the blue sky highlight the incredible and diverse sand sculptures that surround the entire Sandcity park. You'll see different themes each year throughout the summer with around 100 sculptures of everything from famous faces to animals.
2. Explore the fantastic caves of Benagil
Admire the gigantic Benagi Cathedral, so-called because of its various arches, and discover its various shades of yellow contrasting with the blue sea. A trip to the beautiful Benagil Caves is a must if you are in the Algarve. The natural beauty of these caves is incomparable! You can take a boat trip to the caves where you can see wild dolphins and tour some of the incredible sites along the coast. You also have the option of renting a stand up paddle board (SUP) to explore the site. It is one of the most fantastic caves on the planet, ranked 15th.
3. Venture to the peaceful crystalline shores
Dive into the crystal clear waters and discover the coral reefs that hide fish of all colours. Snorkelling in the clear waters of the Algarve is a unique and relaxing experience that will give you plenty to see. The region's waters are teeming with colourful marine flora and fauna that are a sight to behold. Best of all, you don't need any training or experience to explore the world beneath the waves.
4. Taste the delicious traditional dishes
The fantastic Algarvian produce is a delight to be savoured! Fresh seafood is the main dish in all the restaurants, you can try octopus, squid, lobster and more. However, the dish that sums up the Algarve's cuisine is the fish and seafood cataplana! But don't miss out on the Iberian pork, sheep's cheese, piri piri chicken and grilled sardines drizzled with olive oil and lemon juice. Match your high quality food with an Algarve wine. The restaurants will offer you a cosy atmosphere and indulgent menus worth savouring overlooking the Atlantic Ocean.
5. Join a pirate crew!
Sail the seas of the Algarve like a true corsair aboard an iconic pirate ship. Algarve offers unforgettable journeys on authentic wooden ships with billowing sails that will give you a fantastic adventure along the coastline. You can discover the coves and beaches, have incredible views, as well as enjoy a traditional Portuguese barbecue on a secluded beach.
6. Take a horseback ride along the beaches
Galloping along the beaches and through the countryside of the Algarve is the best way to get in tune with nature and discover the breathtaking views of the region. Whether as a family or as a couple, the rides are exciting and safe. You can enjoy trails for all abilities along with friendly, well-trained horses that will take you through beach dunes, spectacular lagoons and rolling hills accompanied by perfect weather with clear skies.
7. Enjoy an unforgettable dolphin safari
The Algarve has a great diversity of marine life such as whales and dolphins that you can observe on boat trips! You will have sightings of these amazing animals in areas such as Portimão Canyon, Caneiros and São Vicente Canyon. Take a boat trip and marvel at the dolphins jumping out of the water as the boat moves along. This is a magical trip for all the family to enjoy.
FAQs: Villas in Algarve
Which filters are the most important for holiday-makers, ones in which they won't compromise on during their stay in Algarve?
Judging by the information from Holidu, when holiday-makers search for villas in Algarve, the most selected amenities are: swimming pool (30%), Wi-Fi (18%), and balcony (10%). Last year, most of the people searching on Holidu used at least one of these services when finding the perfect villa.
Which types of amenities can you expect to find at the villas in Algarve?
In regard to the services available on Holidu, it can be said that the villas in Algarve benefit from everything that holiday-makers desire! Here, the villas generally include a variety of amenities, the most popular being: Wi-Fi (93%), swimming pool (91%), and barbecue (86%)...Are you convinced yet?
What are the reviews like for the villas in Algarve?
On average, the villas here have rather positive reviews. According to Holidu, 31% of villas have a rating average of 4.5 stars. This is a relatively high percentage which allows us to confirm that you will without a doubt find the ideal villa for a wonderful holiday!
Are the villas in Algarve suitable for holidays with children?
According to information from last year, 56% of villas in Algarve are suitable for holidays with children, it should therefore be very easy for you to find the perfect villa for you and your family.
Are the villas in Algarve suitable for travellers and their pets?
Yes! In Algarve, 15% of the villas accept pets, and 75% even have a garden!
Do the villas in Algarve tend to offer an internet connection?
Of course! According to Holidu's data, 93% of villas in Algarve offer Wi-Fi. This means that you will be able to browse the internet during your stay!
What is the average price for villas in Algarve?
Many villas in Algarve are in general fairly expensive. According to the information collected last year, 12% are at more than £500 per night.
Do the villas in Algarve usually have a fireplace or a swimming pool?
You're in luck! According to Holidu information, the villas in Algarve are ideal for all seasons. Here, 44% have a fireplace and 91% a swimming pool.
Are the villas in Algarve suitable for stays with friends or rather for a weekend break as a couple?
In Algarve, according to the information gathered last year, 61% of villas welcome groups of up to eight travellers, and 55% of these villas are made up of at least four bedrooms. But 99% of villas are also perfect for families of up to four guests, and 98% of the villas have at least two separate bedrooms. Algarve is, therefore, the ideal destination for travelling in small or large groups, with family or friends!
Are villas in Algarve luxurious?
Some villas are, but others aren't as luxurious. So if you are looking for that special accommodation, don't delay in making a reservation because only 91% have a pool, 82% have air conditioning, and only 2% have a sauna. However, if it's space you're looking for, 99% of the villas can accommodate large groups, and 75% have a garden.
Do the villas in Algarve offer outdoor space to enjoy?
72% of villas have a balcony or terrace, and 41% have a view, but it is not very common, so availability can be selective. If this is a priority for you, you should anticipate a bit more time for research, and use the filters to be sure to find the villa that is perfect for you. However, 75% of villas in Algarve have gardens, where you can enjoy the outdoors. If you like to have lunch or dinner outside, and especially if you like barbecues, 86% of the villas have them.
Holiday destinations nearby for Villas
Holidu compares hundreds of websites to find your perfect holiday rental for the best price.