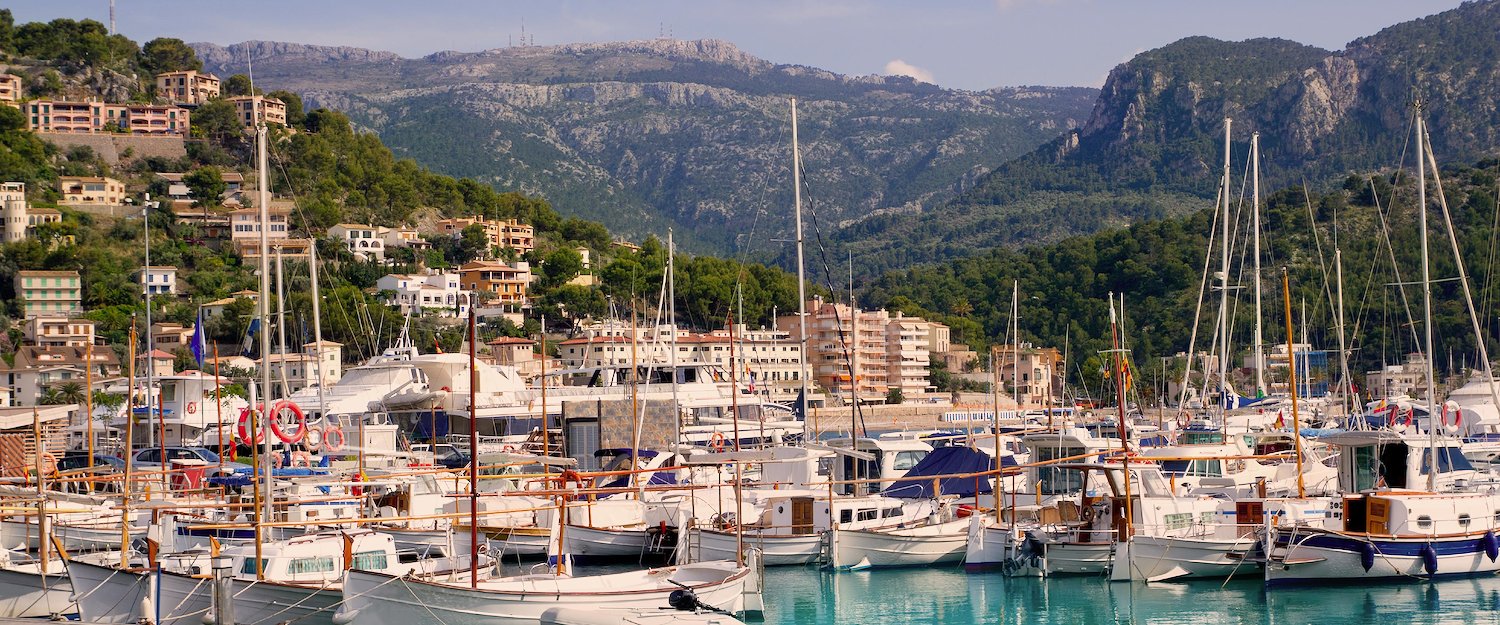 Villas in Port Sóller
16 properties for Villas. Compare and book at the best price!
Popular Villas in Port de Sóller
Find Villas in Port de Sóller
Highlights in Port de Sóller
Beach, sun and sand
Old lighthouse
Train ride
Trekking
Most popular amenities for Villas in Port de Sóller
Other property types in Port de Sóller that might be interesting:
Villas in Port Sóller
Spectacular villas in the most famous port in Spain
Have you ever dreamed of spending days contemplating the soft blue of the sea? Holidu can make your dream come true by taking you to Port Sóller, on Mallorca Island, Spain. A place to relax and travel back in time aboard the tram built in 1913 that will take you to the many attractions that this island has for you. Visit its museums, its ancient cathedrals, the Santa Catalina viewpoint or the Torre Picada, and let yourself be seduced by the waves of the beaches that surround Puerto de Sóller.
Enjoy villas facing the sea with wonderful views
The villas in Puerto Sóller will take your breath away, to the point that you will not want to leave once you perceive the tranquillity projected by their picturesque facades and multicoloured gardens. Some of his designs evoke bygone times when the island was rarely visited. Other more modern buildings will captivate you with their open spaces distributed in such a way that you can enjoy every corner of the villa. The best thing about being in front of the sea surrounded by gardens and majestic landscapes is that you will also have the comforts that you like so much: internet, swimming pool, heating, television and many more. Get ready, the villas in Puerto Sóller await you!
Travellers and activities
Port de Sóller for families
You can let your family live an unforgettable experience travelling by boat. This is an activity that you certainly cannot miss. One of the most popular boat trips from Port de Soller is the one that leads directly to Sa Calobra. This is a worthwhile walk, this cove is an exquisite place to spend a day. In addition to the well-known passenger boats, there is also the opportunity to rent smaller private boats in Port de Soller for excursions.
Port de Sóller for celebrations
If it's about celebrating parties, the patrons of Sóller are the week of August 24, in honour of San Bartolomé or Sant Bartolomeu: infernal fires in the form of firecrackers commanded by local demons: slatabutzes. Although the best known festival takes place on the second weekend of May, Firó, where up to 4 battles are staged to commemorate the pirate looting suffered by the town in 1561.
The picturesque Port de Sóller can also be reached via a tunnel from the village.
Top 7 travel tips in Port de Sóller
1. Start your tour by visiting the Cabo Gros Lighthouse
This lighthouse and its accompanying structure were built in 1842 on the initiative of the City of Sóller. Going up to the lighthouse is a bit of a steep hike, but it is definitely worth doing it because the views from there are simply spectacular. It is a perfect place to end a day of walks around the port. Besides being ideal for taking spectacular photographs of the port and the surrounding natural beauties.
2. You cannot miss the Hermitage of Santa Catalina de Alejandría and Muse del Mar
This beautiful hermitage was built for the first time in the 13th century, its original structure suffered pirate attacks in 1542 but was rebuilt in 1550. In 2004 the Museum of the Sea was established there with the idea of ​​showing itself as a centre for interpreting the history of Soller and its important relationship with the sea. Inside the museum you can see interesting exhibitions that show representative naval pieces of the maritime history of Puerto de Soller.
3. Travel aboard the Sóller Tram
This was the first tram inaugurated in Mallorca. It began to function in 1913 covering the route from the town to Puerto de Soller. The route of this tram is as beautiful as it is enchanting. Pass through the main streets of the town and among the beautiful and aromatic citrus groves. This is undoubtedly a beautiful ride that you are going to enjoy quite a bit. Especially since some wagons are the originals dating from 1913.
4. Go hiking on Route GR221
It is defined as a long-distance route that crosses the Sierra de Tramontana. Doing this tour you will find some of the best known attractions of Puerto de Soller. You will cross its imposing mountains and wooded areas from where you can contemplate the town and the sea that surrounds it. Without a doubt, this is an experience that will allow you to renew your energies.
5. Get to know the orange trees of Sóller in Ecovinyassa
In the Vinyassa orchard, at the foot of Sóller, you can discover the importance of the orange in this land. More than 18,000 square metres at the foot of the Sierra de Alfabia for you to walk and soak up the culture of the orange tree in a natural environment, with a special microclimate, where organic orange and lemon jams, orange blossom infusions or candied orange peel are produced.
6. Enjoy the sand at Puerto Sóller Beach
Also known as Playa del Través, it is a sandy area that borders part of the natural port of Sóller. It is surrounded by the Serra de Tramuntana and has a pleasant promenade through which the tram that connects Sóller with the Port of Sóller passes. Its sand is fine and golden and is ideal for you to enjoy with children, since it has all kinds of services: showers, umbrellas, hammocks, etc. And in its vicinity there are bars, restaurants and shops.
7. Live the adventure of diving in Octopus
Here you will find a great place and a very friendly team waiting to let you in a unique and wonderful day. You can take the Open Water course and learn basic diving techniques. You will feel super comfortable when you see the result that you will get from your practices. Once you gain confidence in the depths of the sea, you will not want to stop diving. Excellent experience!
FAQs: Villas in Port de Sóller
Which amenities are the most important for holiday-makers for their stay in Port de Sóller?
According to the data from Holidu, when travellers browse for villas in Port de Sóller, the most chosen amenities are: pool (45%), Wi-Fi (22%), and air conditioning (12%). Last year, the larger part of researchers chose at least one of these amenities when finding the perfect villa.
Which types of amenities can you find in the villas in Port de Sóller?
In terms of the services you can find on Holidu, it appears that the villas in Port de Sóller have everything that travellers search for! Here, the villas generally offer a variety of amenities, the most popular being: pool (86%), Wi-Fi (84%), and air conditioning (80%)...Pretty cool!
How do travellers usually rate villas in Port de Sóller?
On average, the villas have rather positive comments. According to the Holidu data, 35% of villas have a rating equivalent to or higher than 4.5 stars. A percentage quite high which allows us to confirm that you will easily find the ideal villa for a wonderful holiday!
Are the villas in Port de Sóller suitable for holidays with children?
Judging by the Holidu database, 41% of villas in Port de Sóller are child-friendly, so you won't have any difficulty finding the ideal villa for you and your children.
Are the villas in Port de Sóller suitable for holiday-makers who wish to travel with their pets?
According to Holidu's data, a small percentage of villas in Port de Sóller accept furry friends. We can therefore assume that there are more suitable destinations in Spain to take your faithful companion with you.
Do the villas in Port de Sóller often offer Wi-Fi?
Certainly! According to the data collected last year, 84% of villas in Port de Sóller offer an internet connection. It is therefore no problem for you to will be able to stay connected during your stay!
What are the prices like for villas in Port de Sóller?
The villas in Port de Sóller are generally very expensive. According to the data collected last year, 18% cost on average more than £500 per night.
Do the villas in Port de Sóller typically have a fireplace or a pool?
Yes! According to Holidu's database, the villas in Port de Sóller are ideal in summer and winter. Here, 37% have a fireplace and 86% a pool.
Are the villas in Port de Sóller suitable for trips in large groups or better for an escape as a couple?
Here, according to Holidu's data, 57% of villas are suitable for up to eight travellers, 57% of these villas contain at least four bedrooms. But 90% of villas also welcome small groups of up to four travellers, 90% of the villas include at least two separate bedrooms. This is therefore the ideal destination for groups of friends of all sizes!
Holiday destinations nearby for Villas
Holidu compares hundreds of websites to find your perfect holiday rental for the best price.