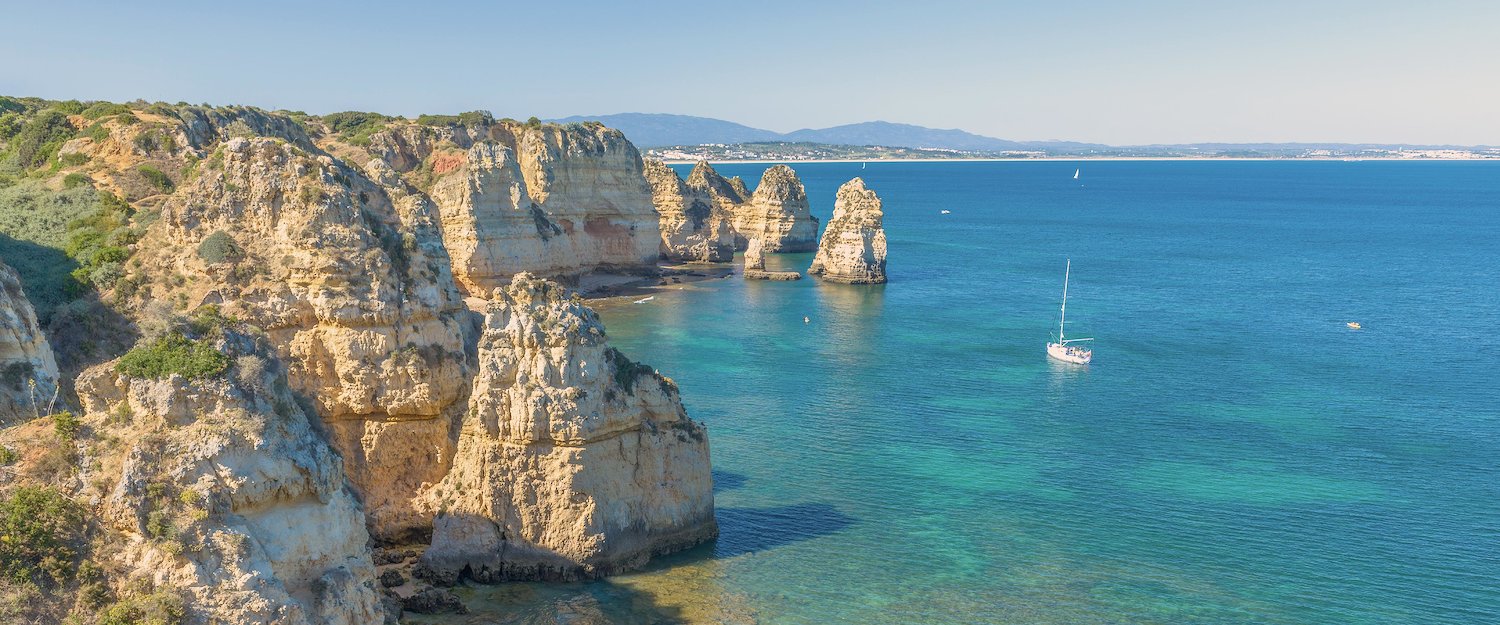 Villas in Praia da Luz
69 properties for Villas. Compare and book at the best price!
Popular Villas in Praia da Luz
Find Villas in Praia da Luz
Highlights in Praia da Luz
Surfing spots
Beach days
Water park fun
Day trips
Great cuisine
Most popular amenities for Villas in Praia da Luz
Other property types in Praia da Luz that might be interesting:
Villas in Praia da Luz
Great villas near the sea
Praia da Luz is an ideal beach resort in the Algarve ideal for those who want a quiet get away with all the comforts at your doorstep. Find a villa with views near the beach, overlooking a sandy bay. Enjoy fabulous villas in and around Praia da Luz, Luz and Santa Maria (São Gonçalo de Lagos). Most villas are a short walk away from the sea, so you can take a pleasant stroll with the children and have a wonderful day by the shore. Set your holiday base in a quiet and peaceful location with a great selection of bars, restaurants and shops nearby.
Impressive villas with all the cons
You can book fantastic whitewashed facade villas in Praia da Luz with impressive gardens and private pools. The terraces and balconies overlook the blue waters of the Atlantic Ocean, so you can contemplate the postcard-like panoramic views. Find exclusive properties with saunas and hot tubs. Most villas are child-friendly which is ideal for families travelling with the little ones. You can find big villas for groups to accommodate up to 10 people. The interior spaces offer wide living areas, equipped kitchens and porches with garden furniture to enjoy the outdoors and keep protected from the sun. Enjoy your stay in your villa in Praia da Luz!
Travellers and activities
Praia da Luz for beach lovers
The sandy beach of the little coastal resort of Praia da Luz is one of the biggest attractions. The lovely stretch of sand gently slopes into the ocean. It is a popular destination for families where children splash in and out of the water, and sunseekers bask under the lovely Portuguese sun. One side of the beach is more rocky, so it's great for rock pooling at low tide or to get into the water and enjoy a bit of snorkelling. The beach is lined with a great choice of busy cafés and restaurants during the summer season. On the east side of the beach a basalt formation stands out, Rocha Negra. Close to the fort, there is a sheltered smaller beach called Prainha da Luz ideal for snorkel too at high tide.
Praia da Luz for surfing lovers
Although Praia da Luz is a tourist beach town many surf lovers hit the waves every year as it is very close to Lagos and its beach break is great to practise surf. The favourite part is where the volcanic rock Rocha Negra is, where the waves created by the swell and the tide are powerful and ideal for surfing. The area is good also for beginners although in the summer, when it gets crowded, it is necessary to be experienced to avoid any incidents with tourists. Most people prefer to come in the winter and make the most of the winter swells from the North and the offshore wind that create the big waves surfers are looking for. This surfing spot though creates several close-outs, so be aware!
Did you know when the tide is low you can walk from Praia da Luz to Porto de Mos?
Top 7 travel tips in Praia da Luz
1. Take a day trip to Lagos
Lagos is a historic port with ancient city walls, cobbled streets and lovely shops. For a change of beach, you can also spend part of the day on the sandy cove of Praia do Camilo. From the top of the cliffs of Ponta de Piedade you can get sweeping views. Across the baroque Castelo dos Governadores there is the lovely church of Igreja de Santo António. Visit the town for a day, enjoy a nice meal and go back to your cosy villa in Praia da Luz.
2. Slide and Splash, water park fun
Not as busy as the Algarve, Praia da Luz still offers great entertainment. Not far from town you can access the fantastic water park Slide and Splash. Spend a fun day out defying the gravity in the flumes, have some laughs at the wave pools and slide down nearly vertical slides to keep your adrenaline pumping.
3. Cycle along the coast
Move around with a bike is a great activity during summer days. You can get around easily. The roads around the area are quiet and you can get access to other beaches in the vicinity, including the popular Praia da Ingrina or visit pretty towns like Burgau. Gentle rides in and around town that will keep you active during the holidays. If you do not have your bike, you can rent one in Luz.
4. Hike up Black Rock
As we have mentioned, Rocha Negra is a symbol of town. The popular basalt rock formation sits at the east end of the main beach of Praia da Luz. Go for a walk and hike up the top of the basalt cliffs. At the summit you will get sweeping views of town and the surroundings. This is a demanding hike that requires an effort but it is well worth it as you reach the top! Gear up and make it to the top. Once there, sit down and admire the beauty surrounding you.
5. Eating out
Praia da Luz has a selection of several bars and restaurants that offers different options including international cuisine. Among the options there are always traditional restaurants where you can sample the best Portuguese recipes and food based on fresh fish and meat. Try some cod, peixe grelhado (grilled fish) and sardinhas (sardines), amêijoas à Bolhão Pato (clams) and some açórda de marisco, a delicious seafood bread stew. Have a bite of the pork sandwiches called bifanas or the ones with meat and smoked meats known as Francesinha. For those who love meat, have some cozido à portuguesa, a rustic meat stew.
6. Sail away!
Do you love sailing? Spend a day on a boat tour along the fabulous Portuguese coast or go further in to watch the dolphins or go on a fishing trip. Beach Hut Water Sports is the company in Luz that organises boat tours for the day with different durations depending on the activity. In Lagos you can rent your own boat. If you are a good skipper and have a boat license, enjoy a whole day out surrounded by the waves and marine life.
7. A day trip to Sagres
Sares is a pretty town in the very far west tip of the Algarve. A location ideal for adventurers and explorers to go on challenging hiking routes, great for surfers and with beautiful sheltered beaches. Day-trippers are usually drawn by the Cabo de São Vicente, the headland located in the most south-westerly point of mainland Europe. In addition to the headland, you can visit the Fortaleza de Sagres, Praia da Mareta and the fishing harbour. After the visits, enjoy a nice lunch meal in town.
FAQs: Villas in Praia da Luz
Which types of services are offered by the villas in Praia da Luz?
Among the services offered by Holidu, it appears that the villas in Praia da Luz benefit from everything that holiday-makers search for! Here, the villas generally include a variety of amenities, the most popular being: Wi-Fi (96%), pool (94%), and balcony (83%)...Pretty cool!
How do travellers usually rate villas in Praia da Luz?
On average, the villas here are quite highly rated. Judging by the Holidu data, 49% of villas have a rating equivalent to or higher than 4.5 stars. A ratio high enough to confirm that you will easily find the ideal villa for a wonderful holiday!
Are the villas in Praia da Luz suitable for families with children?
According to the Holidu data, 68% of villas in Praia da Luz are child-friendly, it will therefore be easy to find the ideal villa for you and your children.
Are the villas in Praia da Luz suitable for holiday-makers who wish to travel with their pets?
In general, only 9% of villas in Praia da Luz accept furry friends. We can therefore advise that there are more suitable destinations in Portugal to take your faithful companion with you.
Do the villas in Praia da Luz generally offer an internet connection?
Certainly! According to Holidu's data, 96% of villas in Praia da Luz offer an internet connection. You will be able to access your emails and favourite social media sites during your stay!
What are the prices like for villas in Praia da Luz?
According to Holidu's data, there don't seem to be many villas in Praia da Luz that are less than £100 a night.
Do the villas in Praia da Luz often have a fireplace or a pool?
Yes! According to last year's data, the villas in Praia da Luz are ideal for every season. Here, 55% are equipped with a fireplace and 94% a pool.
Are the villas in Praia da Luz suitable for stays in large groups or rather for a holiday as a small group?
Here, according to Holidu's data, 45% of villas welcome groups of up to eight travellers, 41% of these villas are made up of at least four bedrooms. But 99% of villas also welcome small groups of up to four travellers, and 99% of the villas include at least two separate bedrooms. Praia da Luz is therefore the perfect destination for large and small groups on holiday!
Holiday destinations nearby for Villas
Holidu compares hundreds of websites to find your perfect holiday rental for the best price.