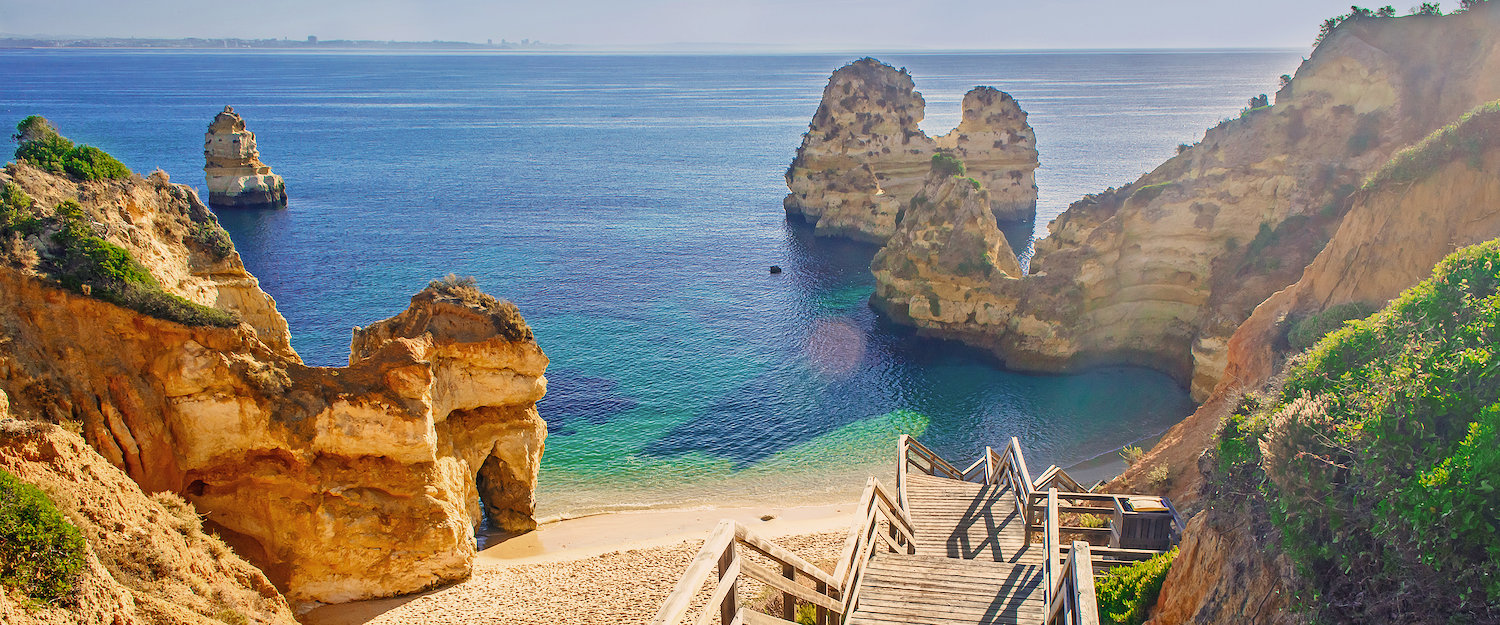 Villas in Santa Maria
69 properties for Villas. Compare and book at the best price!
Popular Villas in Santa Maria
Find Villas in Santa Maria
Highlights in Santa Maria
Paradisiacal parish of Portugal
Beaches of immense beauty
Exciting activities and recreations
Wondrous attractions
Marvellous events all year long
Exquisite dishes and products
Fantastic shops
Most popular amenities for Villas in Santa Maria
Other property types in Santa Maria that might be interesting:
Villas in Santa Maria
Marvellous summer villas all over the Portuguese coast
Built on the parish's centre, right on the coast or in its outskirts, the villas of Santa Maria are marvellous accommodations where travellers of the world can live the holiday of their dreams. Magnificent villas where you can spend relaxing or action-packed days, these properties will satisfy all your desires and will adapt to all your needs. Choose the perfect villa with Holidu's help and get ready for an unforgettable holiday on the fantastic coast of southern Portugal.
Luxurious and newly renovated residences to choose from
Offering amenities and fabulous additions such as luxurious hot tubs, cool pools and saunas where you can enjoy a relaxing time, the villas in Santa Maria's Parish will be the best choice for your holiday. Furthermore, featuring large spaces and numerous rooms, these settlements will be the ideal options where you can experience that getaway with your partner, friends or family that you have been longing for but haven't had the chance to experience. Book a Santa Maria villa and start every day of your holiday with breakfast on the terrace with your loved ones and end it sharing in the garden.
Travellers and activities
Santa Maria for beach lovers
When enjoying a holiday in a paradisiacal destination such as the beautiful parish of Santa Maria it is impossible not to make a stop at the beautiful coastline. Offering every kind of experience imaginable, from relaxing visits accompanied by the soft stretches of sand and the lulling sound of the ocean waves to dynamic adventures full of activities and recreation, tourists of all ages, coming from any part of the world, can live the experience they desire while enjoying the exquisite waters of the Atlantic Ocean and the incredible charm of Portugal's coastline. Some of the most recommended options in the area are Praia do Camilo, for a thrilling and moving experience, and Praia da Balança, which will offer you the experience of a private beach while enchanting you with its breathtaking views of the Ocean. Enjoy varied and different days on the beaches of Santa Maria and experience a holiday like no other in the wonderful council of Lagos.
Santa Maria for outdoors enthusiasts
Taking full advantage of the many possibilities that the parish's shores offer, Santa Maria is a wonderful holiday destination where tourists and travellers can spend numerous hours of the day under the embracing warm summer sun. Presenting all kinds of packages with varied activities, the recreational companies in the area are the best options to bet on for an active day in the outdoors. In this case, popular companies such as Blue Ocean Divers and Kayaking & Snorkelling are the most promising options, offering you varied recreations to navigate the crystal clear waters of the coast with the help of a boat or explore them underwater with good quality equipment. Go for a thrilling kite surfing session or take part in an exhilarating scuba diving lesson and enjoy an action-packed holiday this season in the outdoors in Santa Maria.
Out of all the parishes that make up the municipality of Lagos, Santa Maria is the less populated destination, offering a tranquil site where to enjoy a relaxing holiday.
Top 7 travel tips in Santa Maria
1. Visit Ponta da Piedade and enjoy breathtaking coastal views
Offering a wonderful place to admire beautiful scenery or take great tourist photos, Ponta da Piedade is a popular landmark of the parish that every traveller should visit during their stay. Featuring a fantastic viewpoint facing the mighty Atlantic Ocean and fabulous caves in the cliffs open to the public to explore, this spot will be perfect for getting to know and be surrounded by the nature of the parish. Visit the Ponta da Piedade de Santa Maria and enjoy an unparalleled natural spectacle where the turquoise waves of the ocean collide with the rocky shores of the parish.
2. Meet Santa Maria's community in one of the area's events
Gathering residents of the parish and foreigners from all over the world in the territory of Santa Maria, the festivals and celebrations of the region are entertaining events in which you can participate this season to get to know a little more about the culture of the Portuguese coast. Mostly focused on the arts, cuisine and traditions of the territory, events such as the Carnival, held in May, the Feira Arte Doce, organized in July, the Annual Flamenco Festival, hosted in September, and the Artesanato Fair, enjoyed in December, are some of the most popular and promising options along the coast everyone will be able to enjoy. Come and celebrate together with the community at events and festivals in Lagos and Santa Maria and experience a host of new experiences during your wonderful holiday in Portugal.
3. Workout while traversing the parish's territory
Presenting the perfect routes with which to explore the territory of the parish actively, the trails and paths of Santa Maria are other additions to the region that every holidaymaker should enjoy during their stay. Suitable for beginners, intermediate and expert hikers, these routes will take you through challenging territories of the region and make you explore curious corners of the area, which, besides offering perfect spots where to shoot some photos and remember the experience, will be perfect for a bit of sightseeing. Put on your most comfortable shoes and traverse the fabulous Lagos to Porto de Mos Cliff Hike or the Porto de Mos to Atalaia Obelisk hike to get to know Santa Maria a little better.
4. Explore Lagos' Farmers and Crafters Market and sample the parish products and crops
Held every first Saturday and Sunday of the month, the Lagos Market is a fantastic gathering on the outskirts of the parish where tourists and travellers from around the world can indulge in the region's fabulous local produce. Featuring stalls with delicious foods and preserves as well as stands with superb handmade jewellery and accessories, anyone who visits the market will be able to test and sample the exquisite and remarkable talent of the area. Stroll down the large street of R. Victor da Costa e Silva and enjoy a different experience while you shop for delicious fresh fruits and buy beautiful necklaces.
5. Get to know the parish nightlife in Santa Maria's bars
Known for their fabulous spaces, good vibes, friendly staff and fabulous services, Santa Maria's pubs and inns are the best places in the region to experience the parish's nightlife and meet its wonderful community. Catering a fantastic variety of wines, beers, ales and whiskies, delicious pub grubs to accompany and themed nights to enjoy something different, the establishments of Via Mós, Quinta das Laranjeiras Pool Bar and Tivoli Pub will be the best options to explore and visit with your companions. Live new experiences with friends, meet the great community of the parish and dance the night away in the remarkable bars that Santa Maria has to offer this season.
6. Have a delightful time shopping in the parish stores
Presenting a wide range of items of all styles, the shopping spots in Santa Maria are one of the parish's additions that every traveller should take advantage of. Acclaimed and frequented for its variety, the Intermarché along with Fnac present two large branches in the parish territory where residents and visitors can get a grand variety of products, from books and video games to delicatessen and ornaments, that will delight people of all ages and will be perfect for gift giving. Complementary, the outskirts of the parish also present fabulous alternatives for a quick shopping spree, having stores such as Kozii shop, Gui.jo and Obrigado as the best options thanks to their fabulous clothes and curious souvenirs. Explore the territory of Santa Maria and its outskirts while enjoying a retail therapy session and return home with fantastic and inexpensive products in your suitcase.
7. Enjoy a taste of the parish cuisine in Santa Maria's eateries
Providing travellers with a great diversity of typical dishes made with the local products of the area, the restaurants of Santa Maria are other points of the territory where you can get to know the parish a little more in-depth through its exquisite cuisine. Catering all kinds of wines, dishes for all tastes and relaxing places to dine, establishments such as Quinta da Atalaia, A Comidinha and Amorizade are the best options to enjoy full-course meals with your companions whereas, places like the Ruby Pedra Alcada Pâtisserie and the O Táxi Snack Bar are the perfect alternatives where you can buy a quick bite on the go. Test the culinary talent of the area and sample Portuguese cuisine in the wonderful restaurants and eateries that Santa Maria has for you.
FAQs: Villas in Santa Maria
When planning a holiday to Santa Maria, which services are the most essential for travellers?
According to Holidu, when travellers look for villas in Santa Maria, they regularly select the following facilities: swimming pool (16%), Wi-Fi (12%), and garden (8%). Last year, most of the people searching on Holidu selected at least one of these options when finding the perfect villa.
Which types of facilities can you typically find at the villas in Santa Maria?
In regard to the services offered by Holidu, it appears that the villas in Santa Maria have everything that travellers desire! Here, the villas generally include a variety of amenities, the most popular being: Wi-Fi (94%), swimming pool (91%), and barbecue (82%)...Pretty cool!
How are the villas usually rated in Santa Maria?
The villas in this destination often receive many positive reviews. 51% of the villas in Santa Maria have an average rating of 4.5 stars!
Are the villas in Santa Maria suitable for holidays with children?
Judging by information from Holidu, 67% of villas in Santa Maria are suitable for holidays with children, it will therefore not be difficult to find the perfect villa for you and your family.
Are the villas in Santa Maria suitable for travellers and their pets?
Certainly! In Santa Maria, 14% of the villas accept pets, and 80% even have a garden!
Do the villas in Santa Maria often come with Wi-Fi?
Yes! According to last year's data, 94% of villas in Santa Maria offer Wi-Fi. So no need to panic, you will be able to access your emails and favourite social media sites throughout your stay!
How much does it cost on average for villas in Santa Maria?
Many villas in Santa Maria are generally rather expensive. According to the information collected last year, 11% are at more than £500 per night.
Do the villas in Santa Maria generally come equipped with a fireplace or a swimming pool?
Definitely! Judging by last year's information, the villas in Santa Maria have everything you need for every season. Here, 56% have a fireplace and 91% a swimming pool.
Are the villas in Santa Maria suitable for trips with the whole family or better for a weekend break as a small group?
Here, according to the information gathered last year, 51% of villas are suitable for groups of up to eight people, and 49% of these villas are made up of at least four bedrooms. But 99% of villas are also suitable for up to four people, and 97% of the villas include at least two separate bedrooms. Santa Maria is, therefore, the perfect destination for groups of friends of all sizes!
Are villas in Santa Maria luxurious?
Some villas are, but others aren't as luxurious. So if you are looking for that special accommodation, don't delay in making a reservation because only 91% have a pool, 69% have AC, and only 5% have a sauna. However, if it's space you're looking for, 99% of the villas can accommodate large groups, and 80% have a garden.
Do the villas in Santa Maria have a beautiful view?
79% of villas have a balcony or terrace, and 42% have a view, but it is not very common, so availability can be limited. If this is a priority for you, you should anticipate a bit more time for research, and use the filters that suit you the best to be sure to find the villa that is perfect for you. However, 80% of villas in Santa Maria have gardens, where you can bask in the sun. If you like to have lunch or dinner outside, and especially if you like barbecues, 82% of the villas have them.
Holidu compares hundreds of websites to find your perfect holiday rental for the best price.