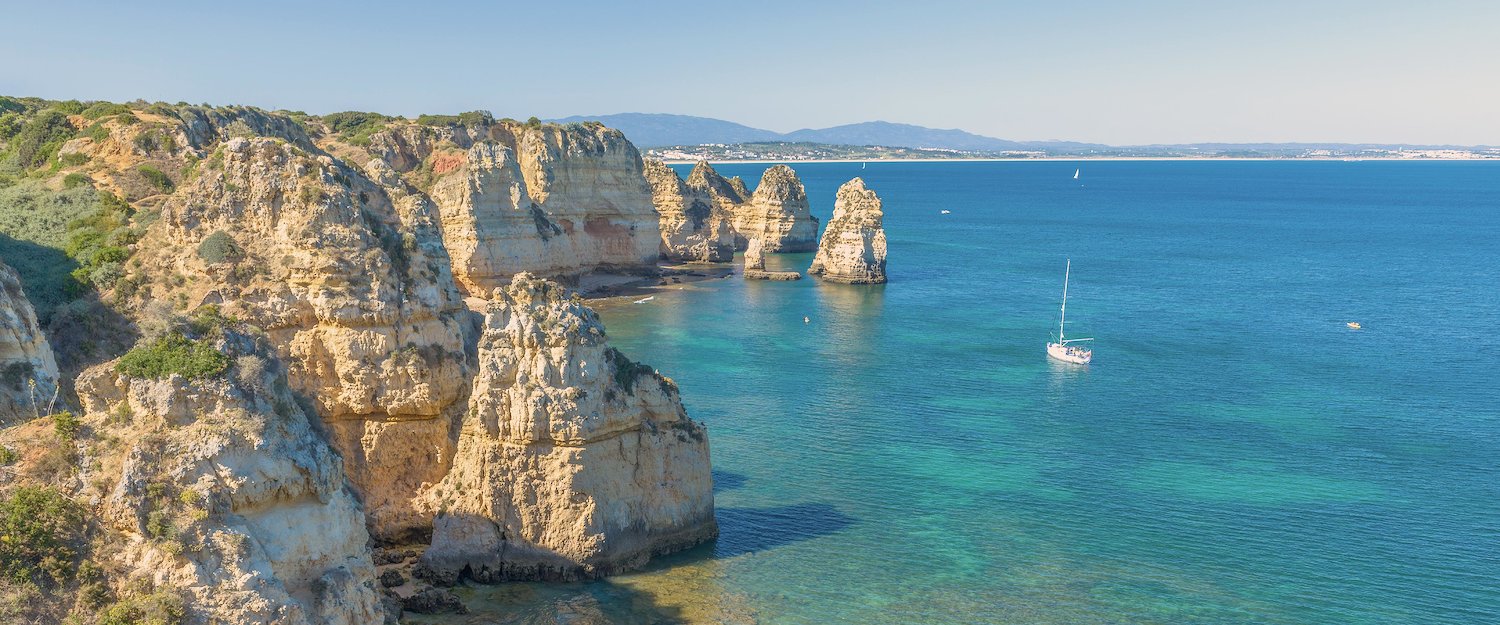 Villas in Vale do Lobo
131 properties for Villas. Compare and book at the best price!
Popular Villas in Vale do Lobo
Find Villas in Vale do Lobo
Highlights in Vale do Lobo
Breath-taking landscapes
Luxurious villas
Exciting activities
Peaceful beaches
Most popular amenities for Villas in Vale do Lobo
Other property types in Vale do Lobo that might be interesting:
Villas in Vale do Lobo
Comfortable villas near recreational places for the whole family to enjoy
If you are one of those people who prefer peace and comfort when it comes to holidays, Holidu offers you the perfect place in the beautiful resort of Vale do Lobo. Located in the district of Faro, Algarve, this amazing resort offers you incredible and luxurious villas, with refreshing pools and all the essential amenities, whether for large or small groups of people. The villas are close to the resort's recreational facilities, and beautiful sandy beaches, as well as the city of Faro, where more activities like zoo's and water parks await you.
Spacious and relaxing villas for a peaceful holiday
In Vale do Lobo you can find spacious villas, with modern and Mediterranean styles, with lots of vegetation surrounding the luxurious edifications and views that will take your breath away. Most of them have swimming pools with classic tropical designs, as well as beautiful terraces and balconies to enjoy your holiday with a little more privacy. They also have spaces and all the things you need to enjoy a delicious barbecue in the company of your loved ones. This is the ideal place for families and big groups of friends to have a relaxing but also fun holiday. Are you ready to enjoy the incredible villas in Vale do Lobo?
Travellers and activities
Vale do Lobo for families
If you are looking for exciting and fun activities to do with your family in this holiday, Vale do Lobo gives you the best options. If you would like to tour the beautiful scenery and landscapes offered by Vale do Lobo, you can take the horseback riding tours provided by the resort, with professional staff and trained horses so that the experience can be enjoyed by people of all ages. For more exciting activities full of adventures and discoveries, in the city of Faro, near Vale do Lobo the Zoomarine Algarve will be waiting for you. This water park and zoo offers a variety of attractions for animal lovers, one of the most popular is the opportunity to swim with dolphins, where the park staff will accompany you to play and have fun with these fantastic animals. There are also shows where the main characters are the seals and sea lions. And if you want to have a more educational and up-close experience with these and other aquatic creatures, the park has an aquarium where sharks and different types of fish are shown. Besides being an amazing zoo, this water park has many other attractions to offer such as a variety of water slides, the wave pool and the fair-ground rides like the Ferris wheel and the pirate ship.
Vale do Lobo for sports lovers
Vale do Lobo has always been well-known for its golf courses. This resort was built with golf lovers in mind, as it has two large and well-built courses for those who want to practice this sport. If you don't have your own equipment to play, you don't have to worry, as the resort can provide you with the necessary equipment to make a hole in one. You can book the course at any time you wish, but it is advisable to do so early in the morning, as the sun can be a bit too harsh in the afternoon hours. Also, as a bonus, these playing areas have nice cafés and restaurants to refresh yourself once you have finished your game.
The Vale do Lobo resort is the largest resort in Algarve and one of the most prestigious and luxurious in Europe.
Top 7 travel tips in Vale do Lobo
1. Visit the fish market at Quarteira
This market is located in the city of Quarteira. It has a picturesque exterior and a wide variety of delicious fish and seafood. But you can also find succulent fruits and vegetables for your taste buds to enjoy. It is an ideal environment for those passionate about good food, and also for those who want to learn more about the culture of the region.
2. Enjoy the different beaches near Vale do Lobo
You don't have to go too far if you want to enjoy the beaches near this magnificent resort. Most of the beaches are approximately one kilometre away from the villas of Vale do Lobo. Among them are the Garrão Nascente beach, with imposing cliffs and soft sand where you can lay comfortably and relax, this beach is one of the most visited ones in the region. There is also the Loulé Viejo beach, where big cliffs are also present but this time wrapped in towering trees, is a quiet place to relax, with white sands and a magnificent landscape.
3. Explore The Chapel of Bones
If you are someone who likes to visit places full of history, this destination is for you. The chapel of bones is one of the most famous monuments in Portugal. Its name is due to the fact that the inside of this chapel is covered by the bones of Franciscan monks. If you don't get scared easily, you can spend hours looking at every single little detail that makes this place so interesting.
4. Conquer your fears at Parque Aventura
If you are looking for adrenaline-filled activities, this is the right place. Albufeira Adventure Park is a park designed for those who enjoy outdoor activities and are not afraid of heights. In this park you can go tree climbing, through different circuits, and you can repeat them once you finish. Another fun activity you can do with your family or friends at Parque Aventura is paintball, so if you are not a lover of heights you can still have fun on this trip.
5. Learn new things at the Municipal Museum of Archaeology
Learning about the culture of the place you are visiting is always a good idea. The Museu Municipal de Arqueologia has several exhibitions of interesting artefacts that are part of the history of the Algarve region as well as Portugal. Don't worry about the language barrier, there are pamphlets in English that will give you the necessary information about the artefacts and their history, so you can fully enjoy your visit.
6. Show your go-karting abilities at Hot Wheels in Albufeira
Among the wide variety of activities to do around Vale do Lobo, go-karting is one that never goes out of fashion. Hot Wheels at the marina at Albufeira offers this go-karting service for people of all ages. Challenge your friends on the racetracks, or break your own lap records.
7. Relax at The Royal Spa and Fitness Centre
If after so many exciting activities you are just looking to relax and take some time for yourself, The Royal Spa and Fitness Centre will help you with that. This spa is located in the resort's reception area and offers a wide range of relaxation and beauty treatments, including waxing, slimming and anti-stress massages. A haven of relaxation to make you feel like new.
FAQs: Villas in Vale do Lobo
Which types of services can you typically find in the villas in Vale do Lobo?
In regard to the services you can find on Holidu, it appears that the villas in Vale do Lobo offer everything that travellers search for! Here, the villas generally have a variety of amenities, the most popular being: air conditioning (96%), Wi-Fi (90%), and pool (87%)...Not bad, right?
How are the villas in general rated in Vale do Lobo?
According to the data collected last year, less than 20% of the villas in Vale do Lobo get a rating of 4.5 stars. It can therefore be assumed that it is not the best destination for the highest-rated villas in Portugal.
Are the villas in Vale do Lobo suitable for holidays with children?
According to the Holidu data, 70% of villas in Vale do Lobo are child-friendly, so you won't have any difficulty finding the ideal villa for you and your children.
Are the villas in Vale do Lobo pet-friendly?
Generally, less than 10% of villas in Vale do Lobo accept furry friends. We can therefore say that there are better destinations in Portugal for our four-legged friends.
Do the villas in Vale do Lobo often offer Wi-Fi?
Certainly! According to Holidu's data, 90% of villas in Vale do Lobo have an internet connection. You will be able to stay connected throughout your stay!
How much does it usually cost for villas in Vale do Lobo?
Many villas in Vale do Lobo are generally very expensive. According to Holidu's database, 32% are at more than £500 per night.
Do the villas in Vale do Lobo typically have a fireplace or a pool?
Yes! According to last year's data, the villas in Vale do Lobo are perfect for every season. Here, 14% are equipped with a fireplace and 87% a pool.
Are the villas in Vale do Lobo suitable for holidays with several people or better for a weekend break as a small family?
Here, based on last year's data, 59% of villas are suitable for up to eight people, 57% of these villas contain at least four bedrooms. But 100% of villas are also perfect for families of up to four travellers, and 100% of the villas have at least two separate bedrooms. Vale do Lobo is therefore the ideal destination for large and small families!
Holiday destinations nearby for Villas
Holidu compares hundreds of websites to find your perfect holiday rental for the best price.