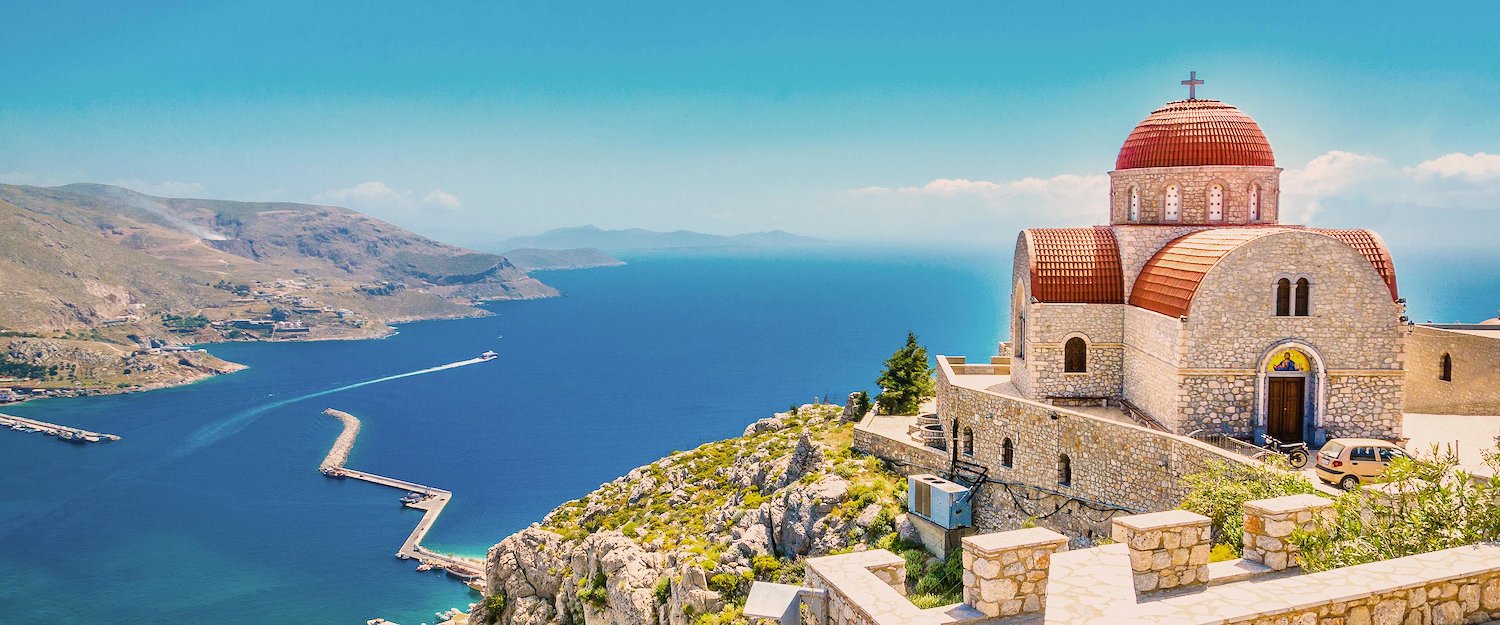 Villas in Ios
26 properties for Villas. Compare and book at the best price!
Highlights in Ios
Beautiful beaches
Pretty sunsets
Exciting nightlife
Archaeological museum
Traditional food
Castle
Water sports centre
Most popular amenities for Villas in Ios
Other property types in Ios that might be interesting:
Villas in Ios
Wonderful villas on an amusing island
Ios is situated in southern Greece. It's known as the Youth Island or a party island and the main reason is by its exciting nightlife. If you love parties, dance, bars, cocktails and beautiful sand beaches, then it's the ideal place to take holiday, but Ios is something more, you will find fascinating landscapes, cliff top villages and the incredible beaches which make this island a paradise.
Lovely villas at the best price
The private villas here often come with panoramic views of the island and the surrounding sea. The villas are suitable for up to 8 people, ideal for a family or groups of friends. Often with many floors, private verandas and balconies as well as open plan designed living room, dining room, bathroom and kitchen, internet, TV and air conditioning. What not to love?
Travellers and activities
Ios for couples
This is an ideal place for adventurous couples who want to enjoy their holiday or honeymoon. You probably know or have heard that this island is known for its exciting nightlife, you have to explore it, then you will be amazed with the eastern side excellent beaches, and many outdoor activities like speed boat adventure, scuba diving, wakeboarding session and sunset sailing trip. Or if you prefer to visit other places where you can enjoy different exciting activities.
Ios for families
Greece island is one of the best options to visit with your family, Ios if one of them. Here, you will find two ideal beaches to enjoy with your family. Psati, a calm and relaxing beach situated at the East of Chora. If you rather prefer to snorkel, then Tzamania is the best place at 3 km from Chora. The most popular are in Mylopotas and Gialos beaches. They offer you a variety of games for all ages and watersports centre, but if you like to explore other islands, then it's time to visit Santorini and Naxos. They are also considered as a perfect place to holiday with your family. Please, don't forget that the best time is from May to September. They are also a place to holiday with your family. Please, don't forget that the best time is from May to September.
"Greeks are very patriotic, hospitable and welcoming people. One of the most interesting features of this local people is Superstition. Some Tourists have observed that turquoise ornaments and talisman are dominating among local folks."
Top 7 travel tips in Ios
1. Explore the interesting history of Ios
One of the things you have to visit on this beautiful island is the castle of Palaiokastro in the Eastern part of the island. It was built in 1937 at the top of the hill by the Duke of Naxos, and it was used by the Byzantines for looking up the sea routes from Constantinople to Crete. You can go there by car or by bus and also you will enjoy the wonderful path to reach it. Visitors agree that the most beautiful sunrise in Ios is in this place. Inside the castle you will see a small church.
2. Discover these picturesque and attractive beaches
Ios beaches are quiet and relax places where visitors enjoy swimming. Manganari beach is one of the typical beaches you will find on this island, and it's located at 23 km south of Chora. This paradise beach is recognized by its golden sand and crystal waters and it's accessible by boat or car. If you want to explore more beaches, here you have some: Aghia Theodoti, Koumbara, Psathi, Gialos, Mylopotas, Treis Kleisies, Diamoudia and Kalamos. All of them are ideal to swim.
3. Visit the typical Chora Village
This classic Greek village is the capital of Ios, and it's situated to the Westside of the island on the side of the hill. It's known by the white and blue washed houses, small chapels, and paved paths, and also as the sleepy Greek village. You will see beautiful pink flowers, cafés, boutiques and jewellery shops. At night, bars, restaurants, clubs, shops open for a great night out. Don't forget to visit Amphitheatre Odysseas Elytis at the top of the village where you will see the unforgettable views of Mylopotas Beach.
4. Discover the best Traditional Dish
Here you have some of the famous dishes that the island offers to your visitors. Taramasalata is a pink or white fish roe dip with a bread or potato base marinade with virgin olive oil or lemon. There are other dips you can try as: Tzatziki, Fava, Taramasalata and melitzanosalata. Moussaka is a dish based on layers of sautéed aubergine, lamb, onion, tomato, garlic and spices with a topping of béchamel sauce and cheese. This dish is also well known in Mediterranean and the Balkans.
5. Discover an interesting cultural attraction
The Archaeological Museum in Chora is a place you have to go if you want to know about the cultural heritage of this island. This famous museum is located in Chora of Messinia. You will see four thousand archaeological findings from the excavations at the palace of Nestor, king of Pylos, and objects from the Mycenaean period. Some exhibitions are: gold jewelry and gold cups, A Messinian double cup from the graves of Volimidia. Visitors are surprised by the great amount of golden objects
6. An exciting attraction for the adventurous
Meteora is a wonderful rock formation with the cliff suspended monasteries on the top. It's located near the town of Kalambaka. Something you should know is that this place was included on the UNESCO World Heritage List. If you want to discover it, then you will take a bike tour because this is the best way to see all this beauty. You will enjoy listening to the stories and traditions that the guide will tell you, and other information you want to know about Meteora.
7. Enjoy the famous Santorini Jazz Festival
This is the best summer attraction for the lover of jazz music, if you are one of them you will enjoy this popular event. In July every year, the organizers offer to the visitors a variety of excellent jazz musicians from Greece and other places in Europe to entertain you with their music. There are other famous jazz festivals during the summer such as: Megaron Gyzi Festival in August, Ifestia Festival also in August and the International Music Festival in September).
FAQs: Villas in Ios
Which types of facilities can you typically find in the villas in Ios?
In regard to the services offered by Holidu, it appears that the villas in Ios have everything that travellers search for! Here, the villas generally offer a variety of amenities, the most popular being: Wi-Fi (89%), air conditioning (85%), and balcony (70%)...Pretty cool!
How are the villas usually rated in Ios?
On average, the villas here are quite highly rated. Last year's data reveals that 44% of villas have a rating of 4.5 stars. A percentage high enough to confirm that you will without a doubt find the ideal villa for a wonderful holiday!
Are the villas in Ios suitable for holidays with children?
Holidu's data reveals that 85% of villas in Ios are suitable for families with children, it will therefore not be difficult to find the ideal villa for you and your children.
Are the villas in Ios pet-friendly?
Certainly! In Ios, 59% of the villas offer the possibility for travellers to take their pets with them, 26% also have a garden!
Do the villas in Ios generally offer an internet connection?
Yes! According to Holidu's database, 89% of villas in Ios offer Wi-Fi. You will be able to access your emails and favourite social media sites at any time!
How much does it cost on average for villas in Ios?
Many villas in Ios are in general very expensive. According to Holidu's data, 44% cost on average more than £500 a night.
Do the villas in Ios generally have a fireplace or a pool?
Definitely! According to Holidu's data, the villas in Ios are perfect for every season. Here, 52% are equipped with a fireplace and 52% a pool.
Are the villas in Ios suitable for stays with several people or better for a weekend break as a couple?
Here, according to Holidu's database, 41% of villas welcome groups of up to eight travellers, 33% of these villas are made up of at least four bedrooms. But 100% of villas also welcome small groups of up to four people, 100% of the villas are made up of at least two separate bedrooms. This is therefore the ideal destination for taking your family on holiday (large or small)!
Holiday destinations nearby for Villas
Holidu compares hundreds of websites to find your perfect holiday rental for the best price.