Holiday rentals and lettings in Tenerife
Start comparing over 28,523 rentals in Tenerife and book at the best price!
Best holiday rental deals in Tenerife
Holiday Rentals & Lettings in Tenerife
Pet-friendly Holiday Rentals & Lettings
Holiday Rentals & Lettings with Pool
Holiday Rentals & Lettings with Internet
Other property types in Tenerife that might be interesting:
Prices and availability
Prices
February
March
April
May
June
Average price per week
Availabilities
February
March
April
May
June
Percentage of available lettings
With a large selection of holiday rentals and lettings available throughout Tenerife's various regions, make the most of the hot summers and warm winters on offer by booking a rental with Holidu's simple search function to find your dream accommodation!
Things to know about Tenerife
Holiday Rentals and Lettings in Tenerife – an Island with beautiful contrasting landscapes, where summer weather is a permanent fixture
Tenerife – the largest out of Spain's Canary Islands lies just to the west of Morocco with other Canary Islands such as Lanzarote, Fuerteventura and Gran Canaria. Due to its closer proximity to the equator compared to mainland Europe, Tenerife basks in year round sunshine and temperatures in winter rarely drop below 18 degrees Celsius, making it a great spot for some winter sun. The Island's north is more partial to occasional winter rain, but more than makes up for this with its lush tropical forests and stunning mountains – if you are into mountain biking and walking, the Anaga Mountains in the north east provide for truly stunning views from up high. In contrast, Tenerife's flatter drier south is more suited to relaxing beach holidays, with less humid and slightly warmer average climates. The resorts of Playa de las Americas, Los Cristianos and the Costa Adeje in the south west of the Island are a hit with many holidaymakers – rent a villa or holiday letting with Holidu and find yourself in one of these great relaxing resorts, no matter what time of year. Surfers are drawn to the Island's South East, specifically to El Medano, where higher winds create challenging waves and an all-round surfing paradise. Surrounded by the Ocean, mountainous terrain and great weather all year round, Tenerife caters for various types of holidaymakers, whether you are after a relaxing beach break, mountain biking or walking in the mountains or want to discover fascinating sea life unique to the Canary Islands.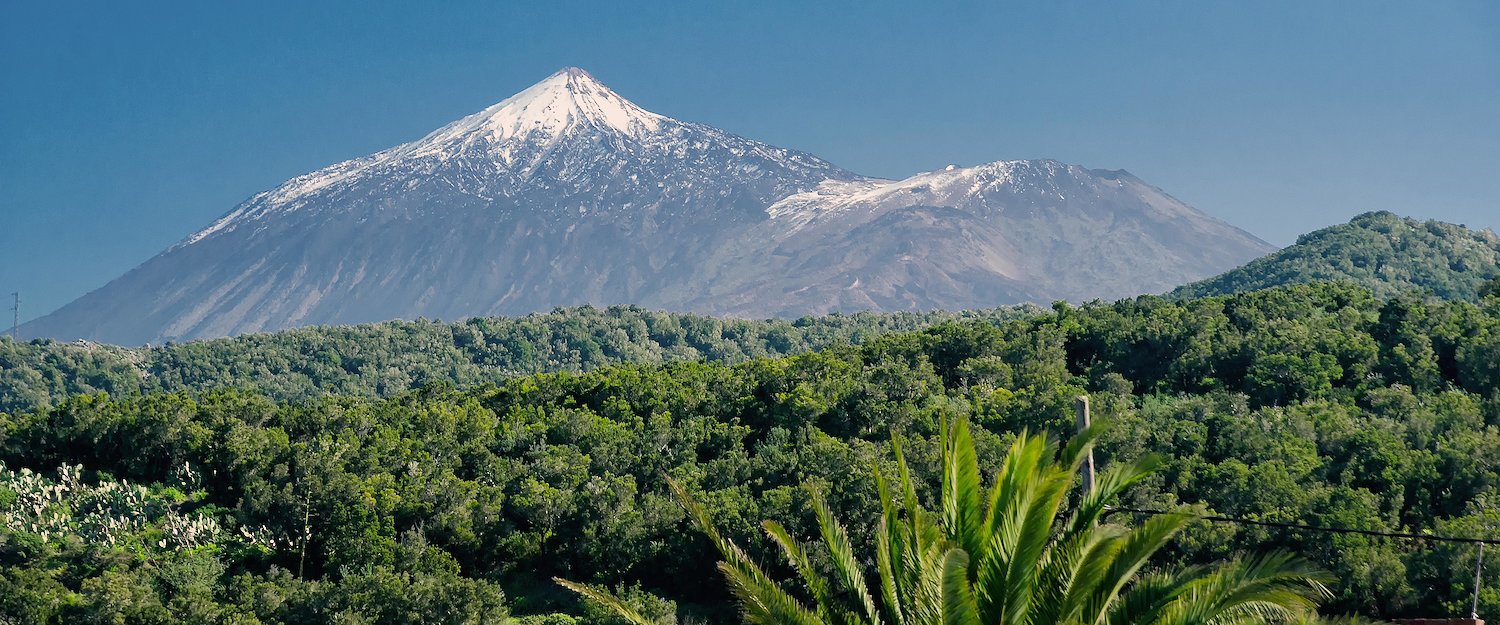 Holiday Rentals and Lettings to discover yourself in Tenerife
When you think of Tenerife, you may likely picture a place to escape dull winters with exquisite beaches, near-constant summers and great nightlife – yet there is so much more. As mentioned previously, temperatures throughout the Island rarely drop below 18 degrees during winter, ideal temperatures to cool down in after a day trekking in the northern mountains for example. With this in mind, it is recommendable to book a villa around September – as the hottest summer season comes to an end, this will leave flight prices considerably lower compared to August, yet temperatures remain the same:
Enjoy more of Tenerife for less in a beautiful villa! The Island also offers opportunities for day trips throughout the Island, notably to Mount Teide, Spain's tallest mountain which towers in the centre of Tenerife at around 12,000 feet. Due to Tenerife's southern location compared to Europe, UV ratings are undoubtedly a lot higher – soak up the rays and gain a healthy glow during your holiday in a villa or holiday letting here. Do be sure to use lots of sun cream though, the UV ratings are more powerful than you may think!
Top 5 recommendations for Tenerife when booking your holiday rental
1. Turtles, dolphins, whales and a range of exotic fish: Tenerife's waters are home to a range of sea dwellers due to its location. To discover stunning aquatic wild life up close, why not go scuba diving with one of Tenerife's many diving schools!
2. If you are after a more traditional excursion during your stay in Tenerife, the picturesque fishing villages of Playa San Juan and Alcala will fit the bill. Located on the west side of the Island, these towns enjoy a notable amount of sun and displays staggering views of the mountainous neighbouring Island of Gomera. Book a villa in these peaceful towns with Holidu!
3. The towering Mount Teide which lies in the middle of Tenerife is not only staggering to look at from its base, but offers breathtaking views from its summit over not just Tenerife itself, but of other neighbouring Canary Islands. Take the cable car or plan a trek up to the summit and feel like a god towering above the clouds – it is a view and feeling not to be passed by.
4. It is a surprisingly little known fact that Tenerife features the second largest yearly carnival seen anywhere on earth. The Carnival of Santa Cruz de Tenerife takes place every February in Santa Cruz de Tenerife – tens of thousands of people line the street in fancy costume and there are constant displays of colour, light and life. If you are staying in Tenerife around February, it is certainly something not to be missed.
5. Tenerife features many fascinating museums, including the science, military and fine art museums. Take a break from relaxing on the beach, scuba diving or trekking in the mountains and learn about many different aspects of Tenerife's history by experiencing a culturally enriching time in one of the many Museums located throughout the Island.
Experience Tenerife for yourself and find your perfect Villa, Holiday Letting or Holiday Rental with Holidu
Whether you are after a relaxing beach holiday, a scuba diving break to discover exotic sea dwellers or want to explore mountains and take in some unforgettable views – Tenerife delivers. Thanks to its warm climate, this is possible all year round so it is always a great time to choose your dream villa or holiday letting with Holidu!
Use Holidu's simple search function to determine how many rooms your accommodation should have, a pool, a garden, a TV, Internet access, a dishwasher, child friendly facilities and many more options. Book online today and choose from great villas, holiday lettings and holiday rentals with Holidu!
FAQs: Holiday Rentals & Lettings in Tenerife
How much does it cost to rent a holiday letting in Tenerife?
Tenerife is one of the cheapest destinations in Spain. The costs for a holiday rental here amounts to about £117.11 per night.
Which month allows you to save the most on holiday rentals?
If it is your aim to save as much as posisble during your visit to Tenerife, pack your bags and travel there in June (£101.12 per night on average), May (£104.3), or September (£108.56) to find the lowest prices for the whole year.
In which months is it more expensive to rent a holiday letting in Tenerife?
Following the data observed in 2019, the costs per night for accommodation is usually higher, on average, during the months of January (£135.25), December (£130.96), and March (£130.71).
Are there usually many holiday lettings available in Tenerife?
In order to not have problems finding accommodation in Tenerife it is necessary to be proactive, as 60% of rentals are usually booked, according to last year's data.
What time of the year can I find more available holiday rentals?
The most available months, on average, are May (with an availability of 66.25%) June (52.8%), and April (47.75%), according to the trends observed in 2019.
When are fewer lettings available?
The month with the highest average booked rental figures is January (only 24.25% of properties were available on average in 2019). Followed by February (25.5%), and December (26%).
Are there many holiday rentals in Tenerife?
Holidu has 12000 properties in Tenerife, offered by 51 different partners.
Holiday destinations in Tenerife
Holiday destinations nearby
Holidu compares hundreds of websites to find your perfect holiday rental for the best price.