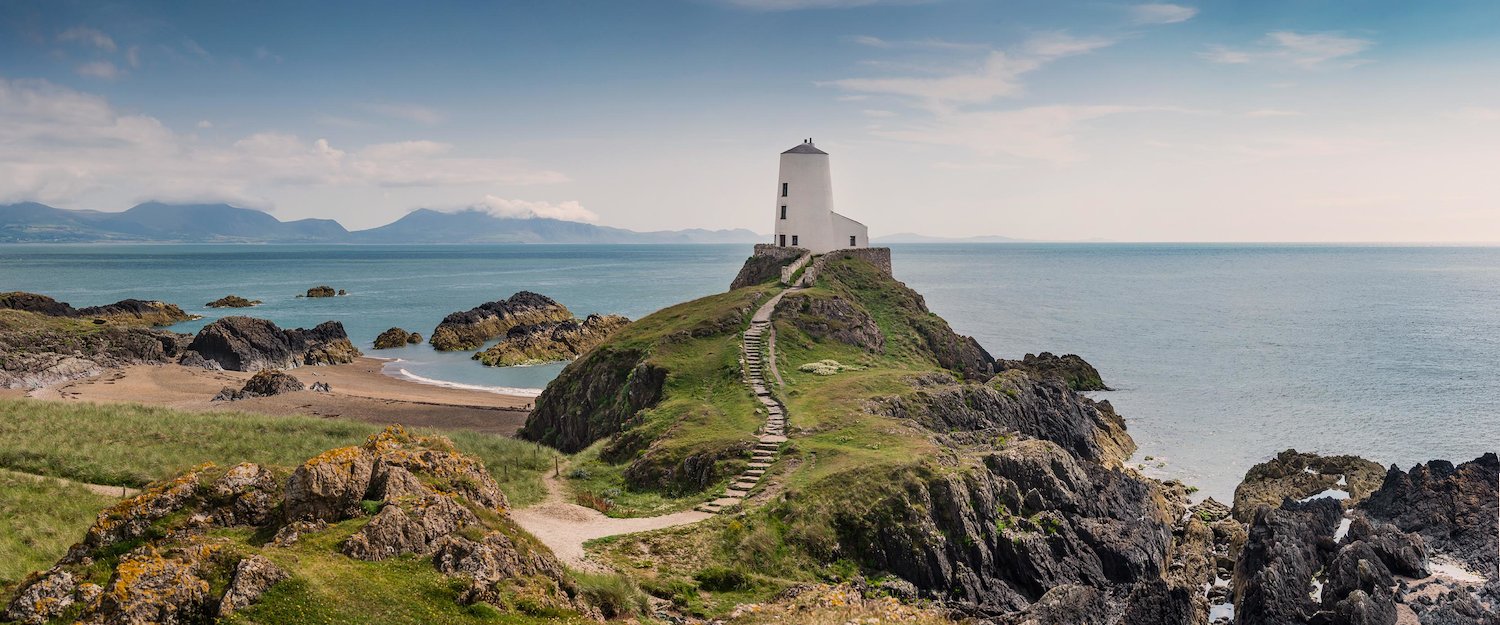 Cottages in Rhos-on-Sea
30 properties for Cottages. Compare and book at the best price!
Popular Cottages in Rhos on Sea
Find Cottages in Rhos on Sea
Highlights in Rhos on Sea
Seaside holiday resort
Beaches
Zoo
Promenade
Manor house
Nature reserve
Medieval church
Most popular amenities for Cottages in Rhos on Sea
Other property types in Rhos on Sea that might be interesting:
Cottages in Rhos-on-Sea
A charming seaside holiday in North-Wales
Rhos-on-Sea is a picturesque seaside community in North-Wales. Best known for its stunning golden sand beaches and endless shoreline, Rhos-on-Sea is a popular holiday destination for beach goers during the warmer months. Holidays here are best spent swimming, sunbathing, strolling along the endless sandy shores, and enjoying a plethora of water sports. If you enjoy fishing, be sure to bring your fishing gear, as the town is a popular fishing spot. Paddle along the calm waters in a kayak or on a stand-up-paddleboard. Hire bicycles to explore the seaside area and explore the nearby nature reserves on foot. Couples, families, nature lovers, and beach bums will all find something to love during a holiday in Rhos-on-Sea.
A cosy cottage stay in Rhos-on-Sea
Treat yourself to the seaside holiday of your dreams with an idyllic cottage in Rhos-on-Sea. The quaint seaside town offers an impressive selection of cottages in varying sizes, styles, and designs, with a little something for every type of traveller. Stay in a cottage just steps away from the sea with a private balcony where you can enjoy tranquil views of the water. Opt for a cottage with a leafy garden where you can enjoy plenty of privacy and silence throughout your holiday. Couples can opt for smaller, cosy cottage options whereas families can choose from a selection of oversized cottages designed to comfortably accommodate large groups of people. Cottages in Rhos-on-Sea are well-equipped with all the modern comforts and amenities you'll need throughout your holiday including Wi-Fi, washing machines, heating, and fully functioning kitchens. With so many excellent options to choose from, you'll be sure to find the perfect one for your holiday in Rhos-on-Sea.
Travellers and activities
Rhos-on-Sea for families
Rhos-on-Sea boasts a calm, family-friendly environment perfect for families of all ages to enjoy a holiday together. Bring young swimmers to Rhos-on-Sea Paddling Pool where children can paddle and swim about in a shallow pool or play at the play park. Also, go to Welsh Mountain Zoo where you can spend a few hours with the many exotic animals who are housed here. Have up-close encounters with snow leopards, camels, lemurs, tigers, red pandas, and more! Animals here are well looked after, and the enclosures are large with plenty of space for the animals to roam around.
Rhos-on-Sea for couples
Couples can enjoy a lovely beach holiday together in Rhos-on-Sea. Go for a date at the popular Picture House. This famed historic restaurant is well-known for its excellent service, friendly staff, and delicious food. Stop here for a cosy breakfast, lunch, or dinner in the ambient atmosphere. Also, visit the nearby resort of Llandudno to see the longest pier in Wales. The pier stretches for nearly 700 metres into the sea, offering a great place for a stroll and to watch the sunset. There are some coffee shops and pubs here where you can sip on a beverage while you admire the scenic surroundings.
You can visit the smallest chapel in Britain during your holiday in Rhos-on-Sea! The Holy Well and Chapel of St Trillo measures just 11 feet by 8 feet, and can accommodate no more than 6 people at a time!
Top 7 travel tips in Rhos-on-Sea
1. Spend the day on the golden shores of Rhos-on-Sea Beach
The picturesque main beach in Rhos-on-Sea is characterized by a long stretch of clean, golden sands. When the weather is warm, bring your swimming costumes and a beach chair to spend the entire day here swimming, sunbathing, and walking along the shoreline. There's a picturesque little harbour here and a nice selection of cafés and shops nearby.
2. Walk along the Colwyn Bay Promenade
The neighbouring resort community of Colwyn Bay is just a short walk from Rhos-on-Sea. Here you can stroll along the lovely Colwyn Bay Promenade which boasts spectacular views of the sea and beach. The promenade is lined with numerous kiosks where you can grab a bite to eat or a cold refreshing drink.
3. Spend the day at Bodnant Garden National Trust
These spectacular National Trust gardens are a must-see for any traveller in Rhos-on-Sea. The lush, colourful flower booms and plant collections here attract hundreds of thousands of visitors every year. If you'll be visiting in May or June you'll get to witness the spectacular flower blooms of the Laburnam Arch, which is the longest one in Britain. Spend a few hours exploring the many various gardens here including the Winter garden, a meadow, a riverside garden, woodland gardens, a waterfall, and more.
4. Go for a stroll at Eirias Park
This enormous public 50-acre park boasts a sports complex, picnic areas, a lake, and a play park for children to enjoy. It's a great place to enjoy a long leisurely walk and there are great amenities for visitors to use. Children can easily be entertained here for a couple of hours at the adventure playground and wooded play areas.
5. Explore Bryn Euryn Nature Reserve
Explore some of the nature of the region at Bryn Euryn Nature Reserve. Situated on a hill, the reserve offers stunning views of Rhos-on-Sea and Colwyn Bay. The reserve is the site of an iron age fort and was also a World War II observation area. Spend an hour or two strolling around on the well-kept walking paths here and enjoying the scenic views of the surrounding area.
6. Visit a 12th century church
St. Trillo's Parish Church is a medieval church with stunning grounds near the centre of Rhos-on-Sea. The graveyard is well-maintained and packed with history. Spend some time here exploring the lovely traditional church and scenic surroundings.
7. Visit the Rhos-on-Sea Tourist Information Centre
This little information centre is a great place for visitors to stop and inquire about tips for things to do during a holiday in Rhos-on-Sea. The friendly, knowledgable staff are happy to offer advice and information on the nearby area. There's also a charming souvenir shop here where you can buy some Welsh gifts to bring back home with you.
FAQs: Cottages in Rhos on Sea
Which types of amenities can you typically find at the cottages in Rhos on Sea?
When looking at the services you can find on Holidu, it seems that the cottages in Rhos on Sea have everything that holiday-makers want! Here, the cottages generally include a variety of amenities, the most popular being: Wi-Fi (98%), garden (88%), and view (37%)...Pretty cool!
How do travellers usually rate cottages in Rhos on Sea?
Judging by last year's information, most cottages in Rhos on Sea receive a score of fewer than 4.5 stars. If this is important for your trip, it will be necessary to be a little more attentive to the ratings.
Are the cottages in Rhos on Sea suitable for families with children?
Judging by information from Holidu, less than 10% of cottages in Rhos on Sea are child-friendly. Here, it will probably be easier to find a cottage for your next adults-only holiday.
Are the cottages in Rhos on Sea pet-friendly?
Certainly! In Rhos on Sea, 30% of the cottages accept them, and 88% also have a garden!
Do the cottages in Rhos on Sea often come with an internet connection?
Of course! According to last year's data, 98% of cottages in Rhos on Sea have Wi-Fi. It is therefore no problem for you to will be able to browse the internet during your stay!
What is the average price for cottages in Rhos on Sea?
A big percentage of cottages in Rhos on Sea (84%) roughly cost less than £100 a night. Therefore, this destination is perfect for reserving a budget-friendly cottage!
Do the cottages in Rhos on Sea typically have a fireplace or a swimming pool?
Not always. Judging by information from Holidu, most of the cottages in Rhos on Sea do not have one.
Are the cottages in Rhos on Sea suitable for stays with friends or rather for an escape as a small group?
According to the information collected last year, 84% of cottages are perfect for families with up to four guests. Approximately 81% of the cottages here have at least two separate bedrooms. Rhos on Sea is the ideal destination for small groups of friends!
Holiday destinations nearby for Cottages
Holidu compares hundreds of websites to find your perfect holiday rental for the best price.