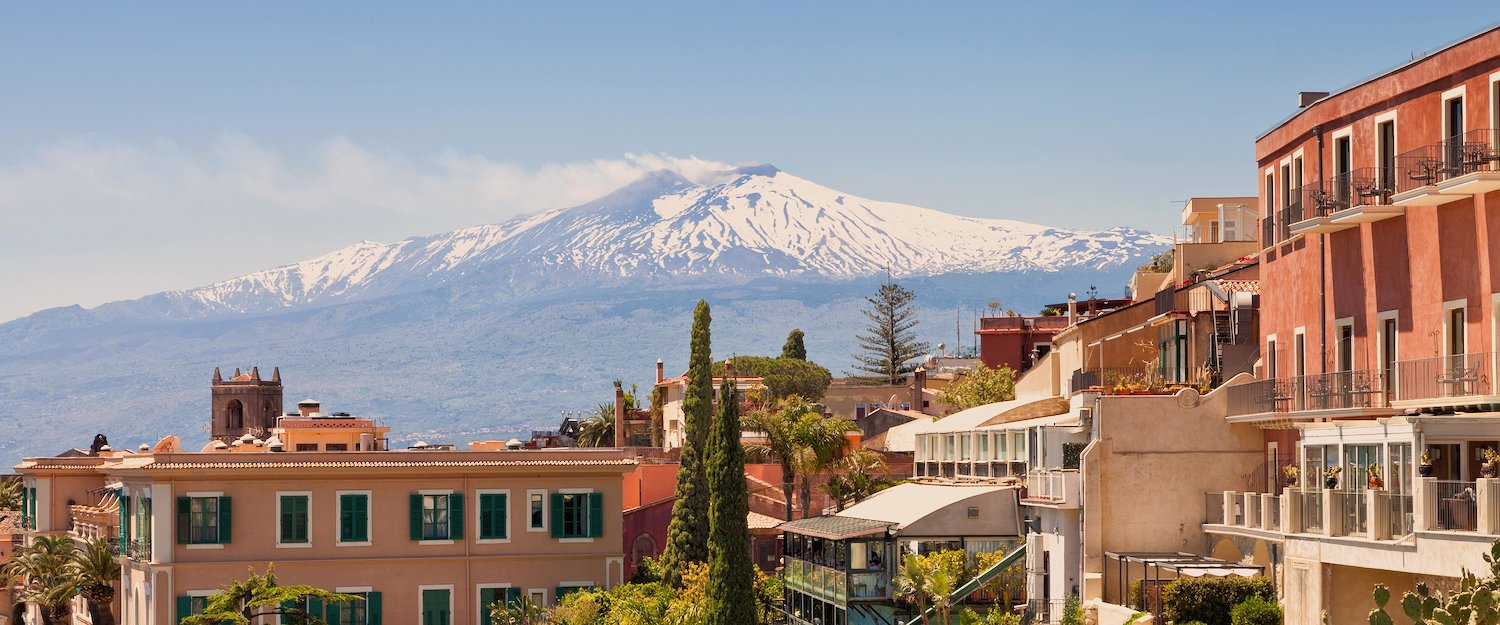 Villas in Sicily
3508 properties for Villas. Compare and book at the best price!
Highlights in Sicily
Sicily's seven wonders
Picture-perfect beaches
Unesco World Heritage Sites
Wellness and treatments
Unforgettable sunsets
Most popular amenities for Villas in Sicily
Other property types in Sicily that might be interesting:
Villas in Sicily: Most popular destinations
Villas in Sicily
Luxury villas by the Mediterranean
Are you still looking where to spend your holidays in Sicily? Looking for accommodation for your next getaway? Holidu is the best way to find your villas on this amazing island. Along the coast you will find stunning villas in the cities of Agrigento, Marsala, Ragusa, Palermo, Catania, Taormina or Siracusa. The coast of Sicily will offer accommodation in quaint fishing towns, places with history and some others with the finest beaches of the Mediterranean. For an inland villa surrounded by amazing natural landscapes, explore the area of Enna, Caltagirone, Canicatti or Caltanissetta.
Villas with private pools
The villas in Sicily will accommodate families, groups of friends, couples and your four-legged buddy too! Ranging from small to big properties hosting up to 6 people, these villas come with spacious lounges, open floor kitchens, comfortable bedrooms and incredible exteriors with manicured gardens and private terraces. Enjoy the rays of sun caressing your skin in the afternoon, from the comfort of your sun lounger. Have a drink by the pool and enjoy a BBQ in the patio or al fresco dining sharing laughter and joy around the table. Nature will be the perfect backdrop for your stay, with idyllic beaches or lush green vegetation. Hurry up and book your villa now.
Travellers and activities
Sicily for picture-perfect beaches
The natural beauty of the beaches in Sicily are one of the main allures of the island and the reason why many travellers visit it every year. Beaches of fine white sand and crystal clear waters that are distributed along the entire coastline. We could name more than 50 stunning beaches in Sicily and choosing just a few is a tricky task. Nonetheless, we can recommend you Calamosche cove and San Lorenzo beach. Isola dei Conigli is reachable when the water goes down and a strip of sand appears. Scala dei Turchi is a truly unique spot with pure white limestone and clay high rocks that nature and time have been shaping over the years. Go to Torre Salsa, the longest beach in Sicily. San Leone in Agrigento, Isola Bella, Punta Secca, or Capo d'Orlando, near Messina are just some of those paradisiacal beaches that you have daydreamed of so many times. Make your way to Sicily now and enjoy the Sicilian lifestyle.
Sicily for spa holidays lovers
Holidays is the time to shake the stress away and where clocks tick at a different pace. Sicily is the place for succulent cuisine, paradise beaches, luxury treats and wellness treatments. The spa centres can adapt to the most demanding travellers. Here you will feel like a king or a queen for a day. Worship your body and let vigorous hands roll over your back, massaging every inch of your muscles. Get pampered with beauty therapy oils, mud treatments, rejuvenating facials and the best local products made out of their famous mineral salts or volcanic ingredients that will bring so many beneficial properties to your skin. Feel fresh and ready for the rest of the day!
Sicilians are proud of their heritage hence people in Sicily consider themselves Sicilians first and then Italians.
Top 7 travel tips in Sicily
1. Enjoy the UNESCO World Heritage sites
Visit the seven wonders of Sicily. In Agrigento you can visit the Valle dei Templi with its greatly preserved Doric temples. Admire the invaluable mosaics of Villa Romana del Casale, enjoy the views of the active volcano Etna or admire the Necropoli Rupestre of Pantalica in Siracusa and the baroque, artistic heritage of Val di Noto. The Arabo-Normanno path from Palermo to Monreale and Cefalù is full of history about settlements on the island, filled with religious and civil buildings. Finally, Isole Eolie is a rich archipelago due to volcanology and geology. The natural wealth of the island will surprise even the most experienced traveller. Come and see it by yourself!
2. Watch the sunset from the Fountain of Arethusa
Watching a sunset is one of those views one will never get tired of seeing. Here you can have romantic sunsets from the Fountain of Arethusa, which offers a privileged location to the west, priceless tranquillity and a sea of spectacular colours. But sunsets are also a wonderful show from Taormina, with the ruins of the Ancient Theatre of Taormina and Mount Etna backlighting. Let your eyes capture the moments when lights cast upon the horizon and reds, yellows and oranges fill up the skies of subtle nuances. If you love photography, get your camera ready and keep those memories forever.
3. Visit the Godfather's hometown
Does Corleone ring a bell? Sure it does! Don Vito Corleone is a world-known mob boss in the Francis Ford Coppola film, The Godfather. Corleone is the hometown of this famous character. Many travellers visit it every year, attracted by curiosity about what is or is not true about the Italian mafia. Regardless of this, the town has attractions such as the Soprano Castle, the medieval Castle of the Franciscans and at least a hundred churches. Wander the beautiful streets of this unique Sicilian town.
4. Sicily flavours you don't want to miss
Indulging yourself with delicious tastes, shapes, scents and colours. Sicilian food is a great pleasure enjoyed all over the world. Versatile Sicilian wines always pair up with the best culinary recipes of the island. Sicily is the cradle of the Mediterranean cuisine, enhanced by fish, meat and veggies. Try some Nebrodi salami, Caponata, eggplant Parmigiana, tomato of Pachino or Arancino, the maximum expression of Sicilian street food. The pistachio of Bronte is used in many sweet or savoury recipes. Those with a sweet tooth will enjoy the red oranges, the cannoli, the cassata and the granita, the best homemade ice cream with a brioche and the "tuppo". For an extra portion of sweetness, have a bite of the tasty Frutta Martorana, exquisite marzipan sweets, perfectly reproducing vegetables and fruit. The true expression of gastronomical talent.
5. Discover the volcanoes
Legends, stories and anecdotes always go related to volcanoes. These fierce nature wonders have always amazed and scared people. Mount Etna is one of the biggest active volcanoes in the whole world. It is possible to climb to the top of it, going uphill through different paths, lunar landscapes and even snow! And not far from here, the Alcantara Gorges is a canyon between 50-metre lava stone walls, a true spectacle of the basalts, among lakes and waterfalls. Stromboli and Vulcano are the other two volcanoes of the Aeolian Islands and where the myth of Vulcano, god of fire, was forged. Also, Stromboli can be admired at night from a boat and see how the eruptions and the scarlet lava turn the night sky into a glowing red. Welcome to the land of intense smells, smoke, ashes and fire coming from the heart of the earth.
6. Sail away around Sicily.
Get on a boat and experience the natural wonders of Sicily from the water. Lt the skipper take you to the most beautiful bays, coves and swimming spots. There is a route from Milazzo, Messina, to Vulcano, for a taste of the Aeolian Islands where you start early morning from the port of Santa Maria Maggiore and head to Mulberry Beach, for a nice dip into the crystal clear waters and enjoying great views of the Mount Etna, from the south coast of Vulcano. Visits to the Grotta del Cavallo, Pool of Venus or Fumaroles Beach are also part of the route. Another route is from Palermo to Mondello and Capo Gallo, the extended marine protected area, also with several spots along the way for a nice swim. And for a real sailing experience nothing better than a 6-day cruise around the Aeolian Islands, stopping at Lipari, Panarea, Stromboli, Salina, Filicudi and Vulcano. Have a good sailing!
7. Discover the traditional Sicily
There are certain celebrations a visitor should experience like a local. The Carnival fills the tables with macaroni, cavateddi, pignolata and chiacchiere. This feast has its ancient origins. Dances, masks and costumes fill up the streets during this celebration. Easter holidays in Trapani, Caltanissetta and Enna are a big celebration. The procession of the Mysteries happens for 24h during Good Friday inTrapani. The holy week in Enna and Caltanissetta happens from Palm Sunday until Wednesday. Locals want to keep this tradition of the processions an inherited patrimony for the upcoming generations. Feel the vibes!
FAQs: Villas in Sicily
When organising a holiday to Sicily, which amenities do travellers search for most?
Judging by the information from Holidu, when travellers browse for villas in Sicily, the most utilised filters are: swimming pool (29%), Wi-Fi (18%), and balcony (11%). Last year, most of the people searching on Holidu selected at least one of these services when finding the perfect villa.
Which types of services are available at the villas in Sicily?
In regard to the facilities offered by Holidu, it can be said that the villas in Sicily have everything that holiday-makers desire! Here, the villas generally offer a variety of amenities, the most popular being: garden (79%), air conditioning (78%), and Wi-Fi (77%)...Sound tempting?
How do travellers usually rate villas in Sicily?
On average, the villas get quite positive reviews. According to Holidu, 32% of villas have a rating equivalent to or higher than 4.5 stars. This is a fairly high ratio which allows us to confirm that you will easily find the ideal villa for a wonderful holiday!
Are the villas in Sicily suitable for families with children?
Holidu's insights reveal that 60% of villas in Sicily are suitable for families with children, so you won't have any difficulty finding the ideal villa for you and your children.
Are the villas in Sicily suitable for travellers and their pets?
For sure! In Sicily, 42% of the villas accept them, and 79% even have a garden!
Do the villas in Sicily often offer an internet connection?
Of course! According to Holidu's database, 77% of villas in Sicily have an internet connection. This means that you will be able to stay connected throughout your stay!
What are the prices like for villas in Sicily?
According to last year's information, there don't seem to be many villas in Sicily that cost less than £100 a night.
Do the villas in Sicily generally come equipped with a fireplace or a swimming pool?
Certainly! According to Holidu information, the villas in Sicily are ideal for all seasons. Here, 24% have a fireplace and 46% a swimming pool.
Are the villas in Sicily suitable for holidays with the whole family or rather for a weekend break as a couple?
Here, based on last year's information, 40% of villas are suitable for groups of up to eight travellers, and 30% of these villas are made up of at least four bedrooms. But 96% of villas are also suitable for up to four guests, and 92% of the villas are made up of at least two separate bedrooms. Sicily is, therefore, the ideal destination for groups of friends of all sizes!
Are villas in Sicily the best option for a luxurious stay?
Some villas are, but others aren't as luxurious. So if you are looking for that special accommodation, don't delay in making a reservation because only 46% have a pool, 78% have air conditioning, and only 1% have a sauna. However, if it's space you're looking for, 96% of the villas can accommodate large groups, and 79% have a garden.
Are you able to enjoy a beautiful view and spend time outside at the villas in Sicily?
58% of villas have a balcony or terrace, and 49% have a view, but this does not represent the majority, so availability can be limited. If this is important to you, you should start your research early, and use the filters to be sure to find the villa of your dreams. However, 79% of villas in Sicily have gardens, where you can enjoy the outdoors. If you like to have lunch or dinner outside, and especially if you like barbecues, 75% of the villas have them.
Holiday destinations nearby for Villas
Holidu compares hundreds of websites to find your perfect holiday rental for the best price.