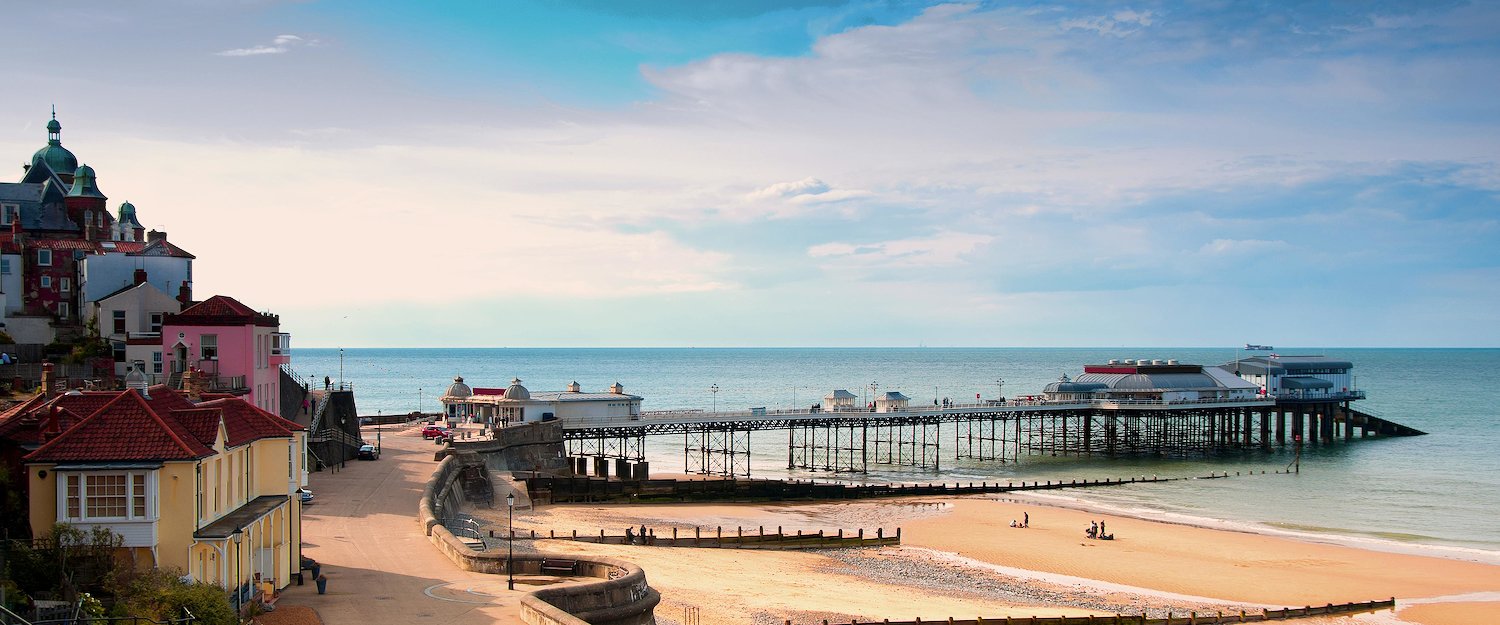 Cottages in Cromer
35 properties for Cottages. Compare and book at the best price!
Popular Cottage in Cromer
Highlights in Cromer
An interesting part of North Norfolk
Wonderful and varied beaches
A festive destination
Railway heritage
Excellent food and drinks
Most popular amenities for Cottages in Cromer
Other property types in Cromer that might be interesting:
Cottages in Cromer
Beautiful cottages in the English county of Norfolk
If you are planning to visit North Norfolk for a little weekend break, summer holiday or just for the night, look for a lovely cottage in Cromer. Enjoy the sea breeze, take a long walk and enjoy the amenities in town. Find your cottage in and around the centre or in the outskirts. Choose the one that suits your needs.
Lovely cottages at the seaside
Cromer is an ideal destination for families looking for traditional seaside holidays. If you book your cottage here you will always be close to the beach, museums, restaurants, shops and great outdoors. Fantastic cottages and Victorian properties, completely refurbished and with all the amenities you need to make your stay an unforgettable one.
Travellers and activities
Cromer for adventurers
In Cromer you can experience an adventure discovering North Norfolk's Blue Flag Beaches, visiting parks and gardens full of local flora and fauna. Dig a bit deeper into the history of this coastline. Choose the attractions that allure you and find out about art and cultural activities, topping it up with a fabulous meal at any of the eateries in town. Discover, explore and find out more about the pretty town of Cromer. Every season has something to offer!
Cromer for beach lovers
The beaches of North Norfolk hold the Blue Flag award for its waters and cleanliness. If you come with your four-legged furry friend, you can enjoy long walks at the dog-friendly beach of Sheringham. Cromer Beach, with its beautiful sunsets, is a magnificent beach for surfing, crabbing or snorkelling. At the east end, you can stay away from crowds. If you enjoy rock pooling and fossil hunting, West Runton is your beach. It is part of the Deep History Coast and you can be on the sand if you go at low tide. Mundesley and Sea Palling are excellent family beaches with cafes, amenities and lifeguards.
"Did you know Cromer's Pier was nearly destroyed by the Government during WWII to prevent it from being used as landstrip by enemy invaders."
Top 7 travel tips in Cromer
1. Discover the Deep HIstory Coast
Take a fantastic journey back in time at the unique Deep History Coast. North Folk is an area with evidence of earliest humans on the island about a million years ago, like the remains of a huge mammoth skeleton in West Runton. While discovering the coast, you will see the beautiful beaches where you can find the fossils. But history is not just above the surface! Good swimmers can see what's underwater next to the chalk reef between Sheringham and Cromer. Come and discover it by yourself!
2. Cromer for train lovers
Railways arrived in north Norfolk as the industry flourished so now tourists can enjoy the steam and light railways, the rich train heritage in the area. Take the scenic ride from Sheringham to Holt or get on the longest narrow gauge steam railway in the world running the 4 miles between Wells and Walsingham. You can also take the light train from Wells to Holkham Beach. And just a mile from Reepham, you will see the steam and diesel engines, close to walking and cycling routes. Come to Cromer and set off on a unique journey.
3. An excellent spot for golf
Golf players can enjoy a fantastic game at Searles Golf Club or Heacham Manor Golf Course. The first one welcomes players to a 9 Hole par 34 Course ideal for expert golfers but also those who want to start practising this fantastic sport. Heacham Manor has an 18 hole golf course that has been designed to blend in with the natural features of the surrounding landscape. Get your clubs and have fun.
4. Visit the fabulous museums
Museums are the best way to explore years and years of history under the same roof. The heritage steam railway and the Deep History Coast are great evidence of the past of the area but the exhibitions at the museums will take you through it step by step.
5. Enjoy festivals and carnivals
North Norfolk has lots of traditions when it comes to celebrating its heritage. This is why there are always festivals and carnivals in seaside and market towns, all year round. A must see is the Viking Festival or the Crab & Lobster Festiva. Around summertime, lots of carnivals are celebrated. Food, drinks and literature are also celebrated with festivals. For cultural and art events, many country houses and clubs host different celebrations.
6. Spot the Northern Lights
Stargazing is one of the most relaxing activities to enjoy in Cromer. The area of north Norfolk is one of the few places in Britain where you can see the Northern Lights, popularly known as aurora borealis. There are two sites that have received the Dark Sky Discovery Status because the area is not affected by light pollution and that allows you to gaze at the dark sy and admire the millions of stars shining above you.
7. Raise your tastebuds
Try seasonal food, locally brewed beer and fresh produce at any eatery or buy it at all year round farmer's markets. Enjoy independent delis and gastro pubs with delicious recipes. Look forward to mussels, cod, the Cromer Crab, samphire, cheese and seasonal fruits and veggies. Sea products are not the only thing Cromer can offer. Selected meats and game are just waiting to be cooked and served for you. Indulge yourself and choose your favourite dish.
FAQs: Cottages in Cromer
Which types of services can you expect to find in the cottages in Cromer?
In regard to the services you can find on Holidu, it appears that the cottages in Cromer contain everything that travellers search for! Here, the cottages generally have a variety of amenities, the most popular being: Wi-Fi (71%), garden (40%), and fireplace (15%)...Not bad, right?
How are the cottages usually rated in Cromer?
On average, the cottages are quite highly rated. Judging by the Holidu database, 31% of cottages have a rating of 4.5 stars. A ratio high enough to confirm that there are many which are very comfortable and will be the perfect choice for your next holiday.
Are the cottages in Cromer suitable for holidays with children?
Holidu's data reveals that 14% of cottages in Cromer are child-friendly, so you won't have any difficulty finding the perfect cottage for you and your family.
Are the cottages in Cromer suitable for travellers and their pets?
Yes! In Cromer, 43% of the cottages are pet-friendly, 40% also have a garden!
Do the cottages in Cromer often have Wi-Fi?
Of course! According to Holidu's data, 71% of cottages in Cromer have an internet connection. This means that you will be able to access your emails and favourite social media sites throughout your stay!
How much does it cost on average for cottages in Cromer?
Most of the cottages in Cromer (80%) cost less than £100 per night. This is the ideal destination for booking an affordable cottage!
Do the cottages in Cromer generally have a fireplace or a pool?
Of course! According to Holidu's data, a lot of cottages in Cromer are equipped with a fireplace. This is the destination you need to head to during the winter months!
Are the cottages in Cromer suitable for trips with several people or better for a holiday as a small family?
According to Holidu's database, 83% of cottages accept up to four people. Approximately 86% of the cottages here have at least two separate bedrooms. This is the ideal destination for small groups of friends!
Holiday destinations nearby for Cottages
Holidu compares hundreds of websites to find your perfect holiday rental for the best price.