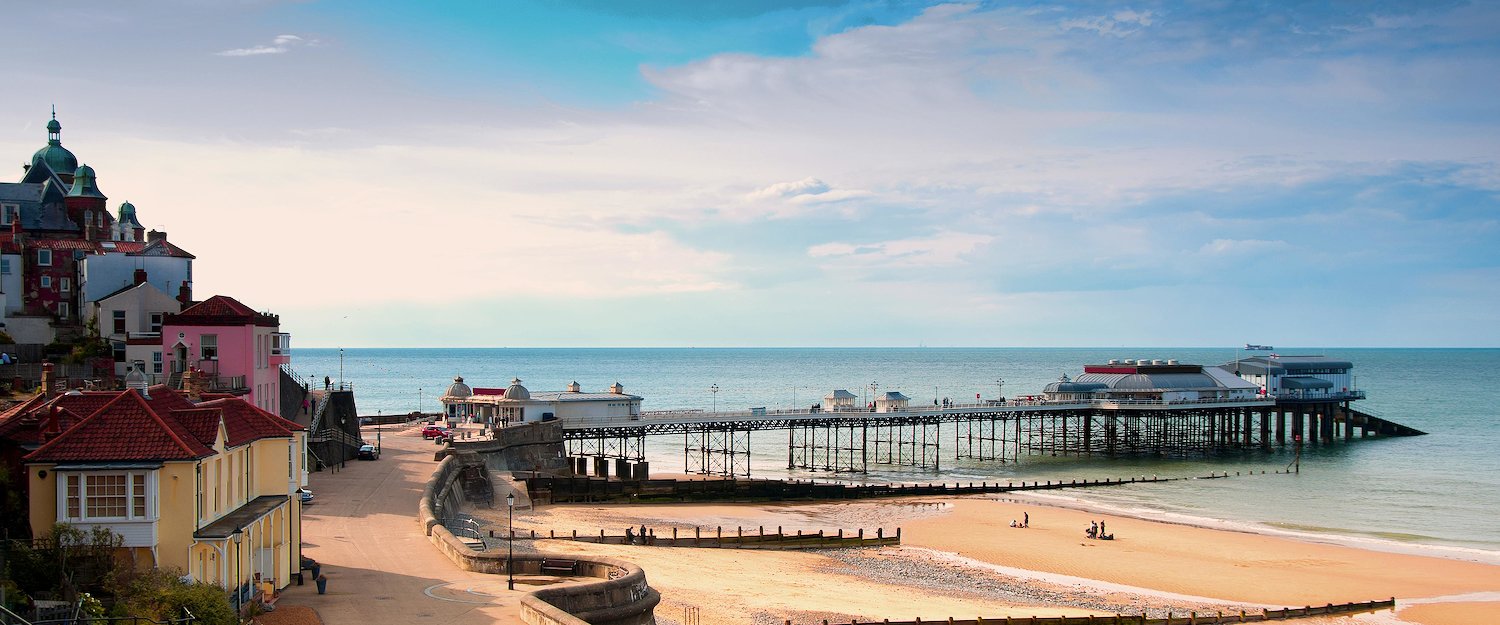 Cottages in Weybourne
26 properties for Cottages. Compare and book at the best price!
Holiday Rentals & Lettings in Weybourne
Find Cottages in Weybourne
Highlights in Weybourne
Amazing natural landscapes
Lush forests
Heavenly coasts
Exotic animals
Most popular amenities for Cottages in Weybourne
Other property types in Weybourne that might be interesting:
Cottages in Weybourne
Cosy cottages surrounded by exotic natural landscapes
If you are looking to get away from the everyday routine, contemplate gorgeous landscapes and breathe in the fresh and pure air of nature, Holidu has exactly what you need. North of Norfolk is the picturesque seaside town of Weybourne, famous for being the place where the cliffs end and a long stone path begins that leads to Blakeney Point Bay. This city offers cosy wooden and stone cottages, which absorb all the charm of the town; located in the midst of impressive natural beauties, such as a deep pebble beach, popular with fishermen; a cliff that leads to the soft sand of Sheringham, as well as the majestic Sheringham Park, with amazing views of the coast, country trails and lush forests with exotic trees and shrubs.
Cottages with all the facilities and comforts for relaxing holidays
The accommodation options in Weybourne are ideal to enjoy in company, either as a couple, as a family or with friends, as its cottages can accommodate from two to six people. Located in an area of ​​exceptional natural beauty, the cottages have quick and easy access to the beach along with beautiful views, and their facilities have gardens, saunas, swimming pools, terraces and picturesque infrastructures that will wrap you in the vibes of the city of Weybourne .
Travellers and activities
Weybourne for nature lovers
If you are interested in direct contact with nature and want to be dazzled by the exotic beauties of fauna and flora, there is no better place to experience the natural world than North Norfolk, as it has a wide variety of wildlife habitats, home to many of the UK's rarest fish, birds and mammals. Perfect to contemplate its fields full of poppies, gardens, mighty rivers, swamps, ancient forests and parks; observe the unique species of birds; admire the seal colonies and tour the extensive Broads National Park. Ideal to visit at any time of the year since, depending on each season, the biodiversity of species varies. In spring, carpets of bluebells and colourful wildflowers abound; in the summer, dragonflies and lavenders take over the entire stage; the arrival of autumn brings with it the fluttering of butterflies before they hibernate; and finally winter offers one of the greatest natural spectacles and that is to contemplate the great skeins of pink-legged geese.
Weybourne for walking routes
Weybourne is the ideal place for pleasant walks along its extensive beaches and parks. Hiking enthusiasts will find in North Norfolk over 16 Coastal Treasures heritage trails to be explored, where you also immerse yourself in the rich culture, history and natural beauty of Northwest Norfolk. On the other hand, the astonishing landscape park and lush gardens of Sheringham Park are home to one of the most exotic fauna in the whole of the United Kingdom and the vast majority of its trails are suitable for cycling, on foot, with animals in family and with young children. It is an excellent place to relax, and for the youngest to enjoy activities such as mini beasting and environmental art.
"Did you know that at the expense of Norfolk it was known during the time of 1588 as one of the weakest links in the United Kingdom since it provided an ideal anchor for the invaders?"
Top 7 travel tips in Weybourne
1. Immerse yourself in Weybourne's history by visiting the Sheringham Museum
On Sheringham's waterfront, you'll find a fascinating museum that captures Sheringham's rich history, including displays of three lifeboats that served the marina for 150 years; the first zeppelin to land on the UK, which occurred in World War I and works by famous local artists.
2. See the most important military collection in the city in Muckleburgh
At the foot of Muckleburgh Hill, is the largest private military museum in the United Kingdom, which houses one of the largest historical collections of the war . It has a wide range of anti-aircraft artillery; more than 120 vehicles, tanks and weapons; a large collection of operational radios from the early days of WWII.
3. Learn the story behind the railway The Poppy Line
In North Norfolk is The Poppy Line, a railway station which spans more than 5 miles, stretching along the coast to Sheringham and through the heaths to Holt. The station has witnessed many important historical events, such as the Second World War and today, it preserves its steam and diesel locomotives, which run every 45 minutes in the summer; old carriages, Victorian stations, a museum dedicated to the railroad.
4. Admire the seals from the farthest part of Blakeney Point
If you are passionate about animals, take a tour with one of the boat companies that offer short rides to the extreme shoreline further from Blakeney Point, to see Seals in their natural habitat, sunbathing on the sandbanks, is one of the activities that you cannot miss. Departing from Blakeney or Morston Quay, you can embark on the memorable adventure of discovering the wildlife at Blakeney Point first-hand. The colony is made up of approximately 500 common and gray seals. The Blakeney National Nature Reserve is an area where nature, its fauna and flora are very well protected, so it is common to find a wide variety of residential and migratory wildlife.
5. Discover forgotten treasures at West Runton Beach.
The beaches in Weybourne are famous for many factors, for example, West Runton Beach has great scientific value and interest. In 1990, a very important elephant fossil for the scientific community was discovered on this beach. In addition, this beach is a perfect place to surf, enjoy a refreshing day in front of the sea, take a walk on the soft sand and enjoy an afternoon with the family.
6. See nature in the largest coastal nature reserve in England and Wales
Observing natural species in their natural habitat is a privilege that you can experience in the North Norfolk nature reserve. The Peddars Way Observation Trail begins at Thetford, continues along the coast at Holme and extends to Cromer, although there are many detours that can be taken to explore the area in depth. This reserve combines landscapes of dunes, salt marshes and reed beds, providing one of the best visuals in the UK. You can see many wild and exotic birds such as avocets and bitterns, ringed plovers, archipelago, terns, curlews, oyster fishermen and lapwing. It is a must stop for nature lovers
7. Cycle along the Norfolk Coast
The Norfolk Coast is littered with charming country lanes, lanes and bridle and stone paths that lead to multiple landscapes and towns. It is an ideal area to take a bike ride, either your own or rented, and explore all the routes that the picturesque town of Norfolk has to offer. Around the routes, there are pubs, cafés or shops available to enjoy a well-deserved break. Ultimately, the Norfolk coast is the ideal place for cycling.
FAQs: Cottages in Weybourne
Which types of services can you find in the cottages in Weybourne?
Among the services you can find on Holidu, it appears that the cottages in Weybourne have everything that holiday-makers dream of! Here, the cottages generally include a variety of amenities, the most popular being: Wi-Fi (83%), fireplace (34%), and barbecue (24%)...Not bad, right?
How do travellers usually rate cottages in Weybourne?
On average, the cottages are quite highly rated. Judging by the Holidu data, 31% of cottages have a rating of 4.5 stars. A ratio relatively high which allows us to confirm that there are many which are very enjoyable and will be the perfect choice for your next holiday.
Are the cottages in Weybourne suitable for families with children?
Judging by the Holidu database, 17% of cottages in Weybourne are child-friendly, so you won't have a problem finding the ideal cottage for you and your children.
Are the cottages in Weybourne suitable for holiday-makers and their pets?
Yes! In Weybourne, 34% of the cottages accept pets, 24% also have a garden!
Do the cottages in Weybourne often offer Wi-Fi?
Yes! According to Holidu's data, 83% of cottages in Weybourne include an internet connection. So don't panic, you will be able to stay connected throughout your stay!
How much does it cost on average for cottages in Weybourne?
A high percentage of cottages in Weybourne (52%) roughly cost less than £100 per night. Therefore, this destination is perfect for booking a cheap cottage!
Do the cottages in Weybourne often come equipped with a fireplace or a pool?
For sure! According to Holidu's data, the cottages in Weybourne are ideal for every season. Here, 34% have a fireplace and 14% a pool.
Are the cottages in Weybourne suitable for holidays in large groups or rather for a holiday as a small family?
According to Holidu's data, 93% of cottages are made for up to four people. Approximately 97% of the cottages here have at least two separate bedrooms. This is the perfect destination for families of four!
Holiday destinations nearby for Cottages
Holidu compares hundreds of websites to find your perfect holiday rental for the best price.