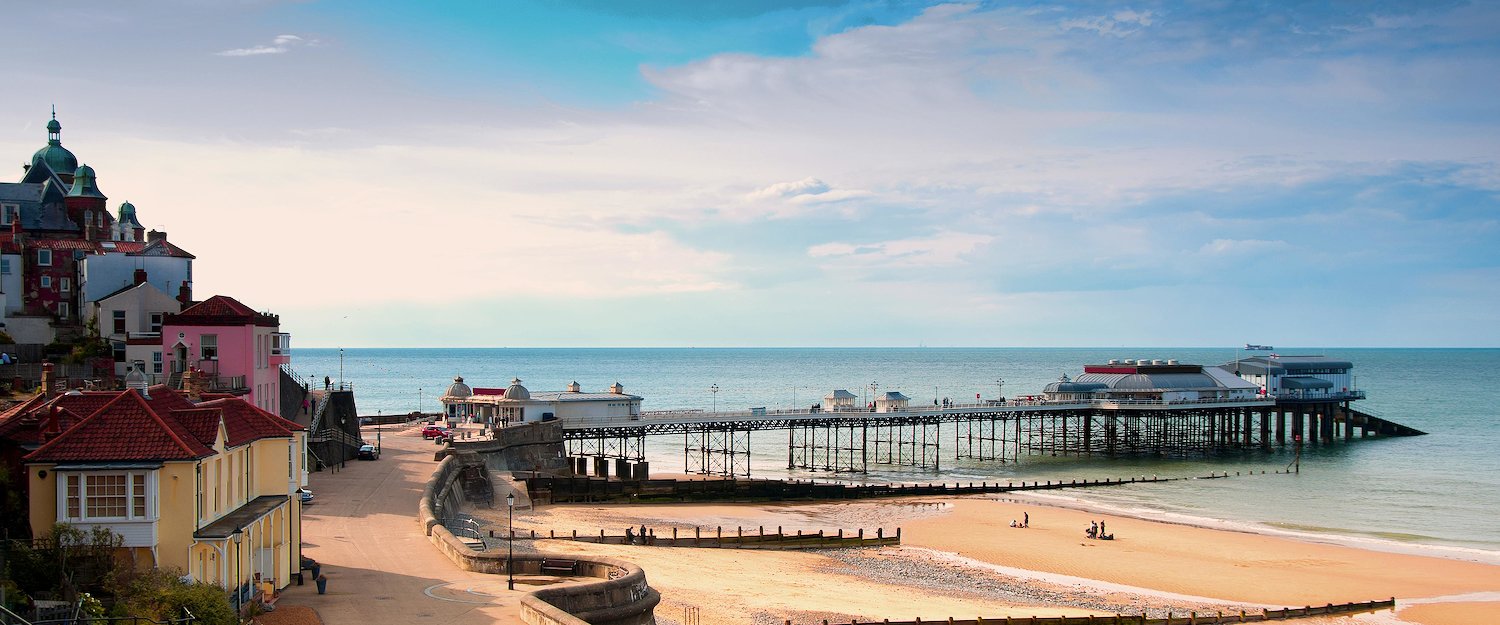 Cottages in Potter Heigham
30 properties for Cottages. Compare and book at the best price!
Holiday Rentals & Lettings in Potter Heigham
Find Cottages in Potter Heigham
Highlights in Potter Heigham
Spectacular Nature Reserves
Enigmatic lakes
Beautiful beaches nearby
Historic landmarks
Most popular amenities for Cottages in Potter Heigham
Other property types in Potter Heigham that might be interesting:
Cottages in Potter Heigham
Splendid cottages scattered throughout the village
Located in the heart of the village, on the most beautiful natural areas and its outskirts, Potter Heigham cottages are an exclusive Holidu opportunity that will present you with the best holiday experiences this season. Offering the ideal spaces in which to enjoy a peaceful break, holidaymakers can gather their loved ones and travel abroad to get rid of any pent-up stress or feelings of burnout that the dreadful routine has bestowed. Alternatively, thanks to its community and active tourism, this destination will also present the attractions, recreations and establishments needed for an activity-filled getaway, where travellers can enjoy a new experience every day and return home with plenty of memories. Choose the holiday that best suits your wants and needs and experience that much-needed time off in the Potter Heigham wonderland!
Fabulous cottages for a wonderful stay
Boasting splendid lake views, short distances to the county's beaches and locations close to the best local landmarks, Potter Heigham cottages are sure to be the perfect addition to your stay. Featuring a maximum capacity of 14 people, luxurious amenities and adaptable spaces, families, couples and groups of friends won't have to worry about their comfort as these lodgements will be specially modified to put their needs and desires at the top of the priority list. Enjoy days in your garden, afternoons on your balcony and evenings by the fireside, choosing one of the many cottages that Holidu and Potter Heigham have for you this holiday.
Travellers and activities
Potter Heigham for nature lovers
Comprising a range of natural habitats that are teeming with English flora and fauna, the reserves will be fantastic spots in Potter Heigham where nature lovers will have the most fun. Offering varied experiences that tourists and residents can enjoy once a year or at various seasons, these spots in the village will ensure unique moments for everyone. Being in the village territory or adjacent to the parish, Heigham Holmes NNR and Ludham-Potter Heigham NNR will be perfect options in which to learn about the diversity of species that inhabit the nation's territories. Explore lush wetlands or beautiful lakes and enjoy detailed sights of the diverse species that Potter Heigham and England possess.
Potter Heigham for fishers
Presenting a wide variety of lake options, the wonderful village of Potter Heigham will be a wonderful holiday destination for the anglers of the world who wish to practice their favourite hobby during their leisure time. Furthermore, boasting a fishing season that lasts almost a year, from June to March next year, it won't matter whether you visit the village in summer, autumn or spring as the facilities will always be available for your enjoyment. The Broads in the area are suitable for all styles of fishing and offer a variety of fish ranging from great Roaches to grand Bream. Be sure to visit the Potter Heigham post office for a quick licence and get ready to enjoy your favourite activity during your time off in Norfolk this season!
"Giving the village a name, Potter Heigham's most iconic landmark it's a medieval bridge, constructed back in 1365 and known for its architecture."
Top 7 travel tips in Potter Heigham
1. Get to know the village with a sightseeing session
Attracting the attention of tourists for their architectural beauty and historical influence, Potter Heigham's landmarks will be the local highlights with which travellers can learn about the land, culture and past of their holiday destination. Featuring ostentatious structures and intriguing stories, every minute spent at these landmarks will be completely worth it as you will be entertained and amazed by all the diverse aspects that these wonderful spots present. Standing out from the crowd, Potter Heigham War Memorial and Sunways Mill are options we can't help but recommend this season. Be encouraged to explore the village's landmarks during your sightseeing session and get to know Potter Heigham in depth.
2. Spend a fantastic day with your best four-legged friend
Including fabulous activities in land and water, Potter Heigham will be a fantastic holiday destination where tourists can find numerous attractions and recreations that present fabulous policies for their beautiful four-legged best friends. Ranging from natural spaces to splendid restaurants, tourists will be able to wander the entire village accompanied by their loving pets and finally experience that iconic holiday they have been looking for. The highlights we can't help but mention are the Hickling Broad Nature Reserve and the Wind Energy Museum, which will undoubtedly present you with an experience unlike any other you've had during your holiday. Enjoy some leisure time with your four-legged friend and become inseparable this season.
3. Stay active at Potter's routes
Comprising stable terrain, the Potter Heigham Village will be an area conducive to walking for exercise. Offering a variety of routes ranging from easy to moderate levels, walkers with any skills will be able to join the adventure and enjoy a vigorous workout in the village territory. Reaching both the Potter Heigham area and adjacent natural spaces, these routes will be the perfect activities with which to explore the regions beyond the village. Staying within a distance of 2.5 miles, Repps Riverside is a great choice for families due to its short length and trail full of attractions that will entertain young and old alike. Offering a length of 3.4 miles, Potter Heigham Bridge Circular Walk is aimed at those visitors and residents who are more exercise-focused and want to mobilize every muscle in their body while enjoying the charms of the area. Choose the path of your choice and remember to stay hydrated as you walk the width of Potter Heigham this season.
4. Make a quick detour to Winterton Beach
Just 15 minutes away, Winterton Beach is a wonderful attraction in Norfolk that visitors can opt for as an alternative during their Potter Heigham holiday. Featuring calm tides, crystal clear waters and soft golden sandy shores, all age groups can enjoy the varied experiences they crave in a fantastic environment that will give them a different view of the region. Have an exhilarating day out with friends playing numerous water games or enjoy a romantic date with your partner in the sunset light by visiting the fabulous Winterton Beach this season.
5. Have an excellent dinner at BridgeStones of Potter
Located on one of the most important streets in the entire village, BridgeStones of Potter will be the dining establishment in Heigham that will provide you with the ultimate culinary experience. Mostly acclaimed for its exquisite traditional breakfasts, this village spot will be ideal for complementing your stay with journeys of flavour that will let you know about the culinary arts of Norfolk and England. Stroll along Bridge Road in the mornings, afternoons or evenings when you wish to enjoy wonderful food and enhance your holiday in the East of England 100%.
6. Find great deals at Lathams
Distributing quality products ranging from the finest fishing tackle and fabulous tents to beautiful clothing and excellent home furnishings, Lathams will be the most promising shop that the whole of Potter Heigham can present to you. Serving residents and tourists for over 30 years, customers can expect exceptional service and charming prices that will make their retail therapy sessions that much more enjoyable. Shop for gifts, souvenirs and necessities without breaking the bank during your visit thanks to Potter Heigham's wonderful Lathams!
7. Enjoy without measure at The Falgate Inn
Boasting lovely outdoor areas, varied food and drink menus as well as fabulous theming and friendly staff, The Falgate Inn will be the perfect spot for visitors and holidaymakers from around the world to experience England's nightlife and traditional pubs. Accompanying its evenings with melodious music and fun games, it won't matter if you want to spend a tranquil time with your companions or want to dance the night away, as this establishment will present you with the perfect space to satisfy your every whim. Get into the party vibe this holiday season by visiting The Falgate Inn this season.
FAQs: Cottages in Potter Heigham
Which types of services can you expect to find at the cottages in Potter Heigham?
Among the amenities offered by Holidu, it seems that the cottages in Potter Heigham contain everything that holiday-makers want! Here, the cottages generally have a variety of amenities, the most popular being: garden (81%), Wi-Fi (81%), and view (44%)...Are you convinced yet?
How are the cottages usually rated in Potter Heigham?
According to last year's data, less than 20% of the cottages in Potter Heigham get a rating of 4.5 stars. If this criteria is important for you, it will be necessary to be a little more careful about the scores.
Are the cottages in Potter Heigham suitable for family holidays?
According to the Holidu database, 62% of cottages in Potter Heigham are child-friendly, it should therefore be very easy for you to find the ideal cottage for you and your children.
Are the cottages in Potter Heigham suitable for holiday-makers who wish to travel with their pets?
For sure! In Potter Heigham, 56% of the cottages give you the opportunity to bring along your furry best friend, 81% also have a garden!
Do the cottages in Potter Heigham often offer an internet connection?
Of course! According to Holidu's database, 81% of cottages in Potter Heigham offer Wi-Fi. You will be able to access your emails and favourite social media sites throughout your stay!
What are the prices like for cottages in Potter Heigham?
According to Holidu's database, less than 40% cottages in Potter Heigham costing less than £100 a night.
Do the cottages in Potter Heigham generally come equipped with a fireplace?
Good news! According to Holidu's database, many cottages in Potter Heigham have a fireplace. Fancy a weekend by the fire? Don't delay in booking a cottage in Potter Heigham!
Are the cottages in Potter Heigham suitable for trips in large groups or rather for an escape as a couple?
According to last year's Holidu data, 81% of cottages are made for up to four travellers. Approximately 81% of the cottages here include at least two separate bedrooms. This is the perfect destination for going in a small group on holiday!
Holiday destinations nearby for Cottages
Holidu compares hundreds of websites to find your perfect holiday rental for the best price.