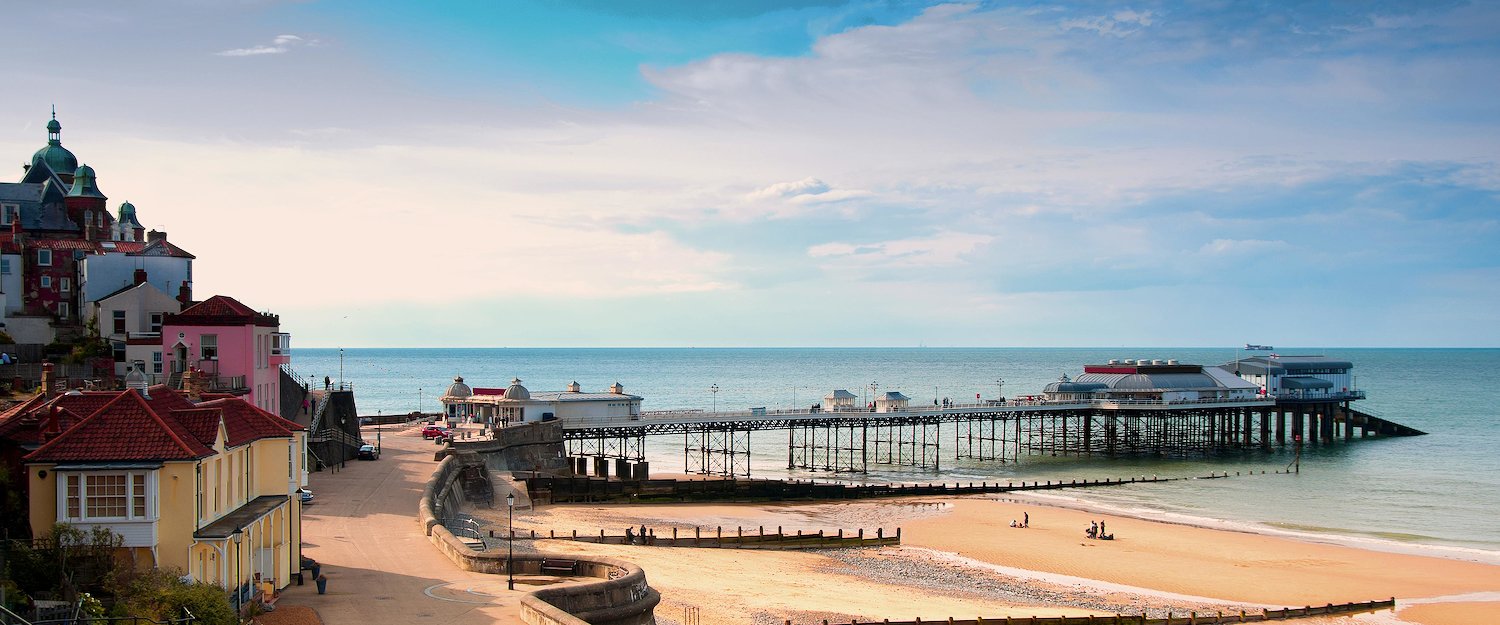 Cottages in Holkham
34017 properties for Cottages. Compare and book at the best price!
Popular Cottages in Holkham
Highlights in Holkham
Picturesque village of North Norfolk
Impressive natural environments
Attractions fit for all interests
Fun activities for young and old
Exciting establishments
Entertaining events
Delightful food
Most popular amenities for Cottages in Holkham
Other property types in Holkham that might be interesting:
Cottages in Holkham
Fantastic village where to enjoy new and exciting experiences
Boasting a superb location on the North Norfolk coast, bordering the fantastic countryside of the East of England and enjoying an advantageous distance from the area's best attractions, the village of Holkham will be the right choice in which to experience that dream break you've longed for. Whether you desire relaxing days and nights accompanied by the captivating atmosphere of the country's nature or want to enjoy the exciting activities that take place in England, this village will be fully qualified to offer you an unforgettable holiday. Take a look at the many experiences Holkham has to offer and plan the holiday of a lifetime thanks to Holidu!
Marvellous houses ready to book
Featuring locations within walking distance from the best beaches in the village, beautiful gardens in which to enjoy peaceful summer days and fantastic ocean views that dazzle guests time and time again, Holkham cottages will be the best lodgement options for tourists to stay in during their holiday. Furthermore, offering all the necessary additions to accommodate travellers with small children or even pets, groups of all styles will have the opportunity to enjoy an exciting adventure in the most comfortable way. Live the best experiences with your nearest and dearest this season by choosing the cottages that Holidu and Holkham present for you!
Travellers and activities
Holkham for beach lovers
Decorated with colourful beach huts, presenting refreshing crystal clear waters and featuring long stretches of golden sands, Holkham's coasts are some of the biggest attractions the village has to offer. Whether you're looking for a peaceful day out accompanied by the soothing sound of the waves, a romantic date in the evening light or a fun-filled family adventure, these beautiful shores can guarantee you and your companions an unparalleled experience. Out of all the options available in the area, Holkham's Beach is the best choice for any visitor to enjoy a day of sun, water and sand. This marvellous location enchants all tourists exploring the village thanks to its calm tides, ideal for families with small children, its exciting fun activities for groups of friends and relaxing vibes for the couples of the world. Don't forget to pack a swimsuit before your trip to Holkham and discover the charms that the North Norfolk coast and England have in store for you.
Holkham for families
In addition to its fantastic beaches, which ensure fun times for visitors of all ages, the fabulous village of Holkham presents numerous options for families to enjoy entertaining days during their visit. Specializing in excellent outdoor activities, these alternatives will be ideal for parents with energetic children who like to explore, jump and laugh all day long. Sprinkled throughout the adjacent areas of Holkham Hall, these recreations will allow them to discover different aspects and factors of the village they haven't learned about before. If heights are not an issue, young and old can make the most of the rope course outside the Hall, attached to pulleys and harnesses for a fun yet safe experience. Alternatively, if any of your family members have phobias or fears, the lake at the back of Holkham will be another fantastic spot thanks to its kayak and paddleboard rentals that will allow you to explore its depths along with your companions. Letting you know the heights and depths of the area, the activities and recreations of Holkham will be all that you'll need to enjoy an epic holiday with your family this season!
"Holkham Hall, the most iconic attraction of the village, was constructed thanks to Thomas Coke, who decorated the structure to his liking with all styles of Palladian works and ornaments."
Top 7 travel tips in Holkham
1. Visit the sacred grounds of Saint Withburga
Originally erected in the 13th century, St Withburga's Church is a Holkham landmark that will be a delight to visit. Presenting a magnificent experience for believers of the Christian religion, this grand and sacred ground will offer enlightening masses on the first Sunday of every month of the year, presenting the goal of unity to Holkham's community. Alternatively, keeping it a welcome visit for the agnostics of the world, this fabulous building also keeps its doors open for tours of all kinds, in which travellers can enjoy the Victorian influences of its structure. Finally, both groups can also enjoy the history and background that this majestic place presents, in which they can learn about the life of Withburga and the reason she was beatified as a saint by her community and commemorated with this magnificent church.
2. Take some time to explore the village during December
Although the village of Holkham makes sure to offer a wide variety of activities every month, the Christmas season is a magnificent festivity worth experiencing for oneself. Keeping December as entertaining as possible, these great events will present the spaces and activities needed to share along with the community and feel united with your loved ones as never. Featuring enjoyable recreations for every style of visitor and villager, fun-filled days and nights will be precisely what you can expect from this experience. Providing a celebratory vibe, great entertainment and lively carols, the Diva Opera will be just what you'll need to get into the Christmas spirit, even offering beautiful costumes that will make you feel like a member of the cast. Moreover, illuminating the darkness of the night with beautiful lights, Holkham Hall by Candlelight is a fabulous alternative that will present you with a marvellous atmosphere, delicious drinks and interesting activities to keep you entertained this festive season. Dress up in your best red, green and gold gowns to make the most of Christmas during your Holkham holiday!
3. Participate in an amusing talk or tour of the area
Focusing on the village's magnificent animal species and varied natural surroundings, Holkham's themed walks will be some of the most interesting and educational activities that travellers can join. Delivered by knowledgeable guides, the Safari on Foot events, held in the open spaces of the village, will be ideal for young and old who are interested in the world's nature or fascinated by learning interactively. Furthermore, as a way to raise awareness among participants, guides also touch on environmental issues ranging from the maintenance of diverse environments to the threats posed by humans to the world's nature reserves. With the chance to learn about birds, plants, numerous species of trees, invertebrates and even fungi, join the Safari on Foot experience with your companions and uniquely discover the delights of Holkham.
4. Achieve the body of your dreams at Holkham's trails and paths
Presenting all levels of difficulty and keeping its doors open for those with a pet or wishing to cycle the route, the trails and paths in the Holkham area will be some of the most inclusive walks on which visitors can work their dream body every day. Traversing the valleys, lakes, woods and meadows of the area, these trails will also provide that natural touch everyone has wanted to add to their holiday and allow them to enjoy the refreshing afternoon breeze while invigorating their bodies with a workout. Thus, out of the 7 options that the village presents, the red and orange coloured routes will be the best choices you can take, offering you a six-mile run to have a great cardio session or a mile and a half run to warm up for your workout, respectively. Sweat all the impurities out of your body with a fabulous jog by visiting Holkham's trails and paths this season.
5. Accompany your days with delicious dishes of the Beach Café
Bringing a splash of colour to the North Norfolk seafront, Beach Café will be a fantastic village establishment that will complement every day of your holiday perfectly. Distributing a full menu ranging from small snacks for cravings, delicious takeaways as a quick option and various full-course meals to share with your companions, debating what to eat every day won't be a problem during your visit. Also offering outdoor and indoor spaces, visitors will be able to decide which experience they want to enjoy in its entirety. Indulge your taste buds with a variety of breakfast, lunch and dinner options at the Beach Café of Beach Road.
6. Enjoy your nights at The Victoria Inn
Located just minutes away from the beautiful golden sands of Holkham Beach, The Victoria Inn is sure to be the perfect venue in which visitors can end their days in the most entertaining and lively way. Serving all styles of drinks at its bar and delicious accompaniments, this magnificent establishment is highly acclaimed by the village community, promising only the best products and services for passing tourists. Also featuring a great theme, fabulous games and even open mic nights, diners will have all sorts of recreations to keep themselves entertained while enjoying a few drinks. Dance the night away, sip on exquisite cocktails and sing your heart out as you explore the Victoria Inn's spaces this holiday!
7. Purchase magnificent items in The Courtyard Gift Shop
Stocking a wide range of items ranging from beautiful necklaces, mugs, ornaments, snacks, books and even curious knick-knacks, the renowned Courtyard Gift Shop will be the best place to buy wonderful presents for your relatives and fun decorations with which to fondly remember your holiday. Located within walking distance of Holkham Hall, this shop is centrally located in the village, making it perfect for a casual day of shopping where visitors want to take it all in with a grain of salt. Also featuring the best prices on the market, this establishment will be the ideal choice for those visitors who are travelling on a budget or those tourists who just need to buy a small item and don't want to overspend. Come home with the best deals and delight your families with fantastic gifts by doing some fun shopping at the Courtyard Gift Shop in Holkham during your visit.
FAQs: Cottages in Holkham
Which types of services are available in the cottages in Holkham?
When looking at the services available on Holidu, it appears that the cottages in Holkham offer everything that holiday-makers need! Here, the cottages generally offer a variety of amenities, the most popular being: Wi-Fi (100%), garden (75%), and fireplace (42%)...Pretty cool!
How do travellers usually rate cottages in Holkham?
The cottages in this destination often have a lot of positive comments. 50% of the cottages in Holkham have excellent reviews and an average score of 4.5 stars!
Are the cottages in Holkham suitable for family holidays?
Holidu's data reveals that 42% of cottages in Holkham are suitable for families with children, it should therefore be very easy for you to find the perfect cottage for you and your family.
Are the cottages in Holkham suitable for holiday-makers who wish to travel with their pets?
For sure! In Holkham, 33% of the cottages accept pets, 75% even have a garden!
Do the cottages in Holkham mostly come with Wi-Fi?
Certainly! According to the data collected last year, 100% of cottages in Holkham offer an internet connection. You will be able to access your emails and favourite social media sites throughout your stay!
Do the cottages in Holkham typically have a fireplace?
Good news! According to last year's data, many cottages in Holkham are equipped with a fireplace. Therefore, it is the perfect destination for a winter getaway!
Are the cottages in Holkham suitable for trips in large groups or rather for an escape as a small group?
According to last year's Holidu data, 67% of cottages accept up to four guests. Approximately 83% of the cottages here include at least two separate bedrooms. This is the ideal destination for families of four!
Holiday destinations nearby for Cottages
Holidu compares hundreds of websites to find your perfect holiday rental for the best price.