Other holiday ideas and property types in Menorca that might be interesting
Popular Destinations in Menorca
Prices and availability
Current Holiday letting prices Menorca
£236 annual average
Jan
Feb
Mar
Apr
May
Jun
Jul
Aug
Sep
Oct
Nov
Dec
Average price per week
Current holiday letting availability Menorca
42% annual average
Jan
Feb
Mar
Apr
May
Jun
Jul
Aug
Sep
Oct
Nov
Dec
Percentage of available lettings
As part of the Balearic Islands, Menorca follows suit in regards to great weather, outstanding natural sandy beaches and glorious landscapes. Menorca is arguably the most family friendly out of all three Balearic Islands, with fantastic opportunities for relaxation and cultural discovery. Discover your dream villa today with Holidu and rediscover yourself in this island paradise.
Things to know about Menorca
Holidays in Menorca – Peace and relaxation on the most peaceful Balearic Island
Surrounded by the clear blue waters of the Mediterranean, Menorca lies close to the Spanish mainland. The most easterly Balearic island has earned its UNESCO Biosphere Reserve label due to its wonderful landscapes, full of peace and serenity. Fine white sandy beaches with turquoise waters, picturesque harbours, lush green vegetation which fits perfectly to the landscape, along with Menorca's traditional yet stunning villas with pools – Menorca is perfect for holidays with the family. On the around 180mile long coast, there is a contrast of steep cliffs with remote bays and long beaches,
creating an island paradise for water lovers and sun worshippers. The north of Menorca is defined by the Tramuntana mountains, peaked by the Monte Toro mountain with its 357metre height. Remote meadows, long valleys and red fields huddle amongst jagged cliffs and soft hills. The romantic landscape of the north charms further with its remote bays and fantastic villas with gardens in Cala Morell and Arenal d'en Castell. Prehistoric monuments and towns typical of the island are found towards the centre of Menorca, showing the island's charm and tradition.
Villas and Holiday Lettings in Menorca: Find yourself on the Beach or at a Festival
A weekly market with regional products ruins of the historic Castillo de Santa Agueda castle and a small fishing harbour are found in Ferreries. This is a great place to discover traditional villas and holiday lettings in a more traditional part of the island. In the south of the Balearic island, the Migjorn landscape dominates and defines this part of Menorca with picturesque ravines and long sandy beaches. In the popular holiday destinations of San Jaime Mediterráneo and Cala en Bosc, relaxing walks, a great prospectus for water sports and wonderful bays are found –
aspects which are the cherry on Menorca's cake. If you are after something more lively and traditionally Spanish, Menorca offers many intriguing parades and festivals in the summer period. The Sant Joan Festival in Ciutadella for instance takes place from the 23rd to the 25th of June, which involves jousting, hazelnut shell battles which all finalises in a huge firework display. Another example of a traditional festival is the Gracia Festival in Mahon which takes place between the 6th and the 9th of September. Processions of horses and races through Mahon's streets and huge parading figurines of religious figures.
Top 5 Travel Tips for Menorca: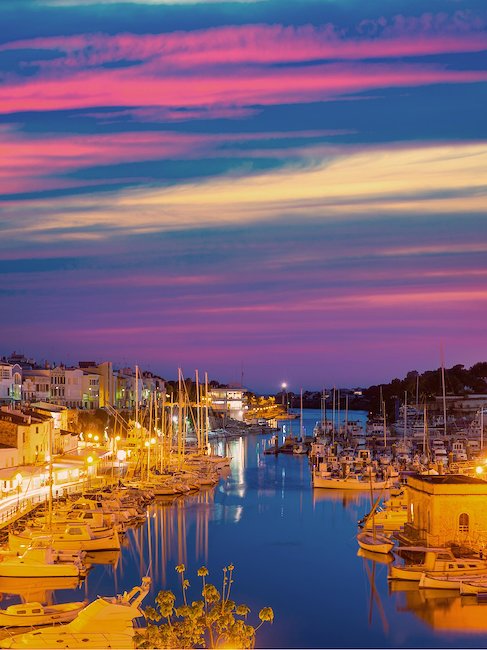 1. A must for every holiday maker in Menorca is a tour around the harbour of the island's capital city, Mahon. You can discover Menorca's coast with remote bays and beaches which are otherwise inaccessible, as the yellow boats provide English commentaries as well as many other languages during the tour. The tour takes you past Sa Mesquida and Illa d'en Colom in the north east and to the natural reserve of Es Grau, as well as Punta Prima, Binibequer and Canutells in the south – shaping a truly relaxing time.
2. The Cala Galdana embedded in the steep coast of the south counts as one of the most beautiful bays of the entire western Mediterranean. The turquoise water and the white sand beckon you over to undisturbed hours by the sea. Soak up the sun, build sandcastles with your children and awaken yourself in the sea!
3. Menorca offers many great possibilities for walking excursions throughout the island. The various landscapes which are united in a relatively small area are best discovered on a trekking tour – the east of the island exhibits the natural reserve of Es Grau, with Barranc d'Algandar in the south with its ravines. Discover steep walls either side and winding rivers through lush vegetation in this great biosphere reserve.
4. Menorca has culturally rich treasure at its disposal as well as impressive cultural landmarks from the prehistoric age. Next to magnificent buildings of idyllic towns, mighty stone relics of Talaiots, Taules and Navetes in open air museums amaze many visitors each year. Stone villages and burial sites of Navetes date back to around 2000 BC, with the big round stone towers of Talaoits dating back to around 1500 BC.
5. Those who want to discover the colourful submerged world in the Mediterranean have the opportunity to in Binibeca. A great villa with a pool is an ideal starting point for trips into the area: The rocky south east coast between Punta Prima and Cap d'en Font is an ideal area to go snorkelling and scuba diving.
Discover fantastic Villas and Holiday Lettings in Menorca today!
The largely peaceful island of Menorca with its occasional summer festivities impresses many holiday makers with its stunning beaches, crystal clear blue seas and fantastic weather in the western Mediterranean Sea. With many great villas and holiday lettings to view on Holidu, there has never been a better time to come to the fantastic island to relax and recharge your batteries.
Discover your dream villa with Holidu's simple search function and choose your perfect accommodation with a specific number of rooms, child friendly facilities, a good proximity to the beach, a good proximity to towns, Internet access and many other features. With many great white sandy beaches, stunning landscapes and natural geology to discover, Menorca truly is a piece of heaven on earth. Book online today with Holidu!
Information about holiday lettings in Menorca
| | |
| --- | --- |
| 🏡 Holiday lettings available: | 1649 properties. |
| 💳 Discount available: | up to -58%. |
| 🌙 Minimum price per night: | from £34. |
| ⭐ Most popular amenities: | Wi-Fi, air conditioning and balcony. |
| 🐾 Pet-friendly: | 188 properties. |
| 🏊 With pool: | 900 properties. |
FAQs: Holiday Rentals & Lettings in Menorca
Which types of services can you expect to find at the holiday lettings in Menorca?
Among the services you can find on Holidu, it seems that the holiday lettings in Menorca have everything that holidaymakers desire! Here, holiday lettings generally have a variety of facilities, the most popular being: Wi-Fi (92%), swimming pool (84%), and air conditioning (74%)... Not bad, right?
How are the holiday lettings usually rated in Menorca?
On average, the holiday lettings here have rather positive reviews. Last year's information reveals that 33% of holiday lettings have a rating equivalent to or higher than 4.5 stars. This is a fairly high ratio which allows us to confirm that you will easily find the ideal holiday letting for a wonderful holiday!
Are the holiday lettings in Menorca child-friendly?
Holidu's insights reveal that 11% of holiday lettings in Menorca are suitable for holidays with children, it should therefore be very easy for you to find the perfect holiday letting for you and your family.
Are the holiday lettings in Menorca pet-friendly?
Definitely! In Menorca, 15% of the holiday lettings are pet-friendly, and 63% even have a garden!
Do the holiday lettings in Menorca mostly come with Wi-Fi?
Of course! According to Holidu's data, 92% of holiday lettings in Menorca have Wi-Fi. You will be able to browse the internet at any time!
How much do guests usually expect to pay for holiday lettings in Menorca?
The majority of holiday lettings in Menorca (85%) tend to cost less than £100 a night. Therefore, this destination is perfect for booking an affordable holiday letting!
Do the holiday lettings in Menorca usually have a swimming pool?
Of course! According to Holidu information, 84% of holiday lettings in Menorca are equipped with a swimming pool. It's the ideal destination for you to spend the summer months! In addition,59% even have a barbecue!
Are the holiday lettings in Menorca suitable for holidays in large groups or rather for a holiday as a small group?
According to the information collected last year, 89% of holiday lettings are perfect for families with up to four travellers. Approximately 84% of the holiday lettings here have at least two separate bedrooms. This is the perfect destination for taking your little family on holiday!
Are the holiday lettings in Menorca luxurious?
Sure! The holiday lettings in Menorca are quite well-equipped. However, if you are looking for unique holiday accommodation, we advise you not to wait too long to make the reservation, since the availability of accommodation fills up quickly. In Menorca, 84% have a pool, 63% have a garden and 2% have a sauna. Also, if you are looking for a spacious property, 89% of the holiday lettings can accommodate big groups, and 63% have green spots in the surrounding area.
Do the holiday lettings in Menorca offer outdoor space to enjoy?
73% of holiday lettings have a balcony or terrace, and 26% have a view. But this does not represent the majority of properties here, so availability can be limited. If this is important to you, you should anticipate a bit more time for research. Also, don't forget to use the filters that suit you the best to be sure to find the holiday letting that is perfect for you. However, 63% of holiday lettings in Menorca have gardens, where you can bask in the sun. If you like to have lunch or dinner outside, and especially if you like barbecues, 59% of the holiday lettings have them.
If you want to travel to Menorca, what time of year is the best time to do it?
If we take a look at the characteristics of the holiday lettings in Menorca, it is easy to say that this is an ideal summer destination. This is because according to the data, 84% of the properties here have a swimming pool, 63% have a garden and 74% have air conditioning. Don't wait any longer to book your accommodation in Menorca to enjoy your summer holidays.
Holiday destinations in Menorca
Holiday destinations nearby
Holidu compares hundreds of websites to find your perfect holiday letting for the best price.