These are the best and worst European airports to get stuck in
Flight troubles got you down?
Flight troubles got you down? These are the best rated airports that you wouldn't mind getting stuck in. We will also highlight some airports you may want to find alternatives for based on reviewers' experiences.
Holidu, the search engine for holiday rentals decided to seek out the airports with the best reviews! Using data from Google Maps, this study was conducted using the average Google rating and the number of reviews to create the ultimate European airport ranking. Read on to discover these top-notch airports to book your next flight as well as some insider tips including, amenities and delay information.
Scroll further down to see the 2022 results.
Top 5 best rated airports in Europe according to Google
1. Athens International Airport, Greece – Avg. 4.4 stars, 24,467 reviews
It's official – Athens Airport is the best airport in Europe! As the biggest and most known airport in Greece, ATH is located 33 kilometres away from the city centre. Greece has gotten by relativity unscathed from the European flight mania, with most of the delays being experienced at the departing airports with inbound flights to Greece. Have a layover? You can enjoy baggage storage options, airport lounges, archaeological artefacts exhibitions, and a wide selection of restaurants and cafes. Athens Airport has so much to offer its travellers!
Fotis Christopoulos via Unsplash
2. Zürich Airport, Switzerland – Avg. 4.4 stars, 14,267 reviews
Although facing some backlash from the recent air traffic control glitch, Zürich Airport in Switzerland is one you definitely wouldn't mind getting stuck in, and it hasn't seemed to affect its reputation. Plus, Zürich Airport has everything you could need to kill time at the airport. Starting August 1st, they will have live music on the weekends and a games lounge complete with table tennis, darts, and even a mini-golf course! You can also check out their website for upcoming invents including brunch on the Observation Deck, BBQs and more! Who wouldn't want to have a layover in this adventure land?
Jairph-NzhGznFqPxk via Unsplash
3. Francisco de Sá Carneiro Airport, Portugal – Avg. 4.4 stars, 11,904 reviews
Taking the third place spot is Francisco de Sá Carneiro Airport also known as Porto Airport. Porto may be a good option to avoid the delays that have been plaguing Portugal's largest airport, Lisbon, since mid-June. Bloomberg even reported 65% delayed and 4.8% cancelled flights there since the beginning of July. Porto Airport has an airport app for tracking real-time arrival and departure times, as well as flight status, so communication is direct and in real-time. Don't want to waste time in queues? They also have a Fast Track option, a priority channel, that allows you to get through the security faster. They also have options for family travel with a space for children with a library, videos, and other activities to keep them entertained.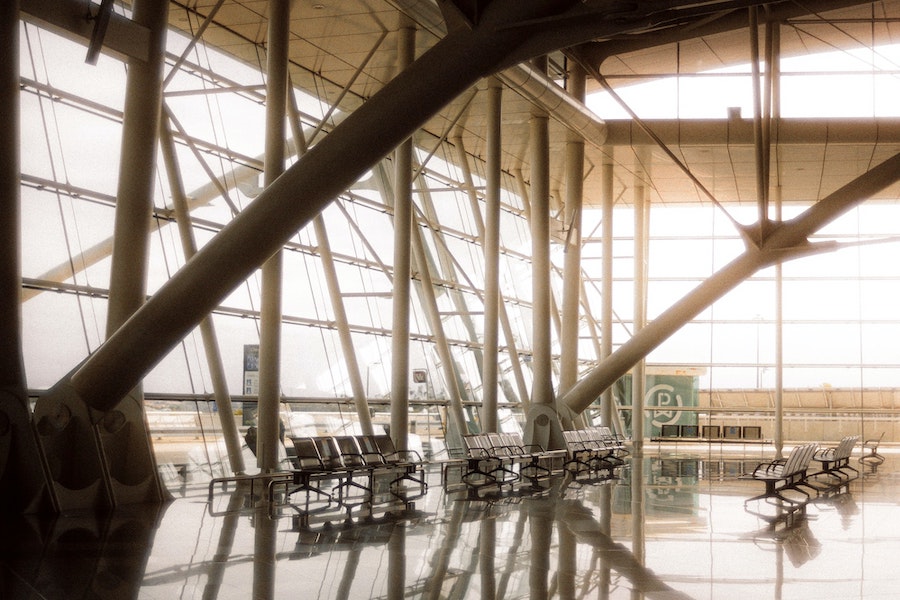 Maurice Pehle via Unsplash
4. Alicante International Airport, Spain – Avg. 4.3 stars, 10,547 reviews
Up next on our list is Alicante International Airport in Spain, the main airport serving the Valencian Community and Murcia area. With travellers praising its organised layout and bright spacious design, who wouldn't want to travel through this airport.
Andreas Strandman via Unsplash
5. Malta International Airport, Malta – Avg. 4.3 stars, 6,279 reviews
In fifth place with an average Google rating of 4.3, this quaint but well-maintained airport snatches 5th place on our list. Although the airport and hub airline Air Malta got caught up in all the London Heathrow flight delays, its facilities are still matched to those of the larger European airports. Complete with not only, restaurants, duty-free shops, and VIP Lounges, but it even has a hairdresser and dental clinic! They also boast a freshly renovated food court that offers a wide food section and an upscale aesthetic. Who fancies a trip to Malta?
Isaac Struna via Unsplash
Who rounds off the top 10 best?
6. Munich Airport, Germany – Avg. 4.2 stars, 19,850 reviews
7. Palma De Mallorca Airport, Spain – Avg. 4.2 stars, 19,107 reviews
8. Vaclav Havel Airport Prague, Czech Republic – Avg. 4.2 stars, 13,786 reviews
9. Gran Canaria Airport, Spain – Avg. 4.2 stars, 10,565 reviews
10. Helsinki Airport, Finland – Avg. 4.2 stars, 8,319 reviews
Top 5 worst rated airports in Europe according to Google
1. Bordeaux-Mérignac Airport, France – Avg. 2.7 stars, 5,700 reviews
Bordeaux-Mérignac Airport in France hits our number one spot with an average Google rating of 2.7. The main complaints about this airport were the small size with lack of seating for travellers. To top it off, with the recent troubles of staff strikes cancelling many flights, you may want to consider some alternatives if you are planning to fly through Bordeaux-Mérignac Airport. Toulouse-Blagnac Airport (3.9 stars / 5,041 reviews) is only 3-4 hours by train and 2-3 by car, or there are also a plethora of train and bus options available if you can't get to your destination without flying.
Philippe Oursel via Unsplash
2. Heraklion International Airport, Greece – Avg. 2.8 stars, 10,791 reviews
Next on our list is Heraklion International Airport with an average Google Maps rating of 2.8 most complaints being how crowded and poorly equipped the airport is for its traffic volume. It may be worth checking out Chania International Airport (4.0 / 3,678) which is rated much higher and is just a 2-hour drive from Heraklion.
Kolya Korzh tRJVCvw284c via Unsplash
3. Luton Airport, United Kingdom – avg. Google rating 3.0 + 10,665 reviews
Luton Airport in London has been hit with the summer flight pandemonium, with Bloomberg reporting 66% delayed, and 2.7% cancelled flights since the start of July compared with London Heathrow's 51%. To top that up it only comes in with an average rating of 3 on Google with most complaints seeming to be lack of public transport connections to the airport and resulting massive queues from its small size despite the high volume of travellers. If you absolutely need to fly it may still be worth wild to choose Heathrow (4.0 / 32,095*) or Gatwick (3.8 / 12,953) as they are larger and have more capacity and facilities if your flight does get delayed. We do, however, recommend scouting other possible travel options such as trains or buses before booking. If there are no other options, remember to arrive early at the airport and to only carry hand luggage to save yourself the headache.
Nivenn Lanos hDXxy_3TY90 via Unsplash
4. Manchester Airport, United Kingdom – Avg. 3 stars, 15,192 reviews
Manchester Airport in the United Kingdom is next on our list, with the majority of the complaints referencing rude staff and lack of organisation resulting in very long queues. It may just be worth your time to make your way over to the Liverpool John Lennon Airport (3.9 stars / 3,087 reviews), about a 45-min drive from Manchester Airport, for a better airport experience.
Joel Barwick via Unsplash
5. Berlin Willy-Brandt International Airport – Avg. 3.2 stars, 16,959 reviews
Rounding off our top five is the Berlin Willy-Brandt International Airport. Plagued from the start with a delay of nearly a decade from its planned opening date, and costing 4 billion euros over budget, Berlin Willy-Brandt International Airport comes in with only a 3.2 average Google rating. Whilst being praised for clean and modern facilities, most complaints are centred around being unorganised, as well as slow security processing resulting in long lines. It may be worth the time to look into alternatives, such as Dresden Airport (4 stars/ 1,295 reviews) which is only an hour and a half drive from Berlin.
Methodology:
This ranking was made by extracting the average Google Maps rating and number of reviews from the top 100 busiest airports in Europe based on the number of passengers in 2019. With this data from Google Maps, we then ranked each airport from highest to lowest, giving priority to those with more reviews. All airports from both Russia, Ukraine, and non-operational airports were removed from this ranking.
Other posts in this category: