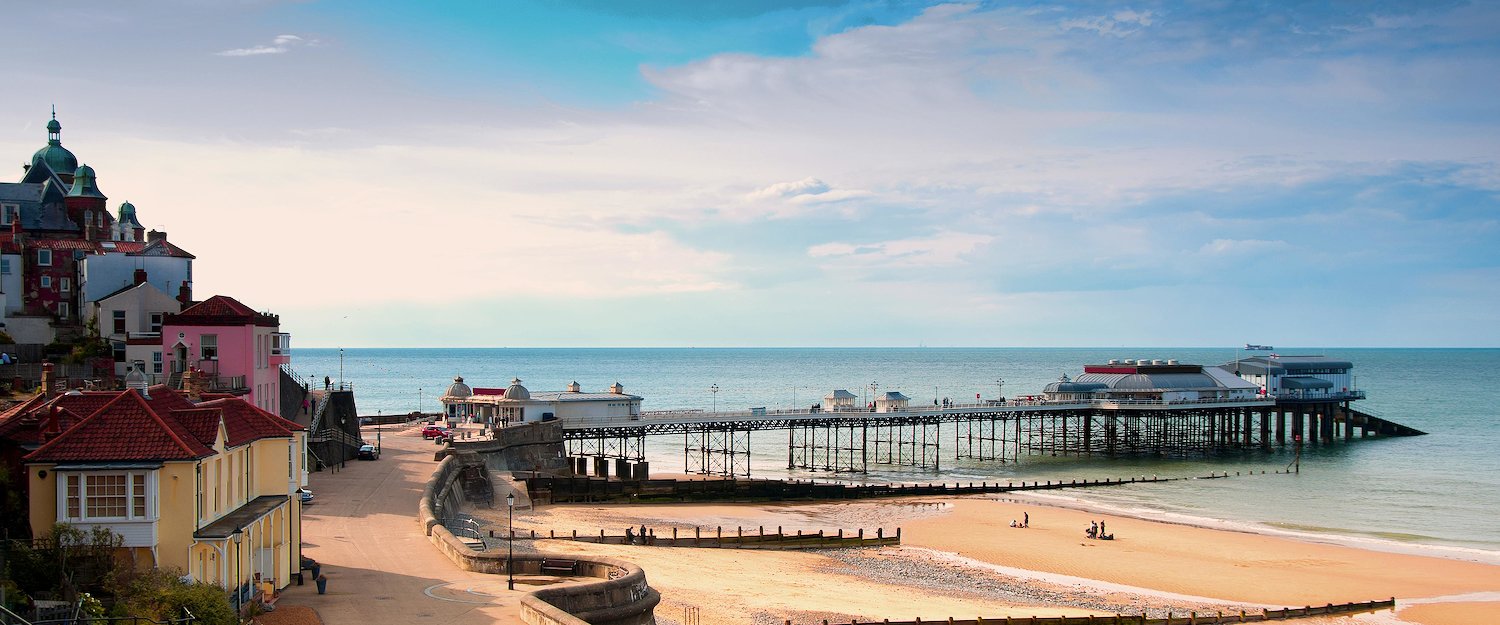 Cottages in Brancaster
26 properties for Cottages. Compare and book at the best price!
Popular Cottages in Brancaster
Find Cottages in Brancaster
Highlights in Brancaster
Fantastic coastal village in the county of Norfolk
Beautiful beaches of gold sands
Interesting landmarks scattered in the area
Amazing activities for everyone
Most popular amenities for Cottages in Brancaster
Other property types in Brancaster that might be interesting:
Cottages in Brancaster
Classic and modern settlements for every kind of visitor
Right by the north coast of Norfolk, the village of Brancaster presents wonderful cottages where neighbouring locals and tourists from all over the world can experience an amazing holiday. Scattered in every corner, it won't be a problem to find the perfect place for an action-packed adventure or a calmed and relaxed break. Visit Brancaster and explore all its areas to discover incredible wonders.
Marvellous cottages near the beach
Distributed all along the Norfolk coast, every cottage in the village of Brancaster will offer you a walking distance stay from the most incredible beaches of the region. Complemented with spacious terraces and large gardens, that solo trip, getaway with friends or family retreat will be at the reach of a click thanks to the wonderful page of Holidu. Choose the most promising property and enjoy the holiday of your dreams in the eastern region of England!
Travellers and activities
Brancaster for beach lovers
Designated as a United Kingdom's Area of Outstanding Natural Beauty, the coast of Brancaster is a magnificent attraction that beach lovers and nature enthusiasts will surely enjoy. Besides being popular for its incredible golden sandy stretches and perfectly temperate waters, the shore of Brancaster Beach is constantly frequented and praised for housing all kinds of fun recreations. For adrenaline seekers, kite sports are extremely popular in the region, having spacious designated areas to enjoy different styles such as kite buggy, power kite and kite surfing. For tranquil visitors, a wide stretch of the shore is completely available for calm strolls, dog walks and sunny beach days filled with fun. Thus, whether you're up for an exhilarating experience or want to enjoy a relaxing afternoon by the sea, Brancaster's coast is the right location to visit this holiday. Pack your best swimming suits and prepare to live a unique experience in the county of Norfolk!
Brancaster for couples
Additionally to the gorgeous shores, the village of Brancaster and its outskirts offer numerous attractions that local and foreign couples can visit to experience a special afternoon together. Setting off to new depths, Brancaster's seafront is filled with wonderful dinghies rentals, boat cruises and sailing clubs that couples can hire or join to enjoy a romantic date in the North Sea. Oppositely, on dry land, the best alternatives can be found on the outskirts of the village, having Burn Valley Vineyard as the best option available. Offering tranquil tours around the facilities, delightful sessions of wine sampling and exquisite suppers, a 15-minute drive from the village is more than worth it. Relaxing, romantic and unifying, the versatile attractions and recreations in Brancaster guarantee you fantastic and unique moments this holiday. Don't wait for another second and enjoy without measure on the wonderful Norfolk coast!
Once known for being a Roman town and a prosperous port, Brancaster is currently an acclaimed fishing village renowned in the area for its incredible mussels.
Top 7 travel tips in Brancaster
1.Enjoy a trip back in time visiting the Holme I
Featured and recreated on numerous series, films and games, Holme I, mostly referred to as Seahenge, is a prehistoric monument that can be found nearby the outskirts of Brancaster. Allegedly used for ritual purposes, this attraction is constituted of a timber circle of fifty-five small split oak logs and a grand tree root centrepiece that date back to the Bronze Age of Britain. Thanks to its complementary coastal walk and wonderful views of the North Sea, this majestic monument is one of the most popular and scenic attractions of the area, making it a spot you cannot miss during your stay. Explore the outskirts of the town and enjoy the historic sites and beautiful landscapes that the county of Norfolk has to offer!
2.Feel renewed having a spa day on The Retreat
Right on the old stables of the Brancaster Hall, The Retreat Spa is the perfect spot for tourists to unwind and relax during their break abroad. Presenting a main salon, private rooms and various stations, this wellness venue features treatments, massages and therapies that focus on different parts of the body as well as make-up, tanning and waxing sessions that will make everyone feel great inside and out. Additionally, the facilities also feature a charming shop where various items of national and international brands are sold for personal enhancement and nourish. Stroll by the stables and enjoy an experience that will leave your mind, soul and body fresh and renewed.
3.Make a historic trip to the Branodunum Fort
Part of the eleven forts that the Roman army left scattered along the southern and eastern coasts of England, the Branodunum Fort was created by the army in the 3rd century to control the port and coastal trade and keep enemies and treacherous peoples away from Roman lands. By allowing free access to the public via the A149 and the Norfolk Coastal Walk, visitors and neighbouring locals can enjoy Brancaster's historic grounds in conjunction with the scenic views of the village, having the possibility to enjoy a historic and magnificent experience on sight.
4.Workout in the village's paths and trails
Scattered through the region, Brancaster's cycling trails and walking paths are incredible workout options for the fitness enthusiasts of the world who want to stay active even during their holiday. Ranging between 4.5 and 5 miles, Brancaster Staithe Wildlife Walk and Brancaster Circular Walk are the best options in the area, being spectacular choices for cyclists and walkers of all ability levels as well as active families who want to enjoy tranquil strolls in the centre of the village. Travel along the minor roads of Brancaster or pass through its beautiful marshes and raised banks and enjoy an active and scenic workout in the breathtaking northern region of the Norfolk County.
5.Enjoy soothing drinks on Bar 71
Ideal to enjoy a calm evening in the heart of the village, the wonderful locale of Bar 71 is an iconic site of Brancaster that every tourist should visit during their stay. Strategically situated on the main road, Bar 71 is constantly acclaimed and frequented by locals thanks to the wide selection of liquors, delicious pub grubs and welcoming vibes that are offered for everyone. Thus, while exploring the amazing area of the village, make sure to stop by Bar 71 and enjoy an exquisite drink to complete your incredible Brancaster experience.
6.Treat yourself to a shopping spree on Dalegate Market
Located right in the outskirts of the village, Dalegate Market is a remarkable shopping centre where tourists can purchase all kinds of goodies for the most affordable prices. Constituted by permanent stores and pop-up shops, this venue guarantees visitors from all over the world a complete and wonderful shopping experience where beautiful clothing pieces, delicate accessories, minimalist decorations and even quirky gifts will be available to acquire. While visiting Brancaster, wander around the incredible outskirts of the village and make excellent finds in the stores and shops of the area.
7.Delight in the flavours of Brancaster
Since the village of Brancaster is one of the few fishing locations in the county of Norfolk, it is almost a crime not to try their incredible seafood while visiting. For these occasions, well-known restaurants and eateries such as The Crab Hut, The Jolly Sailors and Brancaster Beach Kiosk are the best options thanks to their huge variety of dishes and use of local produce that delight even the pickiest eaters. With full-course meals and tasty snacks, a holiday in the village of Brancaster will equal a festival of exquisite flavours for your palate.
FAQs: Cottages in Brancaster
Which types of services are available at the cottages in Brancaster?
In regard to the services available on Holidu, it appears that the cottages in Brancaster offer everything that travellers desire! Here, the cottages generally include a variety of amenities, the most popular being: Wi-Fi (100%), garden (97%), and fireplace (67%)...Are you convinced yet?
How are the cottages generally rated in Brancaster?
On average, the cottages have rather positive reviews. Last year's information reveals that 43% of cottages have a rating of 4.5 stars. This is a relatively high percentage which allows us to confirm that you will easily find the ideal cottage for a wonderful holiday!
Are the cottages in Brancaster suitable for family holidays?
According to information from last year, 10% of cottages in Brancaster are suitable for holidays with children, it should therefore be very easy for you to find the ideal cottage for you and your children.
Are the cottages in Brancaster suitable for holiday-makers and their pets?
Yes! In Brancaster, 63% of the cottages give you the opportunity to bring along your furry best friend, and 97% even have a garden!
Do the cottages in Brancaster tend to offer an internet connection?
Yes! According to Holidu's database, 100% of cottages in Brancaster offer an internet connection. You will be able to stay connected at any time!
Do the cottages in Brancaster generally come equipped with a fireplace or a swimming pool?
Of course! According to Holidu information, 67% of the cottages in Brancaster have a fireplace. This is the ideal destination to spend the winter months!
Are the cottages in Brancaster suitable for trips with friends or rather for a holiday as a small group?
Judging by last year's information, 93% of cottages are made for up to four people. Approximately 93% of the cottages here have at least two separate bedrooms. Brancaster is the perfect destination for taking your little family on holiday!
Holiday destinations nearby for Cottages
Holidu compares hundreds of websites to find your perfect holiday rental for the best price.