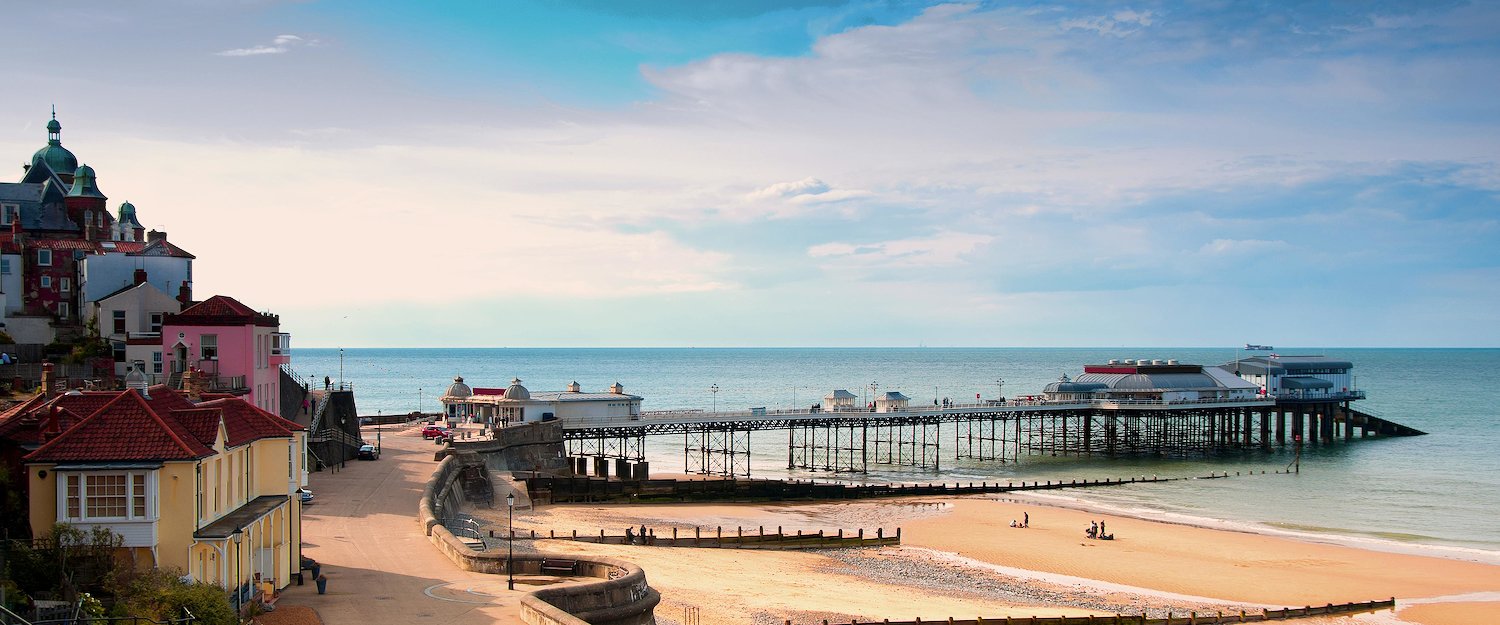 Cottages in Wroxham
16 properties for Cottages. Compare and book at the best price!
Popular Cottages in Wroxham
Highlights in Wroxham
Charming village of Wroxham
Wonderful natural spaces
Lovely attractions available
Fun activities of all kinds
Exquisite dishes of all styles
Excellent shops and stores
Most popular amenities for Cottages in Wroxham
Other property types in Wroxham that might be interesting:
Cottages in Wroxham
Astonishing residences scattered throughout the village
Located in various areas of the village ranging from its bustling centre full of numerous businesses to its natural outskirts, the picturesque cottages of Wroxham will be some of the most promising options that the county of Norfolk and Holidu can offer you this season. Offering you the chance to experience peaceful days surrounded by nature as well as restless afternoons full of fun activities, every holidaymaker will have the opportunity to enjoy the holiday of their dreams thanks to the endless possibilities that these cottages and the Wroxham area have to offer. Let yourself be eclipsed by the beauty of Norfolk and all the wonders that the village of Wroxham has to offer by choosing one of the fabulous lodgements that Holidu presents and indulge yourself in the enjoyment of a fantastic holiday!
Classic and contemporary cottages available to choose from
Featuring classic facades and maintaining luxurious interiors with the best quality amenities on the market, Wroxham cottages will undoubtedly be one of the most interesting lodging options to choose from. Decorated with fantastic hot tubs, welcoming balconies and even charming gardens, these wonderful properties will ensure a satisfying stay, presenting holidaymakers in the area with fantastic experiences both in the bustling village centre and in the comfort of their lodging. Take advantage of the fantastic spaces available and invite your family, friends or partner to experience the wonderful Wroxham village experience that Wroxham Village has to offer this season.
Travellers and activities
Wroxham for families
Adapted to the demands and needs of residents and holidaymakers of all ages, the attractions and activities in the Wroxham area will be everything the families of the world will need to spend that wonderful holiday together that they've longed for. From exciting outdoor adventures to educational recreation within four secure walls, families will be able to decide which is the best approach to take during their stay and which experiences they most want to enjoy together. Acclaimed by numerous residents in the region, BeWILDerwood Norfolk is one of the best options we can recommend. Enhancing the magnificent natural experience of the Broads National Park, this attraction on the outskirts of Wroxham comprises a host of wonderful activities that will make you and your children feel like hilarious fairytale characters. Unravel the riddles of the Muddle Maze, visit the enchanting BeWILDerville and don't forget to buy beautiful souvenirs at the Bizarre Bazaar for a complete and fun experience with your nearest and dearest!
Wroxham for museum lovers
Known for presenting numerous artistic experiences, collections and exhibits to enjoy, museums will always be wonderful attractions that will ensure a satisfying experience. Whether it is to learn about your holiday destination's past or to experience the magnificent talent of its locals, these magnificent centres will have a list of charms that tourists and travellers can be entertained with, regardless of their preferences. Acclaimed for featuring these aforementioned factors and also presenting fully interactive activities for patrons of all ages, the Riverside Art and Glass in the area is one of the options we can't help but recommend. Featuring beautiful collections to purchase as well as fun packages to join, this fantastic local centre will show you just how vast the realm of art can be and how much fun craft practices can be. Bring out the artist in you and enjoy a whole new experience by visiting Wroxham's Riverside Art and Glass during your stay.
Located on one side of the Bure River, Wroxham is considered by residents to be the gateway to the Norfolk Broads and, therefore, to the national park.
Top 7 travel tips in Wroxham
1. Visit the picturesque Wroxham Broad
Part of The Broads National Park, the Wroxham Broad is a body of water near the River Bure that attracts numerous people to the area thanks to its beautiful scenery and fun water activities that can provide entertainment for all types of groups. Open to the public for all types of recreations, this is a popular spot in the area for tourists but also presents a certain charm for locals, who as a community participate in numerous activities as part of the Norfolk Broads Yacht Club. Likewise, the area presents a magnificent route around the body of water, representing a fantastic spot with countless activities for any style or taste.
2. Wander the area while riding a Buoyancy Bike
Offering a fantastic alternative for couples in the region, Buoyancy Bikes are a Wroxham experience not to be missed this season. Recently opened in Norfolk County, this wonderful recreational company will present you with a unique moment on the Broads and rivers of the area with single and double bikes that will feature a singular and fun sight. Pedal through the vast waters in the National Park and enjoy an active and entertaining time with your partner with Wroxham's Buoyancy Bikes!
3. Allow yourself a relaxing journey along with the Bure Valley Railway
Featuring various models of steam and diesel locomotives on which tourists and locals alike can travel, the Bure Valley Railway is a method of transport in Wroxham that can serve you in a variety of ways. Running for a length of almost 9 miles, through the villages of Brampton, Buxton and Coltishall to the town of Aylsham, this fantastic service can be used to explore the Norfolk countryside. In addition, this method of transport can also suit those who enjoy rides with beautiful views, as the route goes through numerous bridges, roads and lanes where greenery and clear skies abound. To enjoy splendid views or explore adjacent villages, the Bure Valley Railway is a must-try service.
4. Enjoy a peaceful walk at Barton Broad Boardwalk
Suitable for people of all ages and even those in wheelchairs, the Barton Broad Boardwalk is an area activity that any tour group can take part in. Traversing the wonderful Barton Broad within the National Park, this fantastic route of approximately 1.5 miles takes in marsh and Carr forest habitats that feature numerous vegetative and animal species to observe. Also featuring numerous viewpoints and picnic sites, this route can be a complementary activity for you and your companions, who can prepare all the necessary ingredients to prepare a magnificent meal in the stunning natural surroundings. Whatever you plan to do this holiday, a visit to the Barton Broad Boardwalk is a must during your stay.
5. Make excellent finds at the village's shops
Ranging from specialist shops to antique stores, the shops in the Wroxham area will be all you need to buy those fantastic gifts and souvenirs you want to take home. Featuring all styles of products for young people, men and women, no person, no matter how particular their tastes, will be left without a fantastic shopping option. Boasting all the above features plus great spaces and affordable prices, the Roys of Wroxham Department Store, The Bridge Gift Shop and Sue Ryder are the best options available in and around the village area. Explore, discover and shop for fabulous items in Wroxham's spectacular shops during your stay.
6. Delight your palate in Wroxham's eateries
Catering exquisite dishes from English and other parts of the world, Wroxham's restaurants will be all you need to complement your days in the village with magnificent flavours. Presenting diverse options ranging from delectable sweet dishes to fabulous savoury snacks, these remarkable establishments will cater for all types of diners, whatever their needs and requirements. Ranking high on the area's popularity charts, Liberty, Indian Spoon, The ThaiWay and Kebab Hut are some of the most promising options we can recommend. Varying between full-course meals, small snacks and efficient takeaways, Wroxham's eateries will enhance your stay in Norfolk by 100 per cent.
7. Experience the village's nightlife at Wroxham's bars
Presenting fantastic venues, fabulous themes and helpful staff, Wroxham's pubs will be the best establishments in the village territory where tourists and travellers can enjoy their nights out. Also offering a great range of spirits and wonderful live music, these venues will be ideal for sharing a few drinks with friends on relaxed evenings or the perfect spots to dance the night away on active nights. Depending on the mood that you and your companions are in, check out options such as The WaterShed, Rising Sun and King's Head to enjoy both the nights and days of your stay in the Wroxham and Norfolk region this holiday season.
FAQs: Cottages in Wroxham
Which types of facilities can you find at the cottages in Wroxham?
When looking at the facilities available on Holidu, it appears that the cottages in Wroxham offer everything that holiday-makers dream of! Here, the cottages generally offer a variety of amenities, the most popular being: Wi-Fi (100%), view (71%), and garden (59%)...Tempted?
What are the reviews like for the cottages in Wroxham?
On average, the cottages have rather positive reviews. According to Holidu, 35% of cottages have a rating equivalent to or higher than 4.5 stars. This is a relatively high percentage which allows us to confirm that there are quite a few that are very enjoyable and will be the perfect choice for your next holiday.
Are the cottages in Wroxham child-friendly?
According to information from last year, 59% of cottages in Wroxham are suitable for holidays with children, it should therefore be very easy for you to find the ideal cottage for you and your children.
Are the cottages in Wroxham suitable for travellers and their pets?
Yes! In Wroxham, 71% of the cottages accept pets, and 59% also have a garden!
Do the cottages in Wroxham often come with Wi-Fi?
Yes! According to Holidu's data, 100% of cottages in Wroxham offer an internet connection. This means that you will be able to browse the internet throughout your stay!
Do the cottages in Wroxham often have a fireplace or a swimming pool?
Rarely. According to Holidu information, there are only a few cottages in Wroxham that are equipped with a fireplace.
Are the cottages in Wroxham suitable for stays with friends or better for an escape as a couple?
Judging by information from Holidu, 94% of cottages are suitable for up to four travellers. Approximately 94% of the cottages here include at least two separate bedrooms. This is the ideal destination for small groups of friends!
Are you able to enjoy a beautiful view and spend time outside at the cottages in Wroxham?
12% of cottages have a balcony or terrace, and 71% have a view, but this does not represent the majority, so availability can be selective. If this is important to you, you should anticipate a bit more time for research, and use the filters to be sure to find the cottage of your dreams. However, 59% of cottages in Wroxham have gardens, where you can bask in the sun. If you like to have lunch or dinner outside, and especially if you like barbecues, 47% of the cottages have them.
Holiday destinations nearby for Cottages
Holidu compares hundreds of websites to find your perfect holiday rental for the best price.