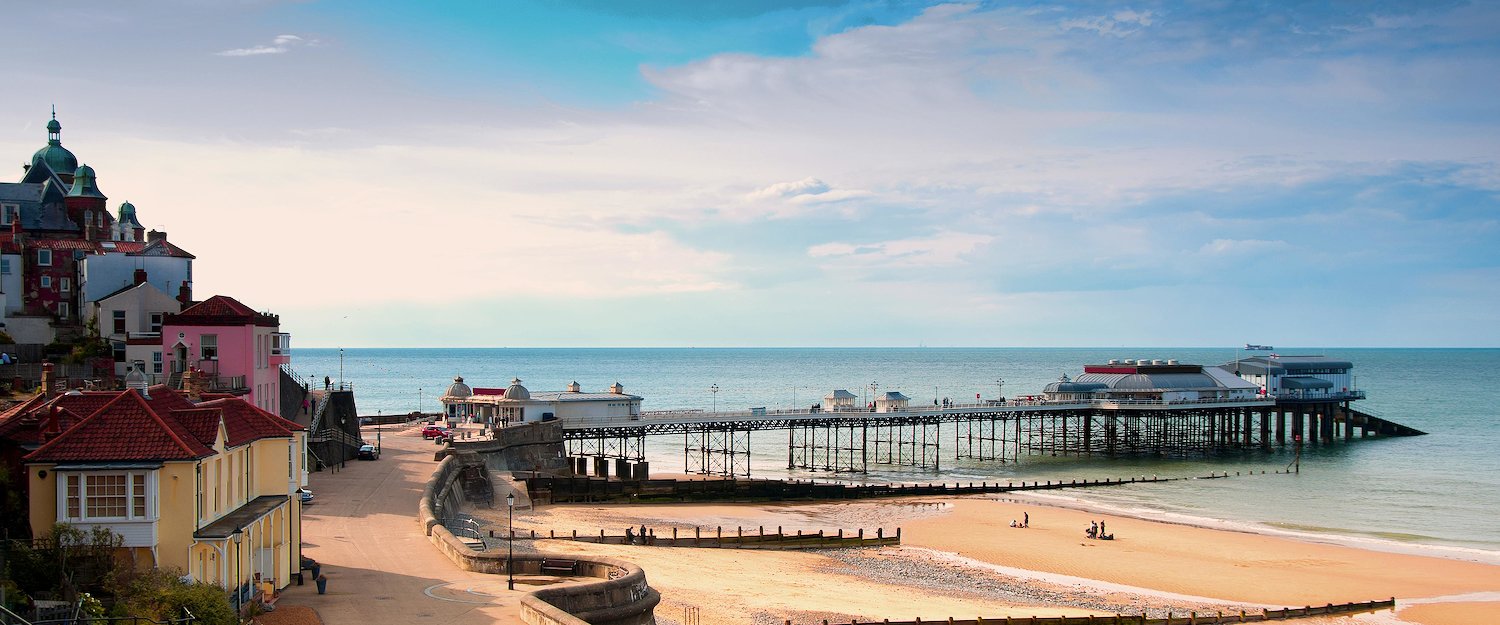 Cottages in Snettisham
15 properties for Cottages. Compare and book at the best price!
Popular Cottages in Snettisham
Find Cottages in Snettisham
Highlights in Snettisham
Archaeological moorland
Great fields, fragrant flowers
Dreamy lavender
Beautiful churches
Most popular amenities for Cottages in Snettisham
Other property types in Snettisham that might be interesting:
Cottages in Snettisham
Snettisham and some history of the region
Snettisham is known as a civil parish, in the English county of Norfolk in England. It is located near the west coast of Norfolk, north of the town of King's Lynn, south of the seaside resort of Hunstanton and northwest of the city of Norwich. Holidu offers you beautiful lodges close to the landmarks, such as St Mary's Church which is located in the village and has a 52m (172ft) high spire dating back to the 14th century, among many important sites. The cottages are close to Shepherd's Lake, Bear Lake, Stanton Lake, Norwich Airport (NWI) and also Snettisham town centre, Ingoldisthorpe, Dersingham.
Beautiful Snettisham cottages
Holidu has for travellers a comfortable cottage where you will find double rooms with blackout blinds and cotton bedding, to ensure a comfortable night's sleep. They have gas central heating, the kitchens are fully equipped with cookers, ovens, microwaves, dishwashers and all the necessary utensils. They have living rooms with flat screen TV with DTT, DVD. Furthermore, the cottages often have a completely private garden.
Travellers and activities
Snettisham for nature lovers
Visit Dersingham Bog, where you can discover a wealth of bizarre specimens of insects and plants. You'll find it contains three different habitats, mire, heathland and woodland. In the lower part of this reserve, where the soil is ancient, you will find that the mud is acidic. Among the diverse plants are, bilberry, white-billed sedge, round-leaved sun dew and marsh asphodel, in the Mire composition you will see moths such as light knot-grass and black dart dragonfly. As you pass through the woodlands, you'll see birch, chestnut and many other species of plants and insects.
Snettisham for hiking lovers
On your trip to Snettisham, you can do the walking you love so much. Among the routes you can find in this beautiful town are, Sandringham Scenic Drive where you can do an easy circular walk from Sandringham, suitable for all levels of fitness, this trail is easily accessible, in Castle Rising - Sandringham Scenic Drive walks have a moderate level of difficulty and is circular from Wolferton, you also have the trails of Sheraton Stream Trawler Wreck, Hilltop picnic stop, Dersingham Bog, Sandringham Scenic Drive, among other routes.
Did you know that Snettisham Hoard is a series of Iron Age metal finds?
Top 7 travel tips in Snettisham
1. The beautiful RSPB Snettisham reserve
Explore the large RSPB Snettisham reserve, which lies in the south-east of The Wash. It is a winter roosting site for large numbers of pink-footed geese and is well known for its large numbers of wading birds, which are best seen at high spring tides during autumn and winter. You can walk around a series of ancient gravel and earthen wells, inland from the wall to the outer sea defence. You can also view the Wash marshes from the reserve's paths.
2. Visit Snettisham Park
Visit Snettisham Park Farm, here you will have many adventures, from the spectacular deer safari tour to the birth of a lamb, there you will have the privilege of meeting the red deer. Activities include bottle-feeding lambs, riding ponies, collecting fresh eggs on the farm and walking along one of three wonderful trails. You'll also see the crops of feed wheat, sugar beet, malting barley and grass, grazed by our flock of 400 sheep, see the herd of horses and ponies in the stable.
3. Richly scented Norfolk Lavender
A pleasantly fragrant experience is England's premier lavender farm, Norfolk Lavender, which offers The Animal Gardens activities and children's playground. It has year-round attractions, with summer being the most vibrant, when all the lavenders are in bloom and the air is filled with a relaxing fragrance and the lavender distillery is open to the public. On the tour you will learn about the history of Norfolk Lavender, how it is harvested and how the oil is distilled for the world-famous Norfolk Lavender range of perfumes and goods. Visit the Norfolk Lavender Gift Shop and Restaurant, and Norfolk Lavender Tearooms, among other attractions.
4. Popular Heacham South Beach
This beach is well known as "stubborn sands" and is located along the predominantly sandy foreshore, which projects northwards from Snettisham. Here you can witness the best sunset. The water on this beach is high quality, the golden sand is combined with pebbles, and you have a view across the bay towards Lincolnshire. In summer, you can smell the scent of lavender coming from the nearby farm. Such a pleasant place to stay on an afternoon.
5. Dersingham Bog formation
Dersingham Marsh is located on the north-western escarpment of Norfolk Greensand, this formation is valuable because it dates back to the Lower Cretaceous Period, which is credited as the 'Dersingham Formation' which has been very significant in understanding the geology of the region. Here you can see rare species of plants and insects.
6. Admiring the beauty of St Mary's Church
It is common knowledge that the original church of St Mary's lasted several centuries, but all that remains today is the font which is still in use today, the stone pool and the carved stone coffin which is placed at the east end of the north aisle which dates back to the 11th/12th century. The whole piece of architecture is a sight to behold.
7. Hunstanton Cliffs
Hunstanton Cliffs is a site of great interest, these eroded cliffs show a Middle Cretaceous age sequence from the Albian to the Cenomanian dating from about 100 million years ago, preserving exceptionally rich Albian ammonite fossils. The biological interest is in a colony of breeding fulmars on the cliff face. This site has much to tell about the planet. And it has a spectacular landscape that has been the result of the passage of time, it is the appropriate place for a good photo.
FAQs: Cottages in Snettisham
Which types of amenities can you typically find in the cottages in Snettisham?
In regard to the services available on Holidu, it appears that the cottages in Snettisham benefit from everything that holiday-makers search for! Here, the cottages generally have a variety of amenities, the most popular being: Wi-Fi (83%), garden (82%), and barbecue (38%)...Sound tempting?
How are the cottages rated in Snettisham?
On average, the cottages have rather positive comments. Last year's data reveals that 29% of cottages have a rating of 4.5 stars. This is a relatively high percentage which allows us to confirm that there are quite a few which are very enjoyable and will be the perfect choice for your next holiday.
Are the cottages in Snettisham suitable for family holidays?
According to the Holidu database, 45% of cottages in Snettisham are child-friendly, it will therefore be easy to find the perfect cottage for you and your family.
Are the cottages in Snettisham pet-friendly?
Yes! In Snettisham, 51% of the cottages offer the possibility for travellers to take their pets with them, 82% also have a garden!
Do the cottages in Snettisham mostly come with an internet connection?
Of course! According to last year's data, 83% of cottages in Snettisham have an internet connection. This means that you will be able to access your emails and favourite social media sites throughout your stay!
How much do guests usually expect to pay for cottages in Snettisham?
A big percentage of cottages in Snettisham (55%) cost less than £100 per night. Therefore, this destination is perfect for finding an affordable cottage!
Do the cottages in Snettisham usually have a fireplace or a swimming pool?
Of course! According to Holidu's database, a good amount of cottages in Snettisham are equipped with a fireplace. Fancy a weekend by the fire? Don't delay in booking a cottage in Snettisham!
Are the cottages in Snettisham suitable for stays in big groups or rather for a weekend break as a couple?
According to Holidu's database, 88% of cottages are perfect for families with up to four travellers. Approximately 89% of the cottages here include at least two separate bedrooms. Snettisham is the ideal destination for going in a small group on holiday!
Holiday destinations nearby for Cottages
Holidu compares hundreds of websites to find your perfect holiday rental for the best price.