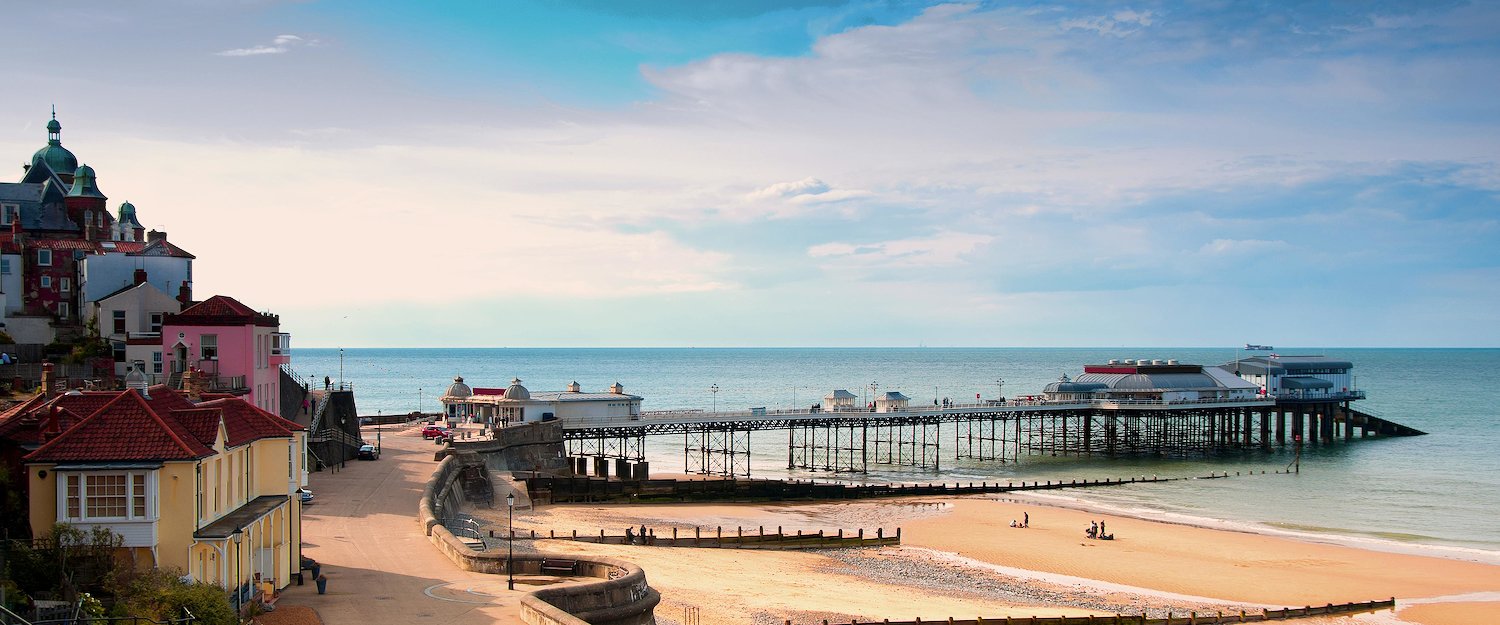 Cottages in North Norfolk
785 properties for Cottages. Compare and book at the best price!
Popular Cottages in North Norfolk
Find Cottages in North Norfolk
Highlights in North Norfolk
Astonishing coasts
East Ruston Old Vicarage Garden
Energizing walks
Adrenaline-filled Hunstanton
Sheringham Little Theatre
Fantastical festivals all year long
Most popular amenities for Cottages in North Norfolk
Other property types in North Norfolk that might be interesting:
Cottages in North Norfolk: Most popular destinations
Cottages in North Norfolk
Outstanding cottages found all over the district
Comprising the northernmost territories in the county of Norfolk, North Norfolk is a district of England that is sure to offer an array of fantastic holiday experiences. Whether in the picturesque port town of Wells-next-the-Sea, the lively town of Briston or the small village of Weybourne, a quick break in this English district is all tourists will need to familiarize themselves with the nation's charms and enjoy its great beauty. Lasting a weekend, a week or even a whole month, choosing North Norfolk as your holiday destination will open up numerous possibilities, with breathtaking English coastal experiences, detailed glimpses of the nation's countryside and close-ups of the most iconic natural landmarks across the district. Hand in hand with these aspects perfectly, top quality companies such as Holidu will also contribute to your experience by providing wonderful accommodations, turning your restful nights and adventurous days into the most fabulous overall holiday experience, no matter which city, town or village you pick. That's why, if you want to enjoy a varied stay in an unexplored destination, North Norfolk will be an excellent candidate to consider this year!
Sublime cottages where to chill and relax during your visit to England
After you have selected the town or village that most appeals to your tastes throughout North Norfolk, Holidu will offer several cottage options to complete your holiday arrangements. With hundreds of choices and alternatives, holidaymakers will have the opportunity to decide on a short stay in the district or even take the liberty of enjoying a longer adventure, thanks to remarkable features that will be impossible to miss during your journey. Standing out from other options, North Norfolk cottages will offer picturesque gardens, ocean views and even luxurious hot tubs to complement evenings of rest and relaxation, as well as beneficial guest limits, where families, couples and groups of friends can come together under one roof and share experiences of the highest quality. Thus, whether it's a short break on the coast or an extended adventure throughout the district, Holidu properties will always be your best choice this season.
Travellers and activities
North Norfolk for museum lovers
Set to preserve important artefacts, works and discoveries, North Norfolk's museums are some of the most intriguing attractions with which tourists and world travellers can become more familiar with aspects of the district such as its history and art. Located in the heart of the big city, Norwich Castle is one of the best options available. Starting with its historical side, this museum features an extensive collection of artefacts left in the premises, belonging to William the Conqueror, various owners over the years or just forgotten while the fortress was used as a home, refuge or a prison. On the Arts side, visitors can expect collections spanning movements from the 17th to the 20th century, with a strong emphasis on the styles of the English, Dutch and Flemish schools. Complementing beautifully, holidaymakers can also wander through the Thursford Collection, which, besides displaying beautiful artefacts, will feature numerous displays for visitors to interact with and have fun with. Within the premises, the fairground attractions are the most popular features, but in our opinion the steam engines, organs and theatre are facilities you won't want to miss.
North Norfolk for golf enthusiasts
Ranking high on the lists of leisure sports played in the district, golf is a popular activity in North Norfolk that promises fun and relaxing times with companions. That's why, if you want to take part in some of the activities that locals enjoy and do regularly, it's advisable to experience golf for the first time or enjoy a quick tee time to perfect your technique. Boasting features and attractions that make it stand out from other options in the country, Heacham Manor Golf Course is available to exceed your expectations. Offering an 18-hole complex, this course is consistently praised among customers for its challenging fairways, which allows for an entertaining game for those with medium to advanced levels of experience. On the other hand, keeping the course much shorter, the nine-hole courses at Searles Golf & Country Club will present an easier opportunity for beginners, keeping the experience precise and smooth, where you can learn the basics of golf and brush up on your swings. Don't dare miss out on the fun and play stellar tees on the best courses that the North Norfolk district has to offer.
The motto of North Norfolk, Deep History Coast, comes from three grand historical discoveries of the area. First is the world's largest complete mammoth skeleton, followed by the footprints of the first people in Britain and an antique 550 thousand-year-old flint axe.
Top 7 travel tips in North Norfolk
1. Make sure to explore some of North Norfolk's best coasts
Offering varied aspects thanks to rocky cliffs, picturesque fishing boats, long stretches of sand and even pebbles, the shores of North Norfolk are diverse and multi-faceted attractions of the district that are well worth a visit. Always accompanied by clear blue skies and beautiful blue waters, North Norfolk's beaches are available throughout the months of the year to provide warm and entertaining afternoons for visitors. Whether for a solo traveller or a group of friends, options such as Weybourne Beach and Wells-next-the-Sea Beach will offer guaranteed satisfying experiences, providing those peaceful and renewing factors you've been looking for to get away from all stress.
2. Fancy a visit to the district's most picturesque points
Featuring grand buildings amidst vast green fields, North Norfolk also sets itself apart from other tourist locations on the map with its fabulous landmarks and points of interest. This is why, to fondly remember your time in the district and keep great memories, it is advisable to visit some of the most popular and decorative landmarks in the whole of North Norfolk. Starting with a picturesque choice, Happisburgh Lighthouse, which sits just off the coast of Happisburgh, is the oldest working lighthouse in the whole of East Anglia. With its red and white structure and beautiful views of the coastline, this will be a perfect location for a sightseeing photo opportunity. Heading a little further towards the centre of the district, where villas such as Walsingham can be located, holidaymakers will have more regal alternatives such as Walsingham Abbey Grounds & The Shirehall, whose towers and vaults will make your photos stand out and set apart from the more adorable aspects.
3. Get acquainted with North Norfolk's flora by paying a visit to East Ruston Old Vicarage Garden
Presenting numerous factors to explore during a holiday, the flora of North Norfolk is one of the most important and often overlooked options. That's why, to make sure you don't miss some of the most iconic aspects of the district, we have a recommendation for you. Incorporating art with nature to perfection, the East Ruston Old Vicarage Garden is the star attraction of this village, taking advantage of every space the complex has to offer for a dynamic and eye-catching visit. While in the facility, the most awe-inspiring factors will be the neatly pruned shrubs, flower gardens and the numerous works of art dotted around the area. Be sure to learn of the variety of plant life that North Norfolk presents on its grounds and don't miss out on the fabulous spaces that East Ruston Old Vicarage Garden has for the public.
4. Live adrenaline-filled experiences around Hunstanton
Renowned by tourists from around the world and locals from the area, thanks to its beautiful coastline, Hunstanton is a North Norfolk town you won't want to miss. Featuring attractions and activities of all styles, Hunstanton mostly excels in outdoor recreation. Thus, if you are a daredevil or love to explore the spaces of your tourist location in totality, it would be best to book a few days in the town and enjoy various activities along with fabulous recreational companies. The best options you can choose from are Hunstanton Kayaks and Hunstanton Water Sports, as alone or in a group you are guaranteed to have a great time on the district's shores.
5. Exercise and walk the district with North Norfolk's circular trails
If you are one of those people who have a lot of energy and prefer to be active for a healthy lifestyle, then North Norfolk's trails and routes will be your best allies. Featuring varied routes and lengths, which are perfectly suited to everyone's needs, beginners, intermediate and expert walkers will be able to get the path that best suits their desires, be it for a quick warm-up or a few hours of hardcore cardio. Starting with the more relaxed options, Filby Chapel is the perfect beginner's walk, featuring a 1.6-mile length that will have even the grandparents in the family over and will take in some of the borough's beauty spots. Next up is Thurne, which is encouraged to double the difficulty with a 3.3-mile walk, which will put your whole body to work and make you feel energized. Finally, expert tourists can get a workout with the Fleggburgh to Stokesby walk, which, besides featuring a 7-mile-long trail, has one of the most scenic routes in the whole of North Norfolk.
6. Enjoy all kinds of entertainment at Sheringham Little Theatre
Found in the charming village of Sheringham, the Little Theatre is the ideal choice if you are curious and want to experience the nightlife of North Norfolk or you are a fan of the arts and want to have fun while enjoying quality entertainment. Offering options and choices of all styles, Sheringham Little Theatre will always have something available for the world's tourists, having performances, shows, art exhibitions, workshops and events, leaving you open to all possibilities and allowing patrons to stay as spectators or get hands-on and participate in the activity. As a family, on your own or even with your group of friends, while you're in North Norfolk territory, be sure to visit the Little Theatre and enjoy the district's art and nightlife.
7. Feel one with North Norfolk by participating in the district's festivals
Finally, boasting the perfect experiences with which to familiarize yourself with the district and its community, North Norfolk's festivals are renowned events that you'll want to take part in. Offering themes of all kinds, ranging from music to customs, these festivals will be available even to those tourists with specific tastes, keeping the price range affordable for everyone's pocket and entertaining activities for all. Taking all these aspects into consideration, the best festivals to participate in are Sheringham Viking Fest and North Norfolk Food Festival, which will make you feel more connected to the district and England than ever before, based on traditions and culinary arts.
FAQs: Cottages in North Norfolk
Which types of services can you find in the cottages in North Norfolk?
Among the facilities you can find on Holidu, it appears that the cottages in North Norfolk benefit from everything that holiday-makers dream of! Here, the cottages generally include a variety of amenities, the most popular being: Wi-Fi (85%), garden (45%), and fireplace (36%)...Not bad, right?
How are the cottages usually rated in North Norfolk?
On average, the cottages here are quite highly rated. According to the Holidu data, 35% of cottages have a rating equivalent to or higher than 4.5 stars. A ratio quite high which allows us to confirm that there are many that are very enjoyable and will be the perfect choice for your next holiday.
Are the cottages in North Norfolk suitable for families with children?
Holidu's data reveals that 17% of cottages in North Norfolk are child-friendly, so you won't have a problem finding the perfect cottage for you and your family.
Are the cottages in North Norfolk suitable for travellers and their pets?
Yes! In North Norfolk, 44% of the cottages offer the possibility for travellers to take their pets with them, 45% also have a garden!
Do the cottages in North Norfolk generally have Wi-Fi?
Yes! According to last year's data, 85% of cottages in North Norfolk have Wi-Fi. You will be able to stay connected at any time!
What are the prices like for cottages in North Norfolk?
Most of the cottages in North Norfolk (64%) cost less than £100 a night. This is the perfect destination for booking an affordable cottage!
Do the cottages in North Norfolk generally come equipped with a fireplace or a pool?
Good news! According to the data collected last year, many cottages in North Norfolk . Therefore, it is the perfect destination for a winter escape!
Are the cottages in North Norfolk suitable for trips with friends or better for an escape as a couple?
According to Holidu's database, 85% of cottages are perfect for families with up to four travellers. Approximately 88% of the cottages here include at least two separate bedrooms. North Norfolk is the perfect destination for small groups of friends!
Holiday destinations nearby for Cottages
Holidu compares hundreds of websites to find your perfect holiday rental for the best price.