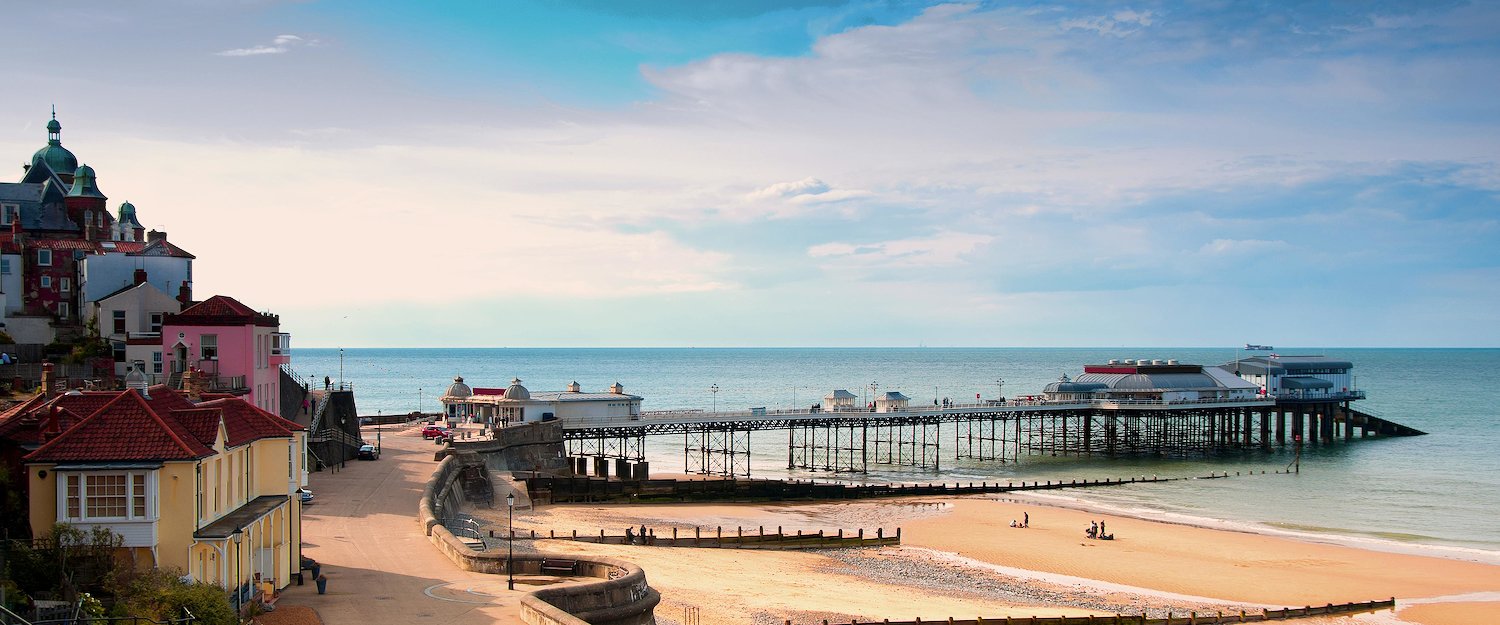 Cottages Winterton-on-Sea
Cottages in Winterton-on-Sea
42 properties for Cottages. Compare and book at the best price!
Holiday Rentals & Lettings in Winterton-on-Sea
Find Cottages in Winterton-on-Sea
Highlights in Winterton-on-Sea
Coastal town
Fantastic beaches
Wonderful wildlife
Sites full of culture
Most popular amenities for Cottages in Winterton-on-Sea
Other property types in Winterton-on-Sea that might be interesting:
Cottages in Winterton-on-Sea
Beautiful and modern holiday cottages very close to the beach
If you are looking for a place to spend your holiday, with a nice and quiet atmosphere, close to beautiful beaches and nature, we have the perfect destination for you to have the best experience. In the county of Norfolk lies the wonderful old fishing village of Winterton-on-Sea, which has been a popular holiday destination over the years. It has a charm like no other, as it is characterised by its remoteness from the big, bustling cities, so you can fully relax on its fantastic beaches whilst enjoying the traditional English atmosphere. Enjoy all this while staying in one of the beautiful and modern holiday cottages available in Winterton-on-Sea. As this is a very touristy town, many of these cottages are very close to the beach, just metres away, so getting around won't be a problem.
Holiday cottages with everything you need for your trip
No matter which cottage you choose for your holiday, in Winterton-on-Sea you are sure to find one that suits your needs and preferences. These cottages are fully equipped with everything you need for a stress-free holiday. With furnished rooms, fully equipped kitchens and bathrooms, plus appliances, internet access, parking, and a pet-friendly policy. So don't think twice and come and enjoy this charming seaside town, book your cottage now!
Travellers and activities
Winterton-on-Sea for beach lovers
Winterton-on-Sea beach is, undoubtedly, the town's most important tourist attraction, so a visit to this place is a must. With its pleasantly fine golden sands, calm and refreshing waters, and surrounded by its characteristic dunes, this coastal gem is the ideal place for those with a desire for a quiet and peaceful beach. It is also perfect for spending a morning or afternoon walking on its sands, as it is a considerably long and uncrowded beach, so you can have plenty of privacy, do all kinds of activities, enjoy the coastal views, or walk your pet.
Winterton-on-Sea for nature lovers
This small town has not only a beautiful beach but also a variety of natural wonders to discover. One of them is the Broads National Park, which is a national park with breathtaking scenery, where as well as a great display of plants, you'll also find home to diverse wildlife such as birds, otters and butterflies. Come and enjoy the lakes, which are actually connected to each other, and where you can go sailing or have a fun afternoon fishing. Another place to visit here are the dunes of Winterton-on-sea, which also characterise this small fishing village. Enjoy the stunning dunes and the large expanses of land under blue skies with your family, friends or pet. There are useful footpaths for easy access and even a space to park your car.
"The village of Winterton-on-Sea has average temperatures ranging from 35°F to 71 °F. They tend to have short summers and fairly long winters."
Top 7 travel tips in Winterton-on-Sea
1. Visit the magnificent Holy Trinity and All Saint's Church
This is a Winterton-on-Sea tourist destination that is steeped in history. It is the magnificent Church of the Holy Trinity and All Saints, which has an imposing Victorian structure dating back to the 24th century. The structure includes a tall and impressive seven-storey tower, although erosion from the sea air has caused significant deterioration. However, the interior is well worth seeing as it displays details that characterize the fishermen of Winterton-on-Sea, such as baskets, fishing nets and scale wooden boats.
2. Watch cute seals at Horsey Gap
If you are looking for a unique holiday experience, this place with fantastic animals is what you are looking for. Here at beautiful Horsey Gap Beach, if you plan to travel during the seal pupping season (between October and November), you'll be able to see these creatures give birth to their adorable pups.
3. Have a pleasing afternoon at Poppy's
Tea time is a big deal in Britain, and Winterton-on-Sea is the ideal place for it. Poppy's is a traditional English tea-room, where, as well as enjoying a hot beverage, you can also sample a variety of cakes and pastries. Whether you're here for breakfast or lunch, you'll have a great time in this beautifully decorated establishment.
4. Have an incredible meal at Fisherman Return
When it comes to travelling it's also crucial to find places to fill your belly, so this next place is sure to be what you're looking for. It's a free-house with a wide variety of meat, pork and fish dishes, as well as many options for vegetarians and vegans. All this you can enjoy while sipping a refreshing beer or cocktail, and relaxing in the warm and cosy interior.
5. Discover Caister Castle
This place combines an incredible 15th century castle and one of the largest automobile museums in the country. This castle was built in 1432, and although the original structure is in ruins, you can explore and climb to the top of the castle for beautiful views of the surrounding area. And if you decide to go to the museum, you can see displays of vintage cars, bicycles and pedal cars of all types and from many eras, such as Peter Rachman's Cadillac, Jim Clark's Lotus, and the iconic first Ford Fiesta.
6. Have an exciting day at Thrigby Hall Wildlife Gardens
It is a 250-year-old zoo/garden. Its plant collection includes a beautiful willow forest, but its animal collection is one of its biggest attractions, with creatures such as otters, rare tigers, crocodiles, deer, waterfowl and many more. There is also a children's playground and a nice gift shop if you want to take a souvenir of the place with you.
7. Get a hole in one in Lost World Adventure Golf
Mini golf is a fun activity wherever you go, and the best place to do it is the spectacular Lost World Adventure Golf. This is a 9-hole dinosaur-themed golf course, so the space is decorated with large dinosaurs of all species, as well as fossils and a model of an ancient Aztec temple. Come and enjoy it with your family and friends, either in the afternoon, or at dusk, where the lights and sound effects will make your experience even more fun.
FAQs: Cottages in Winterton-on-Sea
Which types of facilities can you expect to find in the cottages in Winterton-on-Sea?
Among the services you can find on Holidu, it appears that the cottages in Winterton-on-Sea benefit from everything that holiday-makers desire! Here, the cottages generally offer a variety of amenities, the most popular being: Wi-Fi (81%), garden (49%), and barbecue (43%)...Not bad, right?
How are the cottages generally rated in Winterton-on-Sea?
On average, the cottages are rather highly rated. Last year's data reveals that 43% of cottages have a rating of 4.5 stars. A ratio quite high which allows us to confirm that you will easily find the ideal cottage for a wonderful holiday!
Are the cottages in Winterton-on-Sea suitable for holidays with children?
Judging by the Holidu data, 35% of cottages in Winterton-on-Sea are suitable for families with children, it will therefore be easy to find the perfect cottage for you and your family.
Are the cottages in Winterton-on-Sea pet-friendly?
Yes! In Winterton-on-Sea, 59% of the cottages offer the possibility for travellers to take their pets with them, 49% even have a garden!
Do the cottages in Winterton-on-Sea generally offer an internet connection?
Yes! According to Holidu's data, 81% of cottages in Winterton-on-Sea include Wi-Fi. So don't panic, you will be able to access your emails and favourite social media sites during your stay!
What are the prices like for cottages in Winterton-on-Sea?
A big percentage of cottages in Winterton-on-Sea (59%) roughly cost less than £100 per night. This is the dream destination for booking a cheap cottage!
Do the cottages in Winterton-on-Sea generally have a fireplace or a pool?
Of course! According to Holidu's data, a lot of cottages in Winterton-on-Sea are equipped with a fireplace. It is the ideal destination for winter hibernating!
Are the cottages in Winterton-on-Sea suitable for trips with friends or rather for an escape as a couple?
According to last year's Holidu data, 95% of cottages welcome small groups of up to four guests. Approximately 95% of the cottages here include at least two separate bedrooms. This is the perfect destination for going in small groups, with family or friends!
Holiday destinations nearby for Cottages
Holidu compares hundreds of websites to find your perfect holiday rental for the best price.
Cottages Winterton-on-Sea