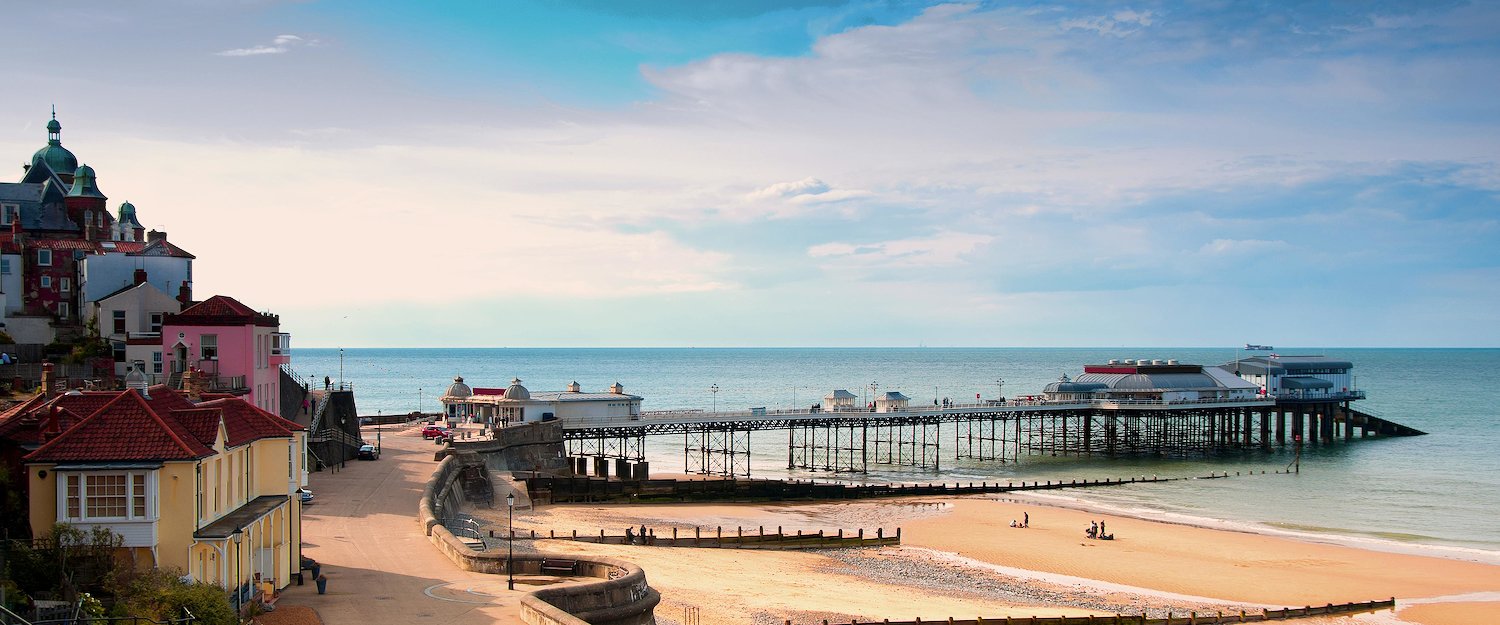 Cottages in Old Hunstanton
10 properties for Cottages. Compare and book at the best price!
Popular Cottages in Old Hunstanton
Find Cottages in Old Hunstanton
Highlights in Old Hunstanton
Magical sunsets
Beautiful and pet-friendly beaches
Princess Theatre
Excellent pubs
Play golf
Most popular amenities for Cottages in Old Hunstanton
Other property types in Old Hunstanton that might be interesting:
Cottages in Old Hunstanton
Old Hunstanton, the place a family needs
A county in England with quiet beaches, unforgettable sunsets and soft sand that massage your feet as you admire its natural beauty, a dreamy Victorian panorama that was built from scratch in the mid-19th century, we are talking about Old Hunstanton. A good alternative if you want to enjoy a family trip in Old Hunstanton are the cabins, many of these near Old Hunstanton Beach, that is why Holidu has several offers in this area of ​​the city for you, ideal to go with children or with your partner.
A nice look into the Victorian era.
The variety reigns in the offers that Holidu has for you in cottages, however, we see a predominance in the styles of the Victorian age; although, you can choose between several options of modern and antique decorations, either for groups of five people and even couples. The larger spaces are ideal for entire families looking to refresh their minds in the calm of Old Hunstanton, several of these near the beaches or pubs and attractions for the little ones at home.
Travellers and activities
Old Hunstanton for family fun lovers
When we told you that Old Hunstanton is the ideal place for families, it was no game! Even if you already find yourself at a time when coastal or party tourist destinations do not appeal to you, in this UK city, you could find the peace you are looking for. In this English territory, there are many recreational activities for families or couples, either on the beaches or on land. Especially in terms of aquatic dynamics, you can go kayaking and canoeing, non-dangerous and fun occupations that will bring your family a unique and pleasant time. Now, if you are one of those who prefer land games, you cannot miss golf, that is why we invite you to visit the Hunstanton Golf Club, courses ready to welcome you and enjoy a good game; You can even enjoy the courses that you can only take at this club, so if you don't know how to play it, it's no longer an excuse!
Old Hunstanton for culture lovers
This English location is ideal for those wishing to visit Norfolk's best sights, especially the beauty that Old Hunstanton has to offer for visitors. One way to take a look at the culture of this location is by attending the Burnham Market, a place that not only has several boutiques and independent stores where you can see the way of life of the locals, but you can also have galleries of art that will show you part of the cultural value of Old Hunstanton. Now, in contrast, be sure to visit the Hunstanton Heritage Center, a history museum and tourist information centre where you will learn more about the history of this location. If you are a fan of theatre plays, a visit to the colourful and iconic Princess Theatre will be an incredible experience for you and your loved ones, you can enjoy everything from musicals to comedies.
Did you know that Old Hunstanton Beach allows people to bring their pets?
Top 7 travel tips in Old Hunstanton
1. The sea, the sand and... your best friend!
Old Hunstanton Beach is one of the dog-friendly beaches in this location. People can enjoy a nice day in the sun with their best friend while the little furry one plays in the sand, water or with other doggy companions.
2. Kite surfing for everyone!
One of the water activities you can't miss at Old Hunstanton Beach is kite surfing. Although this beach doesn't have the same types of activities as Hunstanton Beach, it still keeps the fun afloat with its dynamism. This sliding sport with a traction kite pulling the athlete is not to be missed, you can't miss it!
3. Can tourism without tasting the cuisine, be called tourism?
Every time we travel to a new place, especially in different continents, we can't help but taste its cuisine. That's why, if you're in Old Hunstanton, enjoying a delicious meal at Neptune Inn, The Lodge Hotel or even Mariners pub is a must! Indulge in unique flavours with their traditional British roast dinners or English breakfasts with baked beans, bacon, mushrooms, black pudding, and eggs.
4. When night falls...
The Waterside Bar, White Horse or the Old Marine Bar, are pubs you can visit if you want to have a different time when night falls in this part of England. From delicious food, to drinks and nice music you can enjoy in these facilities.
5. Suitable for vegetarians
Venues such as the Goblins Pantry are suitable for those with a vegetarian lifestyle, operating as a pub and restaurant, serving meals suitable for vegetarians and gluten-free eaters.
6. A classic, Le Strange Old Barns Antiques & Craft Centre
This centre is an exciting location for people with a passion for crafts and antiques. Many visitors choose to purchase artwork dating back decades, once again demonstrating the talent and memories present in Old Hunstanton.
7. Magical as a sunset
One of the sights not to be missed are the sunsets on the beaches of Old Hunstanton. The diverse colours, coupled with the sound of the sea and the softness of the sand, take you to another world. Dare to stay until sunset at Old Hunstanton Beach, and you can enjoy a magical experience with its incredible sunsets.
FAQs: Cottages in Old Hunstanton
Which types of amenities can you expect to find in the cottages in Old Hunstanton?
In regard to the services offered by Holidu, it appears that the cottages in Old Hunstanton have everything that holiday-makers desire! Here, the cottages generally include a variety of amenities, the most popular being: Wi-Fi (87%), garden (41%), and fireplace (36%)...Pretty cool!
How are the cottages usually rated in Old Hunstanton?
On average, the cottages here have rather positive comments. Judging by the Holidu database, 33% of cottages have a rating equivalent to or higher than 4.5 stars. A percentage high enough to confirm that there are quite a few that are very comfortable and will be the perfect choice for your next holiday.
Are the cottages in Old Hunstanton child-friendly?
Holidu's data reveals that 20% of cottages in Old Hunstanton are suitable for holidays with children, it will therefore not be difficult to find the ideal cottage for you and your children.
Are the cottages in Old Hunstanton suitable for travellers and their pets?
For sure! In Old Hunstanton, 29% of the cottages accept them, 41% also have a garden!
Do the cottages in Old Hunstanton often have an internet connection?
Of course! According to last year's data, 87% of cottages in Old Hunstanton offer Wi-Fi. You will be able to access your emails and favourite social media sites at any time!
What are the prices like for cottages in Old Hunstanton?
A big percentage of cottages in Old Hunstanton (62%) are less than £100 a night. Therefore, this destination is perfect for reserving an affordable cottage!
Do the cottages in Old Hunstanton generally have a fireplace or a pool?
Of course! According to the data collected last year, a lot of cottages in Old Hunstanton have a fireplace. It is the ideal destination for winter hibernating!
Are the cottages in Old Hunstanton suitable for stays in big groups or rather for a holiday as a small group?
According to Holidu's data, 90% of cottages are made for up to four travellers. Approximately 91% of the cottages here include at least two separate bedrooms. Old Hunstanton is the ideal destination for going in small groups, with family or friends!
Holiday destinations nearby for Cottages
Holidu compares hundreds of websites to find your perfect holiday rental for the best price.